Are you looking for the best places to stay on the beach in Destin, but not sure where to look? We have 5 great suggestions for you. Each one is right on the beach with lots of amenities to enjoy! We hope this will give you a jumping-off point to begin your search for the perfect vacation rental. 
Jetty East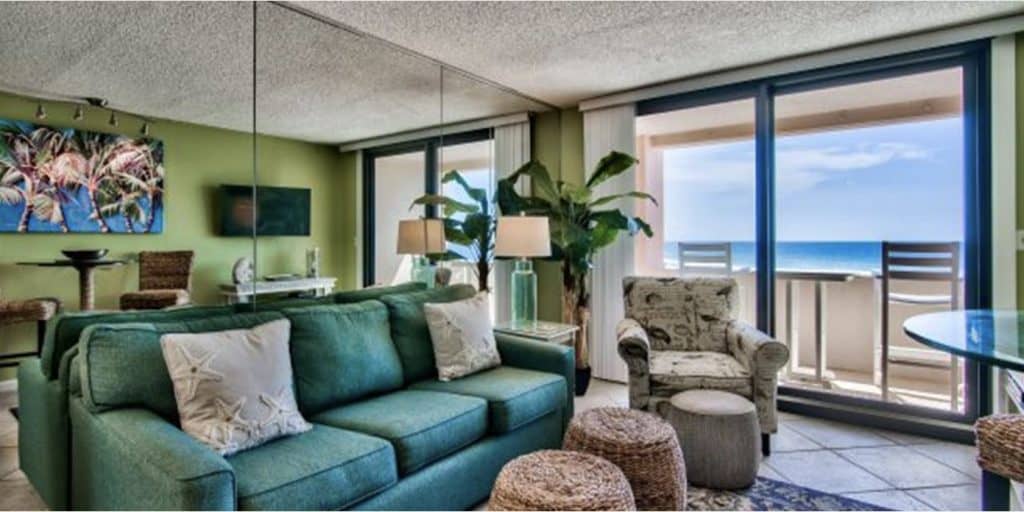 The unit shown above: Jetty East 513a
Jetty East is a 6 story, mid-rise, condominium located on Holiday Isle, near Norriego Point and the East Pass in Destin. The unit has a balcony and ranges from 1-4 bedrooms. Each unit is personally decorated and features a full kitchen. Units are available with Gulf-front and East Pass views. For your convenience, the building has four elevators, free wifi, and covered parking.  
Outside amenities include a lighted and heated pool, a sundeck, and tennis courts/pickleball courts. There is also a 3,200 sqft Pavilion with tables/chairs and grills. Guests will find regularly scheduled live music at the pavilion. Click here to see a list of upcoming artists. 
Jetty East is within walking distance of the East Pass Jetties –  Destin's most popular site to snorkel and surf fish. Depending on the tides, you can find all sorts of interesting marine life from colorful fish to starfish to small octopi!
Lastly, if you are on the hunt for somewhere to hold a large event, Jetty East has an event facility for weddings, reunions, or large gatherings that will accommodate 70-100 people. 
Crystal Sands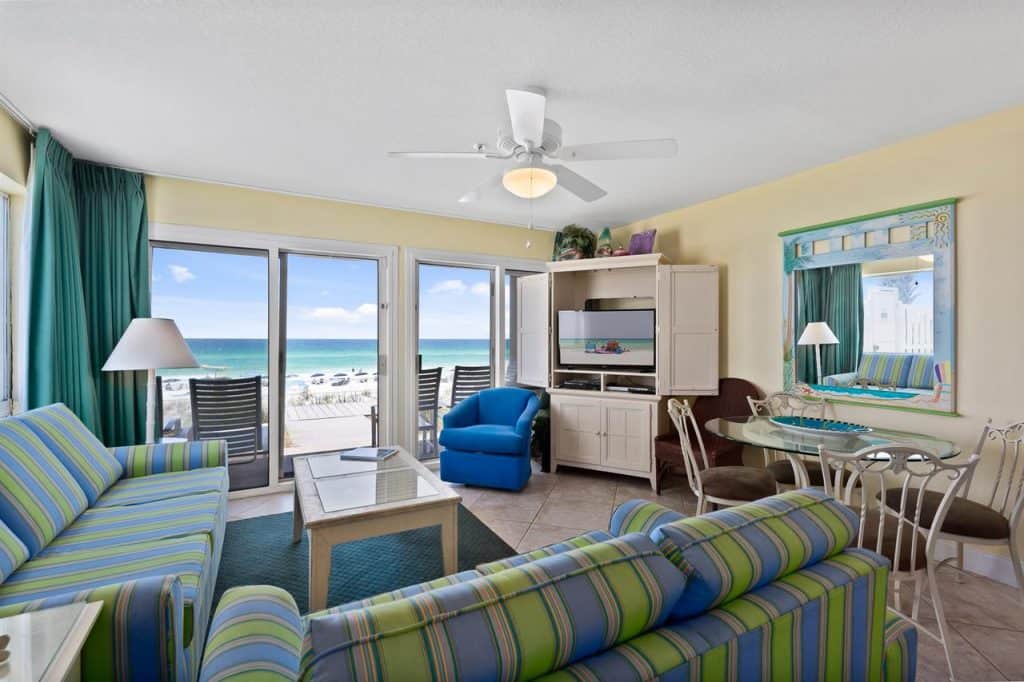 The unit shown above: 101B Managed by Salt Water Vacations
This 3 story condominium located on Old 98 in Destin offers 1 and 2 bedroom units.  Crystal Sands units all have a direct view of the Gulf of Mexico.  Each unit has a full kitchen, a washer and dryer, and free internet. Patios come furnished so guests may enjoy their morning coffee or an evening glass of wine while relaxing with their perfect view. 
Crystal Sands offers seasonal beach service, a pool, bbq areas, and a boardwalk. Looking for a nice meal out on the beach? The Crab Trap is a quick 10-minute walk down the street. 
Guests looking for an adventure need not look far. Captain Jambo's is located right next door to Crystal Sands! They offer parasailing, snorkeling cruises, banana boat rides, sailboat tours, and more! 
Crystal Sands is limited mobility accessible and a smoke-free facility. Ask about monthly rentals. 
Inlet Reef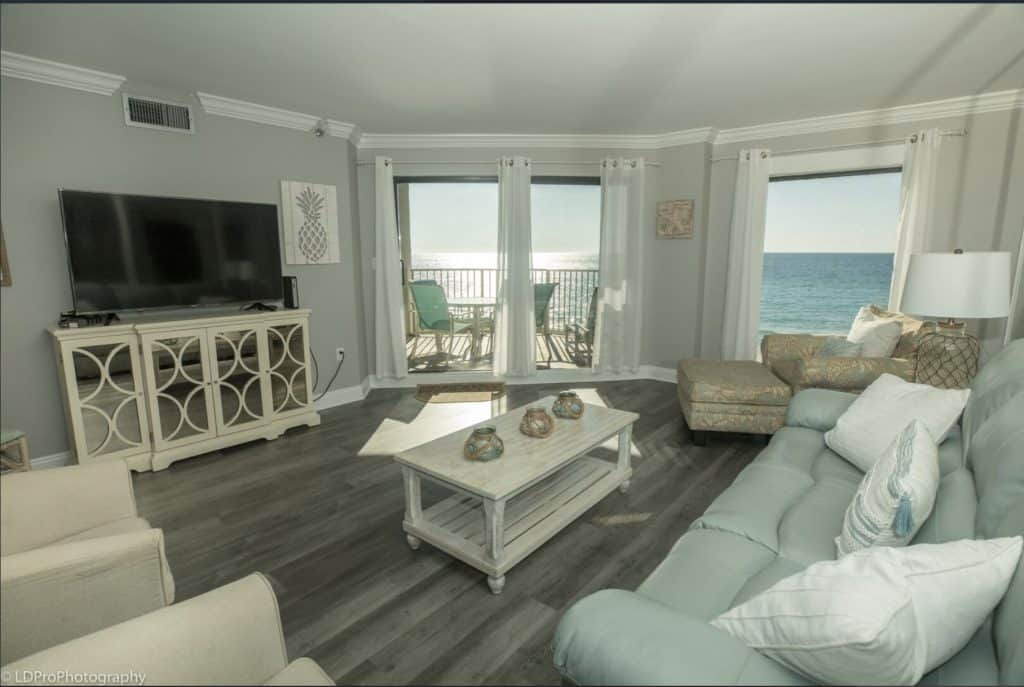 The unit shown above: Inlet Reef 307 managed by Holiday Isle Properties.
Also located gulf front on Holiday Isle is Inlet Reef condominiums. Choose between 2, 3, or 4 bedroom units. Each master suites comes with a king-size bed and an ensuite bath. Inlet Reef features large family rooms with a lovely wide balcony. Out on the balcony, guests will find a wet bar, a table, chairs, and a stunning view of the Gulf of Mexico. Washer and dryers are standard in each unit. Kitchens are fully equipped with pots, pans, cooking utensils, and all appliances. You just have to bring the groceries! 
Hoping for a great pool? Inlet Reef has a huge pool and sun deck to catch those rays on if you don't want to venture down to the beach. There are also pool-side bbq pits, hot tub, men's and women's sauna, tennis courts, and an exercise room. And if that's not enough, there's also a kids' arcade!
Inlet Reef reviews show that people return year after year because they say it's the perfect spot. Their own little piece of paradise. 
A bonus to staying on Holiday Isle, visitors are able to catch the Harbor Taxi, harborside. It will take you anywhere in Destin Harbor. Read more about the Destin Harbor Taxi here. 
Jade East Towers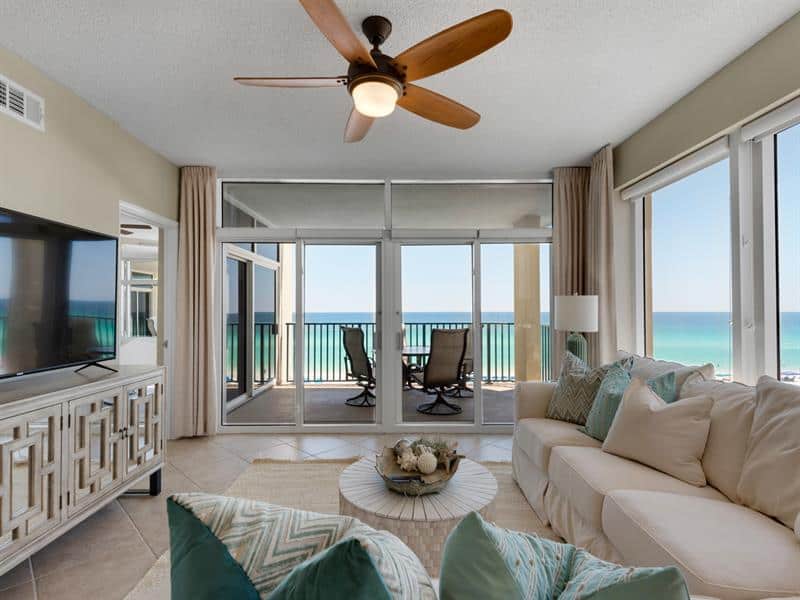 The unit shown above: Jade East Towers 0550
Jade East Towers is an 18 story gulf-front condominium located off Hwy. 98 in mid-Destin. It offers 2 and 3 bedroom units with balconies. As with most condo units, they feature fully equipped kitchens and washer/dryer units.  All units are non-smoking and have free wifi. Each unit comes with 2 uncovered parking spaces. 
Between the months of March and October, each unit will have complimentary beach service (2 chairs & 1 umbrella). Make a mental note to ask how it is arranged. Most condos have agreements with beach services. Be sure to read all correspondence with the rental company as they will have the information you NEED to know. 
Jade East Towers guests have access to a beautiful waterfall pool, hot tub, fitness center, lighted tennis courts, and a basketball court. BBQ pit stations with seating are also available. 
Jade East Towers' location is ideal. It's situated directly across the street from Big Kahuna's water park. One of Destin's biggest attractions! It's also within easy walking distance of places like Dunkin Donuts, Waffle House, Chic Fil A, and more. 
Note: Please use extreme caution when crossing Hwy. 98. Cross ONLY at crosswalks, even if it means walking a bit further. Hwy. 98 is very dangerous. Please do not let children cross by themselves. 
Ask about Military Discounts. Also, certain times of the year require a 7-night minimum stay. 
1900 Ninety Eight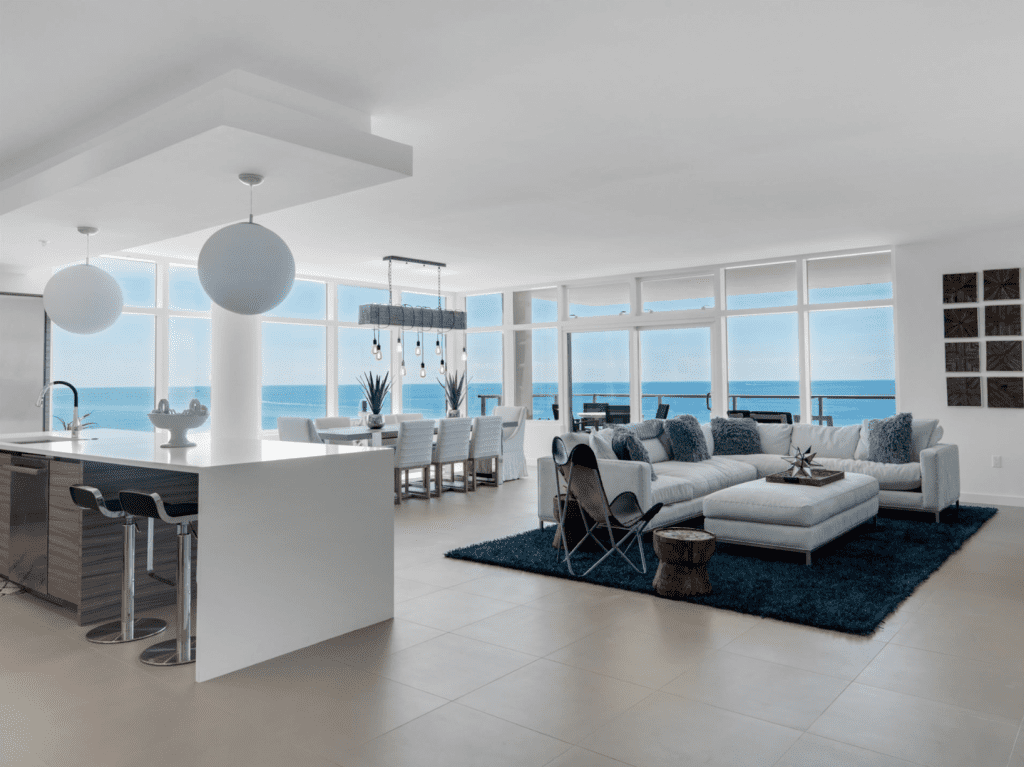 The unit shown above: 1900 Ninety-Eight Unit 401 managed by Newman Dailey
This last one is for the family that is looking for a luxury stay. 
1900 Ninety-Eight Condos are located on Scenic 98 near Henderson Beach. They are the newest condominiums that opened in 2017. There are only 16 of these luxurious units. Two on each floor. 
Guests will find porcelain floor tiles and quartz and marble countertops throughout. Floor-to-ceiling windows and a 12-foot deep balcony allow for perfect panoramic views of the Gulf of Mexico. Each balcony also houses an electric grill and lovely patio furniture. Kitchens are fully fitted with Thermadore appliances which add to the very modern and sleek feel. 
Other amenities include the rooftop pool, spa, sunning deck, and fire pit. Guests will also find a fitness center on the property. 
1900 Ninety-Eight is just steps from one of Destin's best beach restaurants, the Back Porch. 
We hope these beach suggestions have helped you. However, if you are still looking please click here for 5 Top Destin Gulf Front Condo Resorts. 
Happy planning!!
Ta-Ra!!