The first 2 things people think of when they think of Destin are the white sandy beaches and that emerald green water. And when you are planning your perfect beach vacation, the one thing you know is that you want to be right there, gulf front. You want to be right there – less than 2 minutes from the time you leave your unit until the time your toes sink into that cool white sand. We understand! There is not a better cup of coffee on the island than the one you make in your own kitchen, sitting on your own balcony, watching the dolphins playing not 50 feet off YOUR shore! Yes, that's a mighty fine way to wake up and start your day of "beachin".
In Destin, there are many options when it comes to condos. We hope that we can help you on your way to finding your perfect property with our, (in no certain order), Top 5 Picks for the Best Gulf Front Digs.
Pelican Beach
Pelican Beach is located at 1002 US. 98 East on Destin's main drag. There are 340 units and 19 floors. Pelican Beach offers 1 and 2 bedrooms.
1 bedroom condos offer a full gulf view but no washer and dryer. The 2 bedrooms offer a partial view of the gulf and come with a washer and dryer in the unit.
These condos offer several resort amenities such as tennis courts, a spa, 2 swimming pools, and a hot tub. There is also a gaming room, covered parking (limited), and a beach bar and deli (both seasonal).
It's an easy walk to Mellow Mushroom, The Pancakery, The Cone Ice Cream Shop, Blalock Seafood and Specialty Market, and Dunkin Donuts.
Pelican Beach has phenomenal reviews. Just a quick note, Pelican Beach is part of a larger resort. There is another tower called the Terrace at Pelican Beach. It sits back behind the lake but offers Gulf views. They also have fantastic reviews, however, they are not gulf front. Both offer Snow Bird rates. Listed below are some of the management companies that you may find your Pelican Beach rental through.
Pelican Beach – (850)654-1425
Holiday Isle Properties, Inc. – (800)837-5102`
Southern Resorts – (800)406-5714
Silver Shells
Looking to splurge on luxury accommodations? The beautiful Silver Shells Beach Resort has it all. Bordering Henderson Beach, the property boasts 5 towers of condominiums and each is named after islands in the Virgin Islands.: St. Thomas, St. Maarten, St. Croix, St. Barth, St. Lucia. The newest addition, St. Kitts is currently under construction, will be Silver Shells' 6th and final 13 story tower.
Silver Shells' rental choices include studio accommodations all the way up to the penthouses. All units feature top-of-the-line furnishings, kitchens, and decorating. Washer and dryers are included in all units except for the studio units.
A very nice perk is that a beach setup of one umbrella and 2 chairs (seasonally – March 1 – October 31st) is included with your rental. Silver Shells offers sailboats, parasails, wave runners, and kayak rentals right on the beach so you don't have to go searching through the yellow pages or run up and down 98 to find what you are looking for.
The lagoon pool is gorgeous and not to be missed. Some units come with a poolside cabana while others can be rented. Head to the Sand Bar Tiki Bar with its wrap-around deck for a snack, lunch, or if you are in need of an adult beverage.
Another "not to be missed" is the Spa at Silver Shells. The Spa offers top-notch pampering – facials, Swedish and European massages, waxing, pedicure/manicure and so more. They combine your spa experience with hydrotherapy and aromatherapy. You will leave there feeling happy, relaxed, and refreshed.
After a morning of pampering and an afternoon on the beach, and you might not feel like cooking. Silver Shells has you covered. There is a Ruth's Chris Steakout right there on the property. Ruth's Chris is an award-winning steak house that you do not want to miss. Need more convincing? Check out their menu right here.
As you can tell, Silver Shells Beach Resort is truly an indulgence. If you are interested in booking a room or finding out more information visit please visit: Silver Shells Beach Resort or call Compass Resorts at (850)269-1005 and they will help you book your perfect vacation. Just a note, not all units are gulf front. So make sure you specify what you are looking for when you call.
Jade East Towers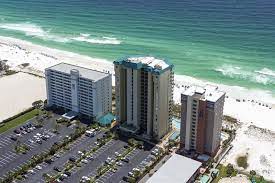 Heading back down to mid-Destin on 98 for this one. Jade East Towers. Jade East sits directly on the Gulf of Mexico and offers more reasonably priced units. This is not to say they skimp on any furnishings or amenities. These units are beautifully furnished and have a very strong rating on Google.
Jade East is an 18 story condominium tower situated on that gorgeous Destin sand. The units are beautifully decorated with amazing views of the Gulf of Mexico from the balcony, living room, and master bedroom. Each rental includes a full kitchen and a washer and dryer.
Their amenities include a gulf front swimming pool which has a waterfall and hot tub. Bring your tennis racquets because there is a lighted court on the property. Also, if you are a keen grillmaster, Jade East has community grills for those who want to skip the wait at area restaurants and just relax and enjoy your beach view.
If you have any questions or would like to book please visit:
Jade East Towers – (800)225-7652
Destin Gulfgate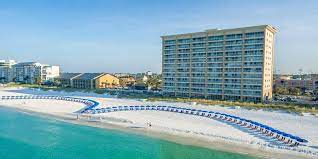 Destin Gulfgate is located at 1180 Scenic Hwy 98 and has been welcoming Destin worshippers for 30 years.
Destin Gulfgate offers 2 bedroom condos. All come with a 30′ private balcony and stunning views of the Gulf of Mexico. Each unit is beautifully furnished with a full kitchen to whip up those eggs and bacon beach breakfasts or for those nights when you want to cook in your own kitchen. There is also a washer and dryer in each unit for added convenience.
Other resort amenities include a beach setup (1 umbrella and 2 chairs), a fitness center, and an outdoor patio with tables and chairs. Don't miss their gorgeous beachside zero-depth entry pool and beachside pavilion. Oh, and if you're looking for a place for your perfect beach wedding, Destin Gulfgate has you covered. They also offer space for your reception. You can't beat that!
Interested? Ready to book?
Destin Gulfgate – (888)-234-GULF (4853)
Destin on the Gulf
Destin on the Gulf is located off of busy Highway 98 on Gulf Shore Drive. Not too far from Norriego Point and the jetties.
Destin on the Gulf invites you to enjoy one of their 2 bedroom units with exceptional gulf views. Depending on the unit, each bedroom will have its own sleeping configuration. The two full bathrooms in each unit will come in handy when everyone is coming off of the beach and needs a shower at the same time! All units come with a balcony. You will find a full kitchen in each unit to help with easy meal preparation. Each floor has its own laundry facilities to make it easier than having to haul your items around the property to one centralized laundry room. You may also exchange your linens for new ones at any time.
Destin on the Gulf has a gulf-side swimming pool and charcoal grills so you can grill up some burgers and dogs or maybe even some of the delicious seafood you picked up from one of Destin's best seafood markets. Beach service (umbrella and chairs) are available for a nominal fee. Monthly rates are available, however, they do not include some of the amenities. Click here for more amenities and specials to take advantage of around Destin when you book daily or weekly rooms.
If you are ready to book your stay at Destin on the Gulf, click here for a list of units available or call (850)837-6100.
As always, we hope our little bit of information can help guide you in a direction to find your perfect condo rental. There truly are so many choices it can make your head spin. We would also like to mention, some of these properties can also be found through sites like TripAdvisor, Airbnb, and VRBO. So make sure you check those options out as well. However, if you do, please make sure that everything that is offered through the main sites we have listed is also included with your rental. You may miss out on a beach setup or extra amenities or specials. Also, play it safe when using these sites as they are by the owner and not a management company. Look at the reviews and then weigh your options. We just want you to have the best time ever and not get stuck in a stinker unit. That could ruin your whole long-awaited, hard-earned vacation. Whichever way you choose to rent, just make sure to read everything including the fine print. And once you've made that reservation, keep and read all correspondence between you and your rental. You want to make sure you are on top of things like your check-in/check-out instructions among other things.
Let us know if you have taken our advice on any of these fabulous options! Send us a note. Include some of your favorite shots if you feel so inclined. We love to see our readers happy and relaxed, enjoying the best beach and most beautiful water in the world, here in Destin, Florida.
Ta-Ra!!