Bijoux Destin is located in the Market Shops along Hwy. 98 right outside of the Sandestin Golf and Beach Resort. Bijoux is an award-winning, upscale fine-dining restaurant. It has been awarded the "Best of the Emerald Coast" and  "Most Romantic Restaurant" along with many other accolades. While steaks are not the main focus of Bijoux's menu, they are definitely some of the best in Destin. Read on to find out what other deliciousness awaits you at Bijoux Destin!
Does Bijoux take reservations?
Reservations for Bijoux Destin are highly recommended. The restaurant is very busy from March until August and they also host events throughout the calendar year. You make reservations online through OpenTable. For large parties, please call the restaurant directly at (850) 622 – 0760.
Bijoux Destin's Atmosphere
Bijoux is a white tablecloth, fine dining restaurant. It is an intimate and romantic dining experience. Resort wear to semi-formal is acceptable attire. 
Does Bijoux have outdoor dining? 
Bijoux does have outdoor dining. 
Is Bijoux good for special occasions?
Bijoux is the perfect place to celebrate an anniversary, marriage proposal, or quiet birthday. 
Does Bijoux welcome children? 
As Bijoux is considered fine dining. They happily welcome children who are well-behaved and are used to this type of atmosphere There is also outdoor dining where families can dine together. If there is an event happening in the plaza outdoors, that's a plus!
What's on Bijoux Destin's Menu?
Appetizers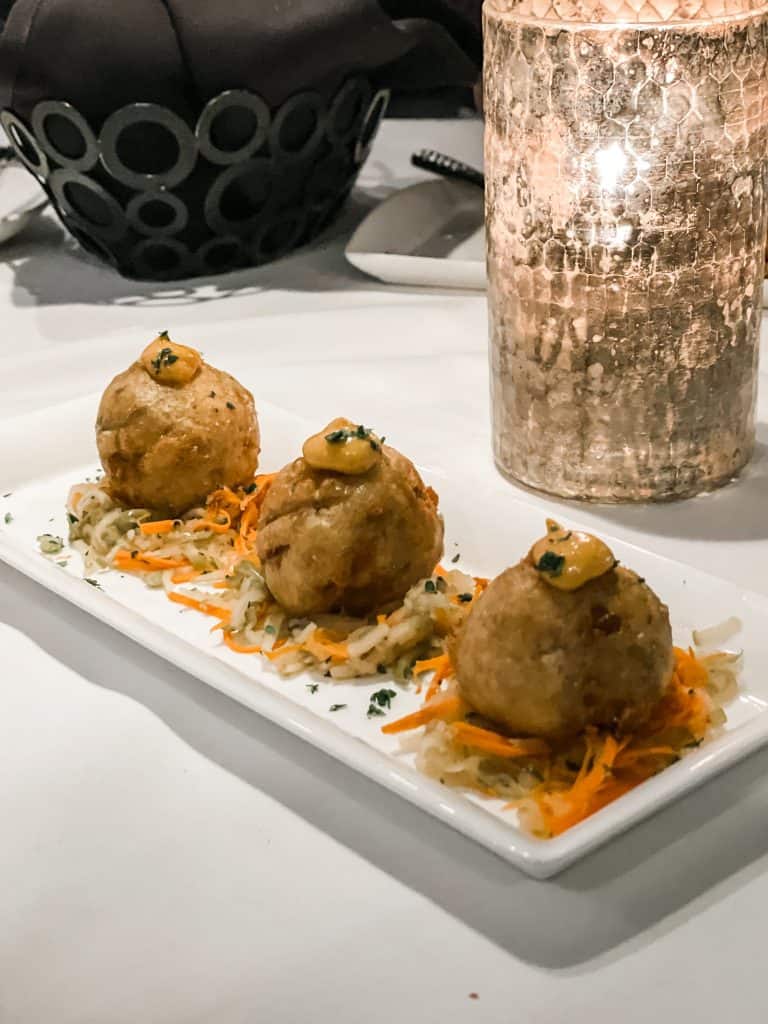 Diners at Bijoux Destin will have plenty of delicious choices on the Starter menu. A fan favorite is the Crab Beignets – tender jumbo lump crab, curry aioli, and Granny Smith apple slaw. 
Other fan favorites are Duck Confit (braised red cabbage, red wine gastrique, and white bean puree),  and the Royal Red Shrimp Remoulade (Roasted Jalapeno Remoulade, Fennel Salad, Pickled Mustard Seed (GF, DF)
If you are a lobster fan…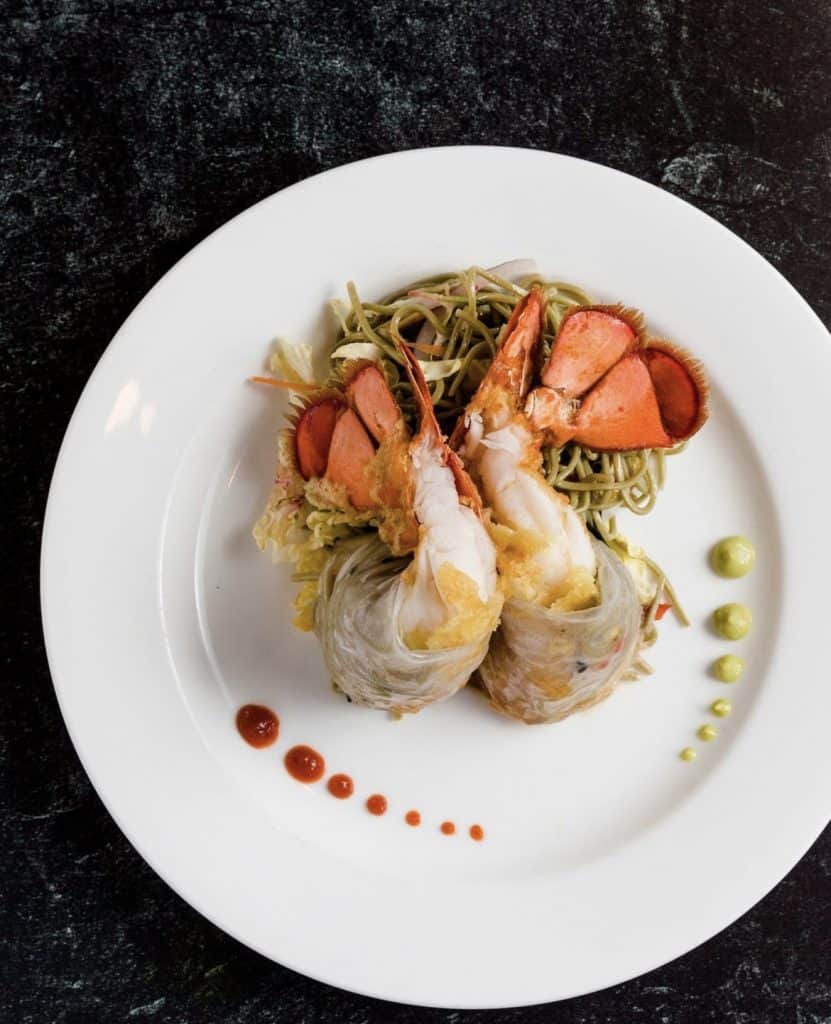 Don't miss out, give this Bijoux Destin favorite a try – the Lobster Spring Roll (tempura-fried Maine lobster tail, with green tea soba noodle slaw, spicy Thai peanut sauce, and wasabi aioli). 
There are so many other options so don't just stop here! Whatever you choose, it will be the perfect beginning for your dining experience!
Soups and Salads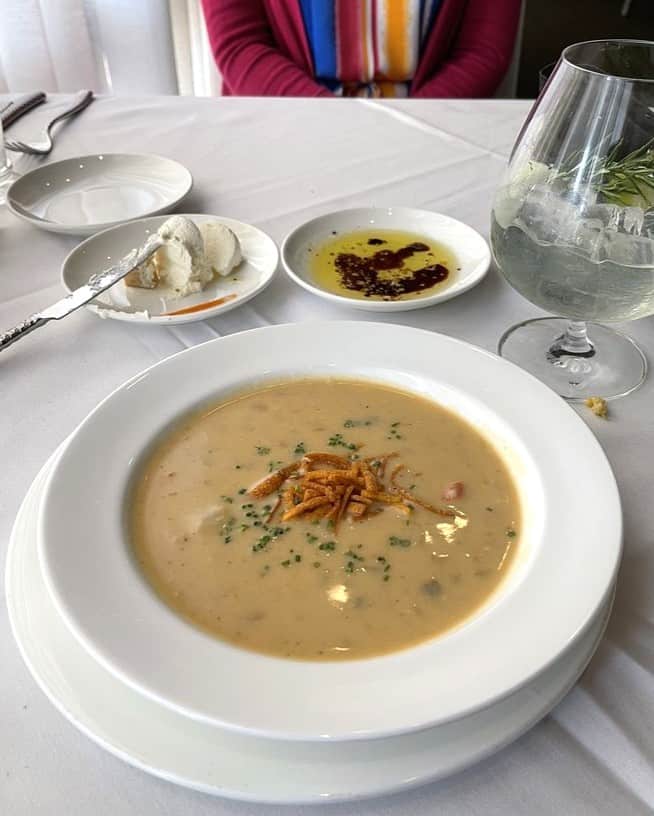 Every day, Bijoux Destin offers a Soup de Jour or as we like to call it, a bowl of love! Lobster Bisque, Oyster Soup, and Smoked Salmon Soup are just a few that have made their appearance on the daily soup menu.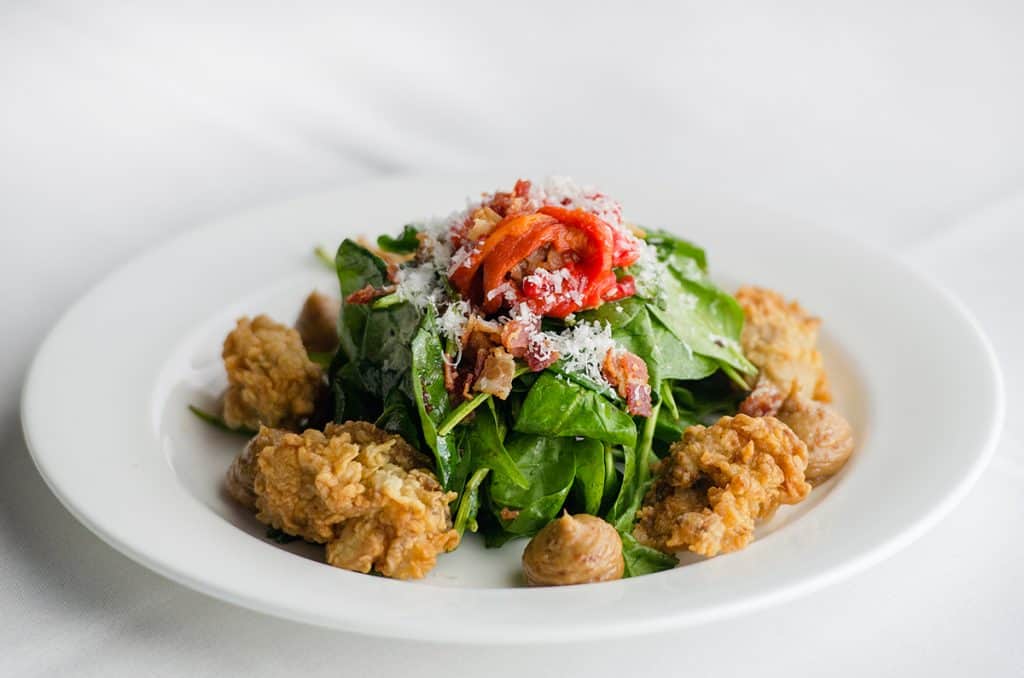 There's no better way to start your meal on the Gulf Coast than with a crispy Fried Oyster Salad – crispy tempura fried oysters, baby spinach, chopped egg, crispy bacon, roasted red pepper, and creamy bacon balsamic aioli.
If you are a Caesar salad fan, you'll love Bijoux Destin's spin – Brussel Sprouts Caesar Salad – roasted brussels sprouts, shaved radicchio and fennel, radish, focaccia croutons, parmesan dressing. 
Bijoux Destin Steaks and More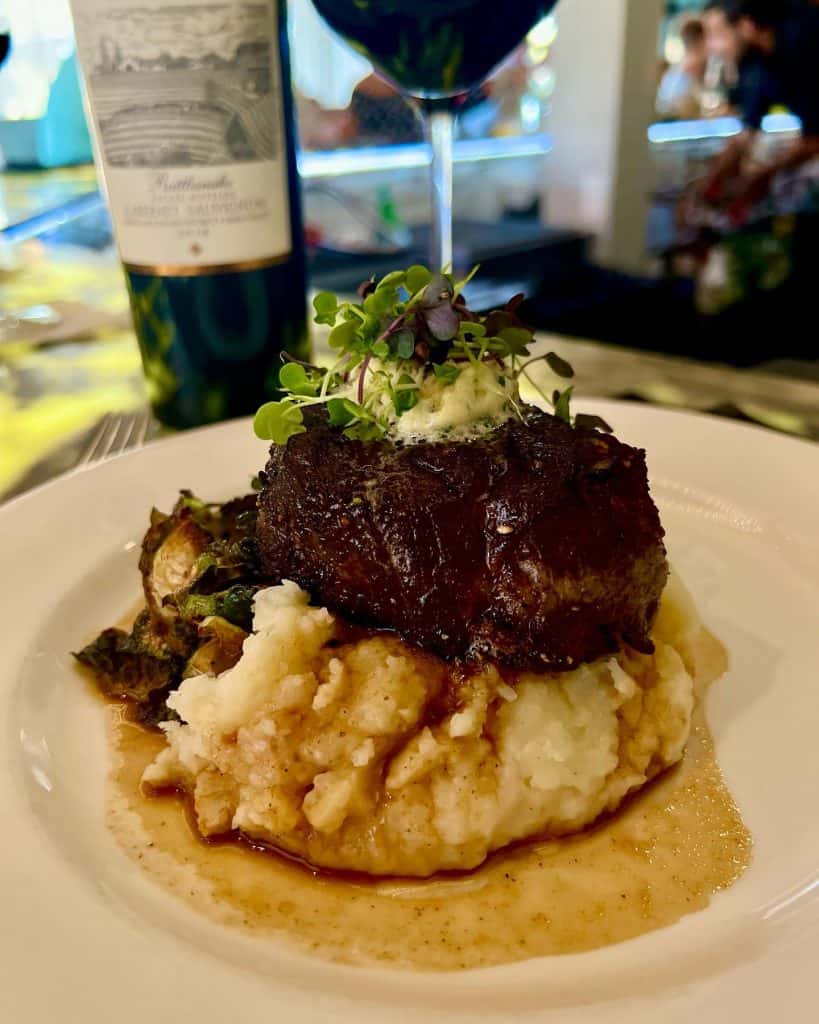 As we stated before, Bijoux Destin has two steak options, but they do them so well! Both of these steaks are favorites! 
The first is the Black Skillet Filet Mignon – buttermilk gruyere mashed potatoes, and port wine. onion Confit with roasted garlic herb butter (GF).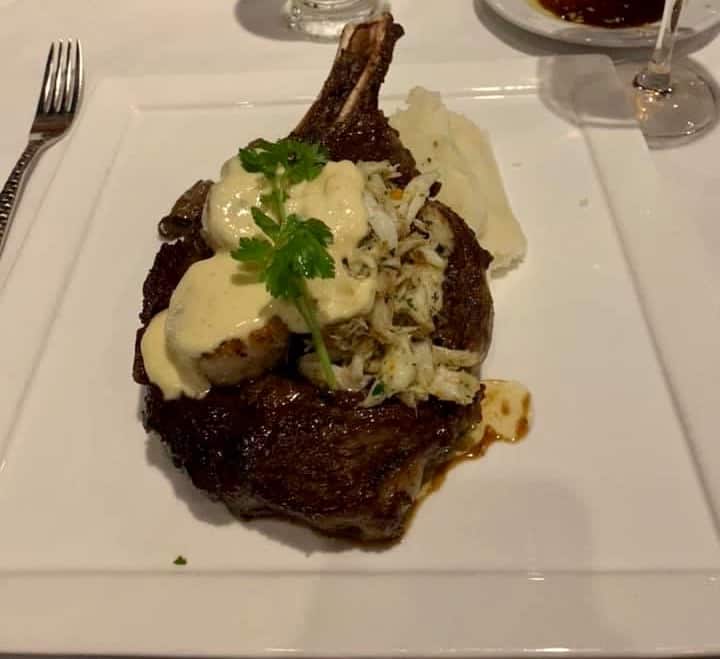 For the larger appetite (or if you just want leftovers!), the Cowboy Ribey is a 20 oz Bone-in, Cast Iron Seared, Truffled Pommes Frites, Sauce Bearnaise (GF). The perfect ribeye!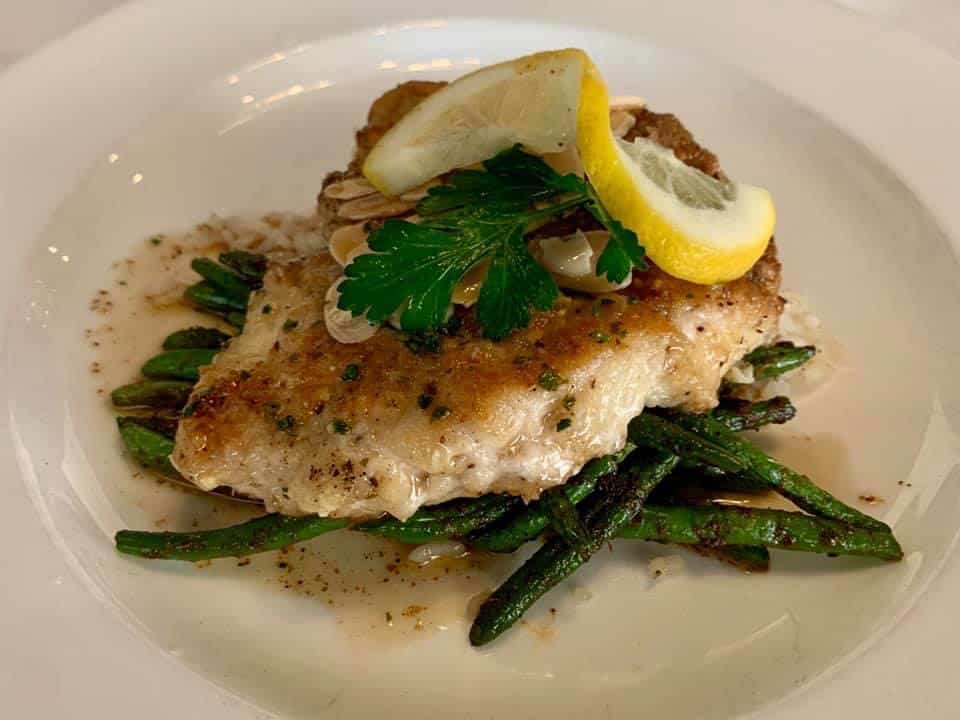 Grouper is a Destin staple and Bijoux's Grouper Almandine has flavor in spades! Toasted Almonds, Crispy Brussels Sprouts with Preserved Lemon Vinaigrette, and Creamy Herb Risotto make up this perfect dish. 
If you're looking for something homey and comforting, try the Roasted Chicken Breast – Fontina cheese grits, creamed greens, crispy garlic, arugula salad, and caper beurre blanc. 
And who can pass up the Shrimp and Grits, right?  Made with creamy Anson Mills Fontina cheese grits, mushroom ragout, tasso-sherry beurre blanc, and crispy shallots, this smoky creamy goodness ticks all of the boxes for goodness. 
Desserts and Cheeses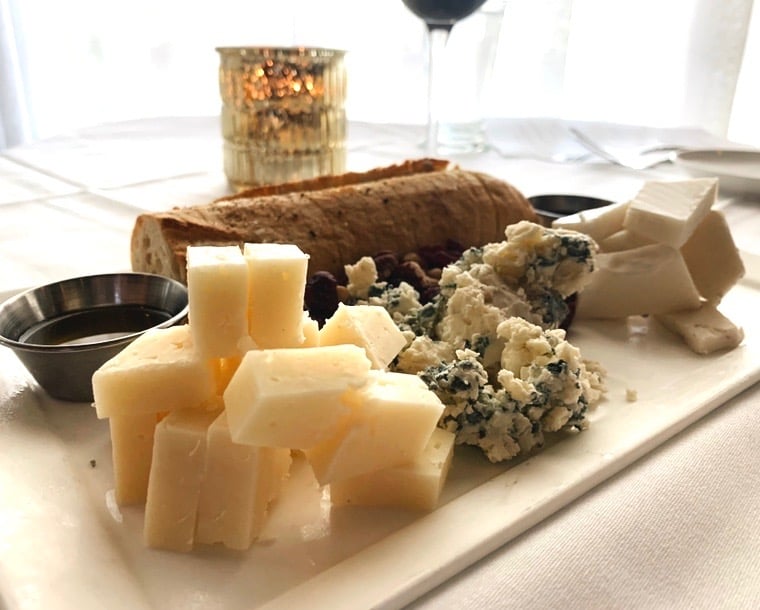 Endings at Bijoux Destin are like a choose-your-own-adventure! Will you end with a cheese plate or a decadent dessert? Either way, you won't be disappointed. 
Bijoux Destin offers a Selection of Artisan Cheeses with toasted bread, fresh and dried fruit,  nuts, and local honey. Diners may choose between a two, three, or five cheese cheese board.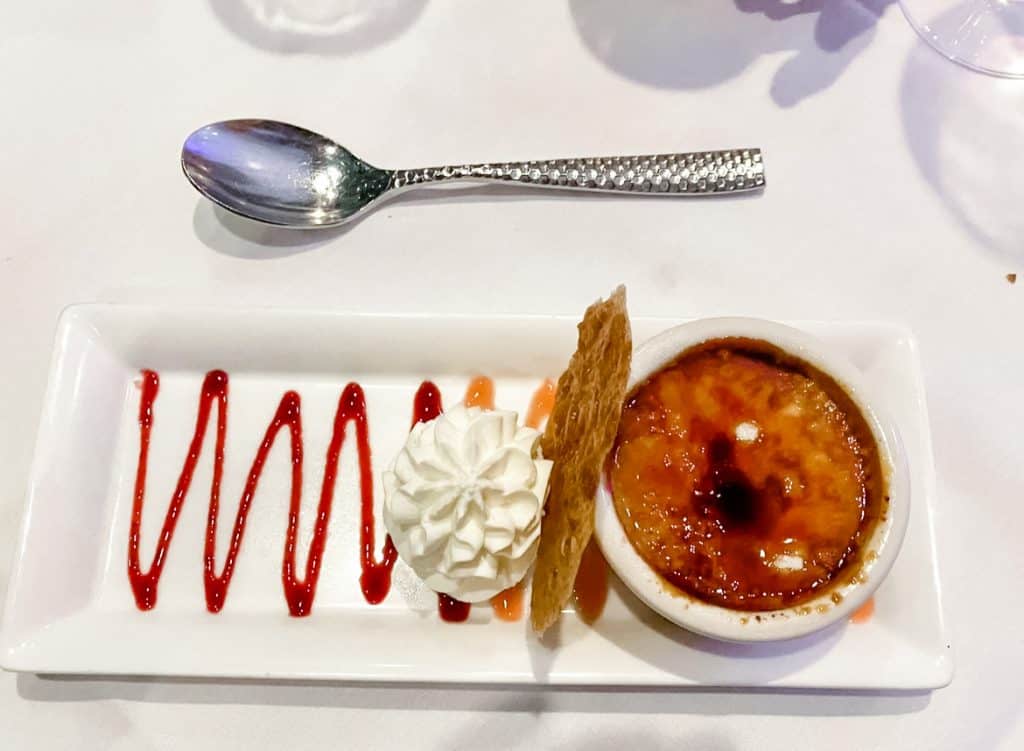 Of course, you can never go wrong ending your meal with the classic Crème Brûlée. Be sure to check your special menu to find out what the Crème Brûlée du Jour and Cheese Cake du Jour are. 
Don't forget the coffee. Diners can choose from Irish, Jamaican, Russian, or Bijoux Destin's own!
Libations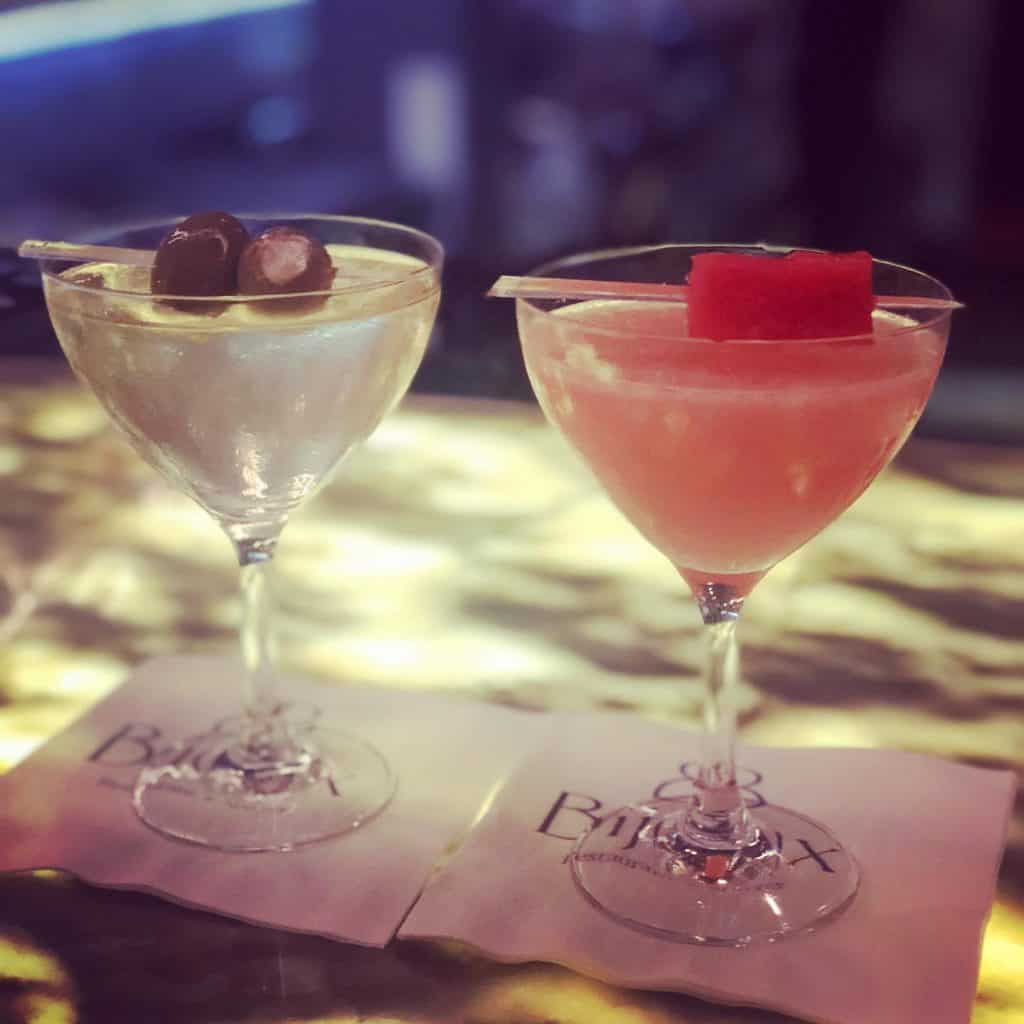 Bijoux Destin has an extensive wine list as well as Scotch, Cognac, Port, Cordial, and mixed drinks. Plenty of adult beverages to round out and complete your perfect dining experience.
When is Bijoux Destin open? 
Bijoux Destin is open daily:
Sunday-Thursday 5:00 pm until 9:00 P.M.
Friday & Saturday 5:00 pm until 10:00 P.M.
Special Days and Holidays New Year's Day – Valentine's Day, Mother's Day, Father's Day, New Year's Eve
Closed –  Thanksgiving, Christmas Eve, and Christmas Day
Where is Bijoux Destin located?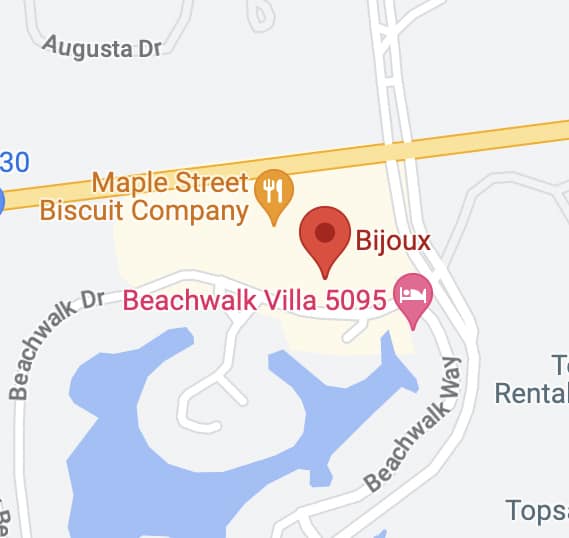 Bijoux Destin is located at the Market Shops 
9375 US Highway 98 W Ste 22, Miramar Beach, FL 32550.
Phone:  (850) 622-0760 or 850.622.0760
Inquiry: http://www.bijouxdestin.com/form
If you haven't dined at Bijoux Destin, have you truly enjoyed the Best of Destin? We think not! March thru August are their really busy times, so make sure to get those reservations made ASAP!
Is Bijoux Destin one of your favorite spots? Let us know what you think! We look forward to hearing from you!
Ta-Ra!!