The Ruby Slipper will be serving up the best of New Orleans' brunch dishes with a twist. Think White Chocolate Bread Pudding pancakes, Bananas Foster, and of course, beignets! 
The first Ruby Slipper Cafe was opened in 2008 in Crescent City and has now spread to over 13 restaurants in over 5 states. This is an exciting addition for Destin foodies! We've looked over their menu and it's an overload of goodness, for sure.  Their menu is unlike any others in Destin. It's creative and mouthwatering! Don't believe us, have a look at a few more menu items they are offering up…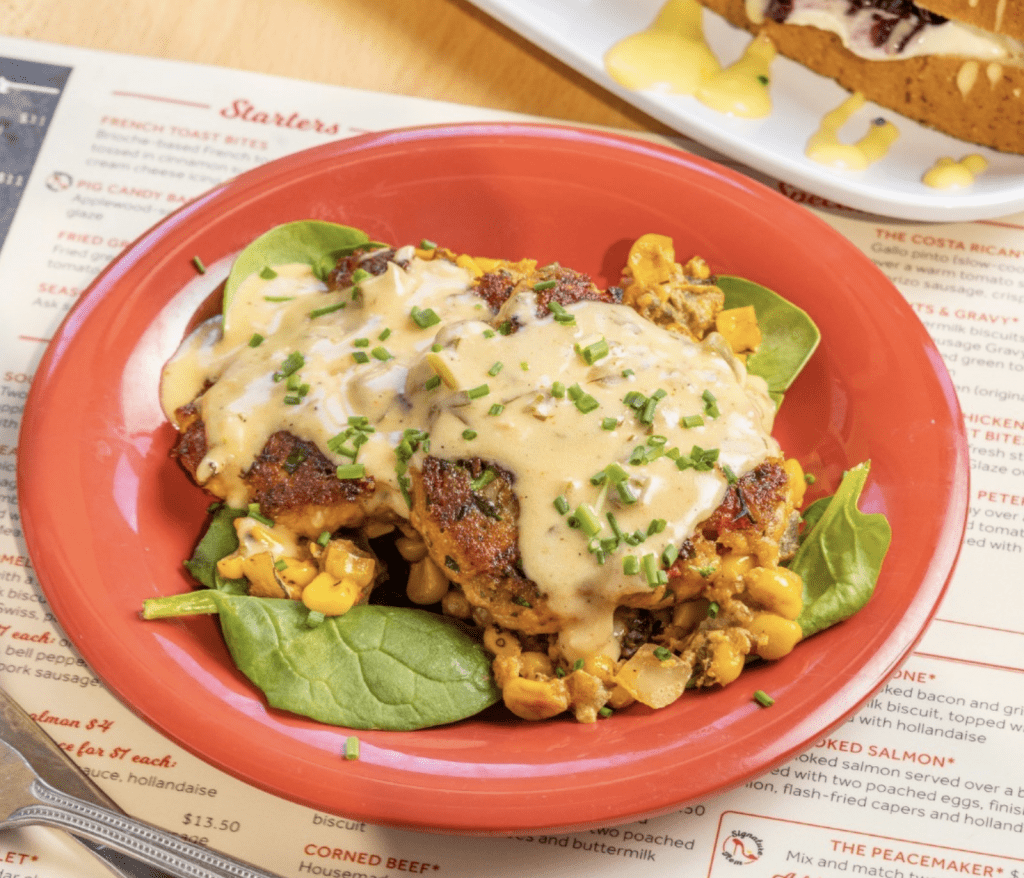 Crawfish Cake Benedict, Grilled crawfish cakes made with Louisiana crawfish, red onions, red bell peppers, and creole seasonings served over a bed of spinach, corn maque choux, and fried green tomatoes. Topped with two poached eggs and crawfish cream sauce. 
Eggs Cochon Slow-cooked, apple-braised pork debris served over a buttermilk biscuit, topped with two poached eggs, finished with hollandaise
Crawfish Grit Cake Fried grit cake topped with poached eggs and Louisiana crawfish cream sauce
Of course, Brunch wouldn't be Brunch without Bloody Mary's, Bellinis, and Mimosas! Brunchers will find these and many more thirst-quenching morning libations on their menu.
It will be welcome news to diners with special dietary needs, the Ruby Slipper Cafe has a menu focused on keto-friendly, vegetarian, vegan, and gluten-free options. They use sunflower oil in their fryer. However, they cannot offer a 100% nut-free allergy menu. 
When is the Ruby Slipper Cafe open?
The Ruby Slipper Cafe in Destin will be open Monday thru Friday from 7:30 A.M. until 2 P.M. and 3 P.M. on Saturdays and Sundays.  
Am I able to see an online menu for Ruby Slipper Cafe in Destin?
You can find the menus for Ruby Slipper Cafe in Destin on their website https://therubyslippercafe.getbento.com/menus/. They have the main menu as well as a menu for seasonal specials and a dietary preference menu.
Does the Ruby Slipper Cafe take reservations?
No, the Ruby Slipper Cafe in Destin, Fl does not take reservations.
Does the Ruby Slipper Cafe have a Waitlist?
The Ruby Slipper Cafe does have a waitlist that you can join from their website!
Where can I find the Ruby Slipper Cafe's website?
You may find the Ruby Slipper Cafe's website at: https://www.therubyslippercafe.net/
Where is the Ruby Slipper Cafe located in Destin?
You can find the Ruby Slipper at 34902 Emerald Coast Hwy. in Destin. Map it here.
Can I reach them by phone?
The phone number for the Ruby Slipper Cafe in Destin is 850-388-6248. 
Lots of yummy information to digest here. We hope we've given you enough of a peep inside of the Ruby Slipper Cafe to get your mouth watering for some good old southern food! Make sure you let us know if you go and maybe send us some pictures about your experience! We'd love to hear from you!
As they say at the Ruby Slipper, it's good living that "Brunch Life"!!
Ta-Ra!