Nearly everyone who is heading to Destin has heard of Crab Island. Most assume that it's an actual island, however, it's an underwater sand bar within the Gulf Islands National Seashore. It's located right by (north-side) the Marler Bridge in the Choctawhatchee Bay. Visitors can anchor their boats or watercraft there year-round. It's a place to hang out and just enjoy a day on the water. It has grown over the years from a handful of people every day to (at peak times) a thousand people a day. 
In season, visitors to Crab Island will find floating ice cream and food vendors. There are no alcohol sales on Crab Island. Also, a heads up to return visitors of Crab Island, the floating bouncy water park is no longer. It was retired in 2018. 
One of the biggest questions from visitors is "how do I get to Crab Island?". Well, we are going to give you some great suggestions on "how to get there" and "who to use". 
As we mentioned, Crab Island is an underwater sand bar. The depths around Crab Island fluctuate as the tide changes. The most beautiful time to visit Crab Island is high tide. That's when you get those emerald colors and beautiful clarity. Click here for the tides chart regarding East Pass and Choctawhatchee Bay. 
FIRST and MOST IMPORTANTLY – There are many ways to get to Crab Island, however, please for your safety do not attempt to swim, paddleboard or canoe over to Crab Island. The currents are very strong and the boat traffic is heavy. Do not underestimate these hazards. Please use your common sense and do not attempt to navigate this without a motorized watercraft. 
When heading out to Crab Island, make sure you take plenty of sunscreen, towels, swimsuit coverups, water games, and credit cards for Crab Island vendors. 
Ok now that we have all of that out of the way – Here are our suggestions for getting to Crab Island!
Crab Island Shuttles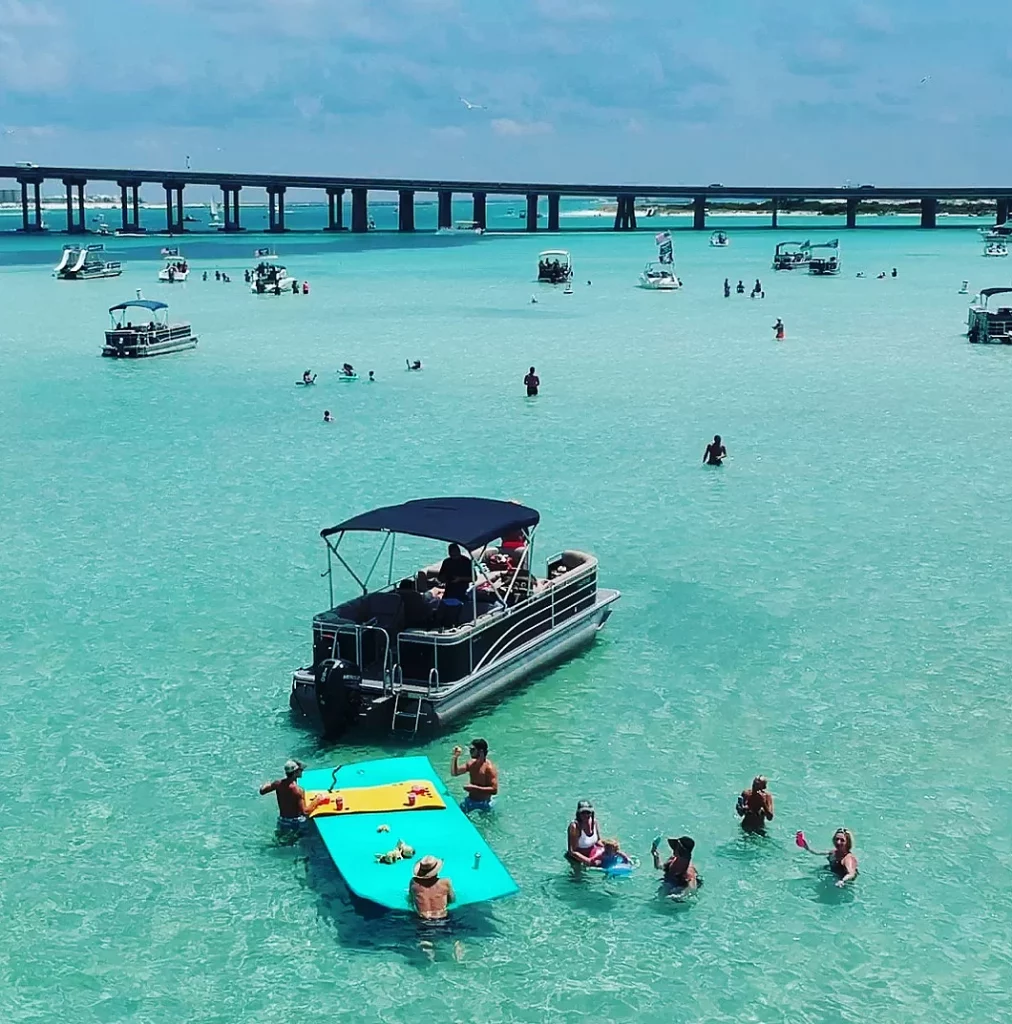 Family-owned and operated, Emerald Coast Island Excursions offers a private pontoon service out to Crab Island. Emerald Coast Island Excursions will take up to 6 people out to Crab Island for a full or half-day. The 25' Triton pontoon will also be stocked with a floating lily pad, paddleboard with paddles, beer pong, snorkels, masks, nets, and more! Emerald Coast Island Excursions will also supply a cooler with ice and water. 
For more information call: (850)529-8596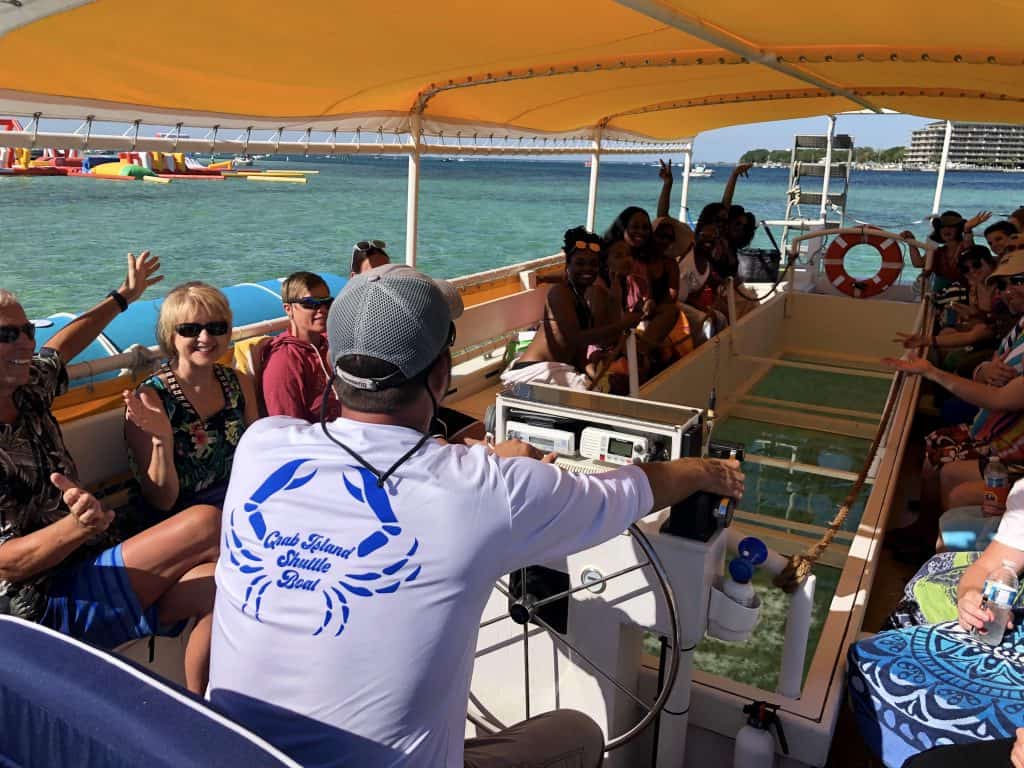 Choose from 2 ½ and 3-hour excursions leaving from Destin Harbor. Crab Island Shuttle Boat is a 33' covered (shaded) boat that can accommodate up to 28 passengers. Passengers are taken out to Crab Island where the crew will stay with the boat for the duration. Free parking, a large floating mat to enjoy out at Crab Island,  and a tour of Destin Harbor are also included in this excursion. Passengers are allowed to bring food and beverages onto the boat.
For more information call: (850) 650-2628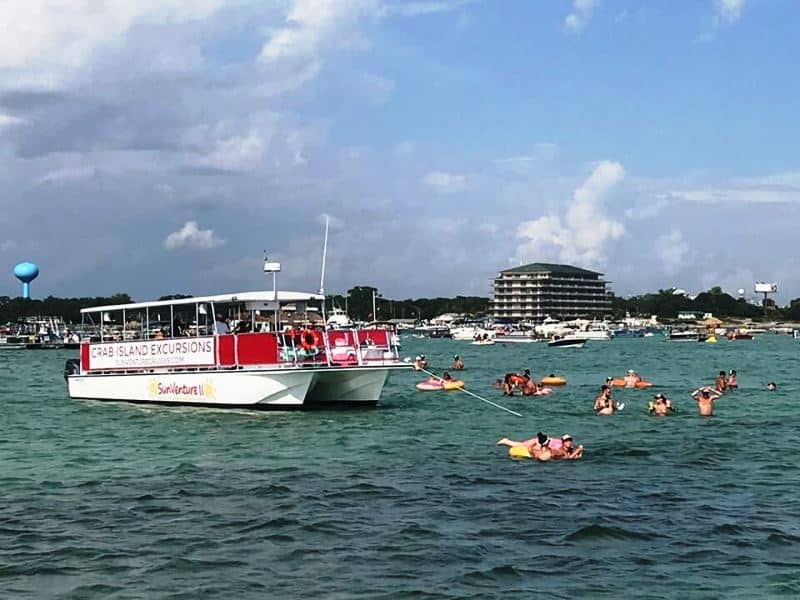 Enjoy Crab Island aboard a catamaran. SunVenture Cruises will shuttle passengers out to Crab Island and stay for the whole excursion. The catamaran is partially shaded so if the sun isn't your thing, you can still enjoy the breeze, great music, and the cool atmosphere on board. SunVenture Crab Island Cruises is BYOB friendly (just no glass please). Passengers may bring small coolers with food and drinks. There is a restroom on board for passenger use. 
For more information: (850)424-6465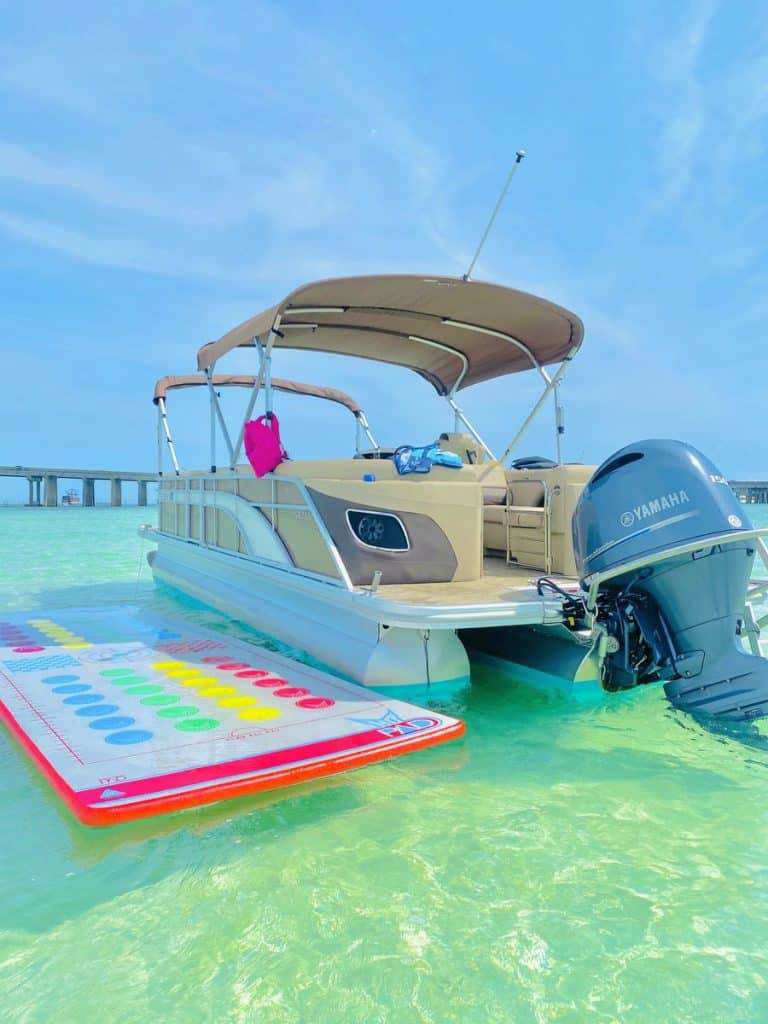 Enjoy this private pontoon charter that specializes in both family fun and bachelorette parties! Cruises begin at 11 A.M. and 2 P.M. All Day Excursions are available as well. Coolers of food and drinks are allowed. Passengers enjoy floats and beer pong.  Excursions accommodate up to 6 people. If your party has more than 6 people, please contact Destin Crab Island Adventure Cruises to discuss options. 
For more information: (937) 782-8120
Jet Ski Rental and Pontoon Rentals 
When it comes to renting your own Jet Ski or Pontoon. Here are a few things you might want to consider when renting your own.
Party size. You'll need to know what size pontoon.  
Renter must be 18 years or older and have a credit card. 
Anyone born January 1, 1988, has to take a Boaters Safety course. You can find that here. (there is a fee)
Deposit. There can be some hefty deposits per watercraft. These deposits may be taken out of your account and not returned for days. Make sure to check what the company's deposit terms are before you rent. 
BE SURE to read the terms of agreement – Especially the boundries put in place of where you CAN and CAN'T take the watercraft. Pontoons and jet skis are not allowed out in the gulf. Again, make sure you read the terms. 
Just a reminder, if you do rent your own, please do not harass the wildlife. Marine life is federally protected. 
DO NOT Drink and Drive. 
Know your boating signs.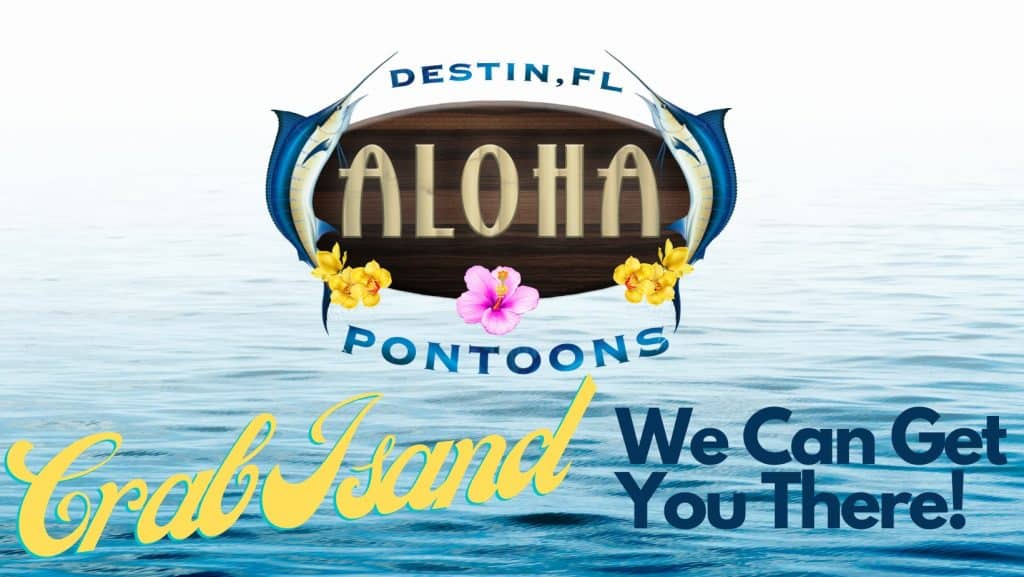 Located on Harbor Walk, Aloha Pontoon Rentals rents both Pontoon and Jet Skis.  Aloha Pontoon Rentals are half-day and full-day rentals on their pontoons. All pontoon rentals have CD players and AM/FM radios and a bimini top for shade. 
Jet Skis can be rented by half-hour, hourly, half-day, or daily.  
Aloha offers military and group discounts. 
For more information: info@alohapontoonrentals.com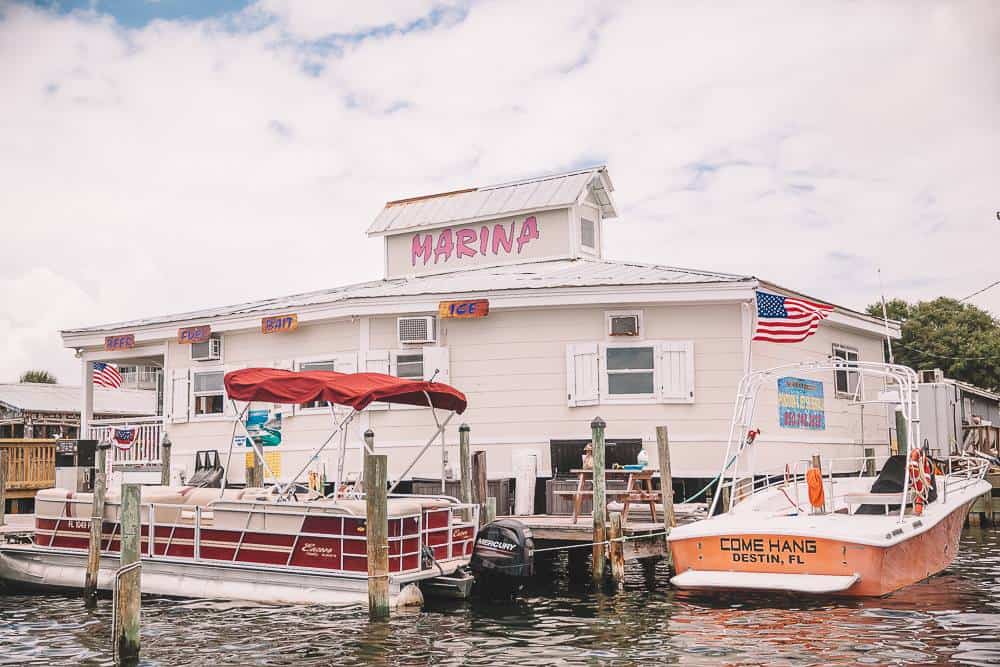 Located just a hop, skip, and jump from Crab Island are Wet and Wild Watersports. They also rent both pontoons and jet skis. 
Pontoon rentals are by the half or whole day.
Choose from: 24' 50 hp. Pontoon Boat (Holds up to 12 People)
  24' 115 hp. Bennington Pontoon Boat (Holds up to 11 People)
Jet Ski rentals are from one hour to eight hours. Each jet ski is a 3 seater and can support up to 400 pounds. Wet and Wild also claims to have the fastest jet skis at 50 mph! 
For more information: (850) 243-2628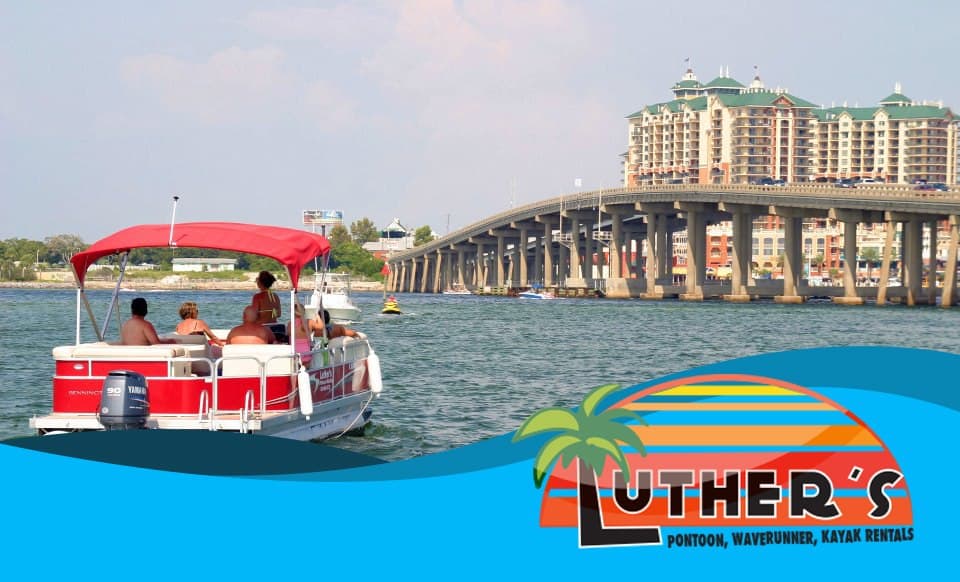 Luther's is located on Harbor Walk. They are one of the most popular options in Destin for personal watercraft rentals. They have a very friendly and helpful staff. 
Luther's has 3 different pontoons available for rent – 20 ft, 24 ft, and 28 ft.  Rentals are for 4 or 8 hours. Waverunners are available for rent for 1, 2, 4, and 8 hours. Rates fluctuate with the seasons. 
For more information: (850) 650-8733
We hope this information has been helpful in your Crab Island plans.  One more thing we'd like to point you towards. If you have decided on renting your own personal watercraft, please check out these informative safety videos from Luther's. 
Good luck, boat safe and have fun!
Ta-Ra!