If you're looking for some good breakfast places in Destin to start your days, we've got 8 great ones right here! 
Cafe Destin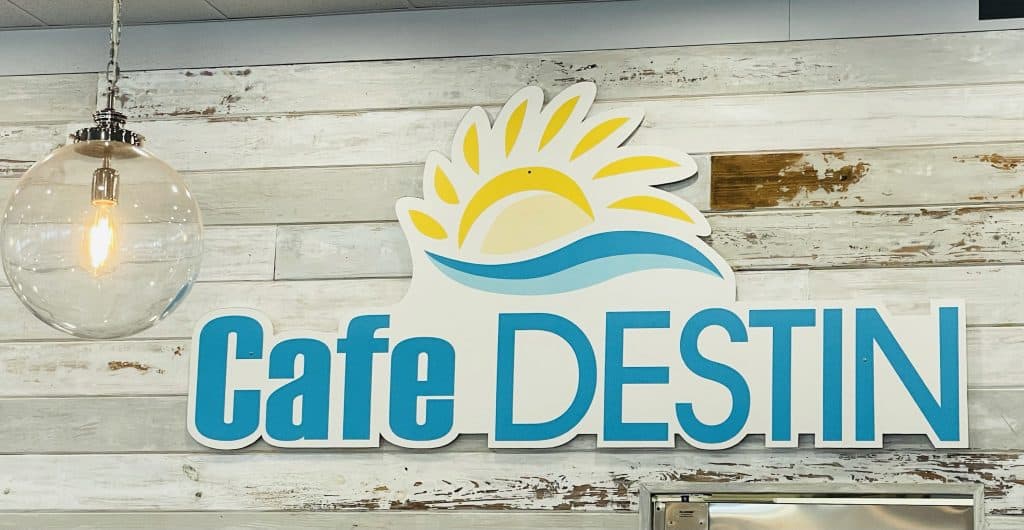 This gem is tucked away off of busy Hwy. 98 over by the Winn Dixie. They serve breakfast and lunch.  The Cafe Destin has indoor and outdoor covered patio seating. 
When guests enter, they are greeted with a modern, bright, and cheery decor. A large picture of Crab Island runs along the top of one wall.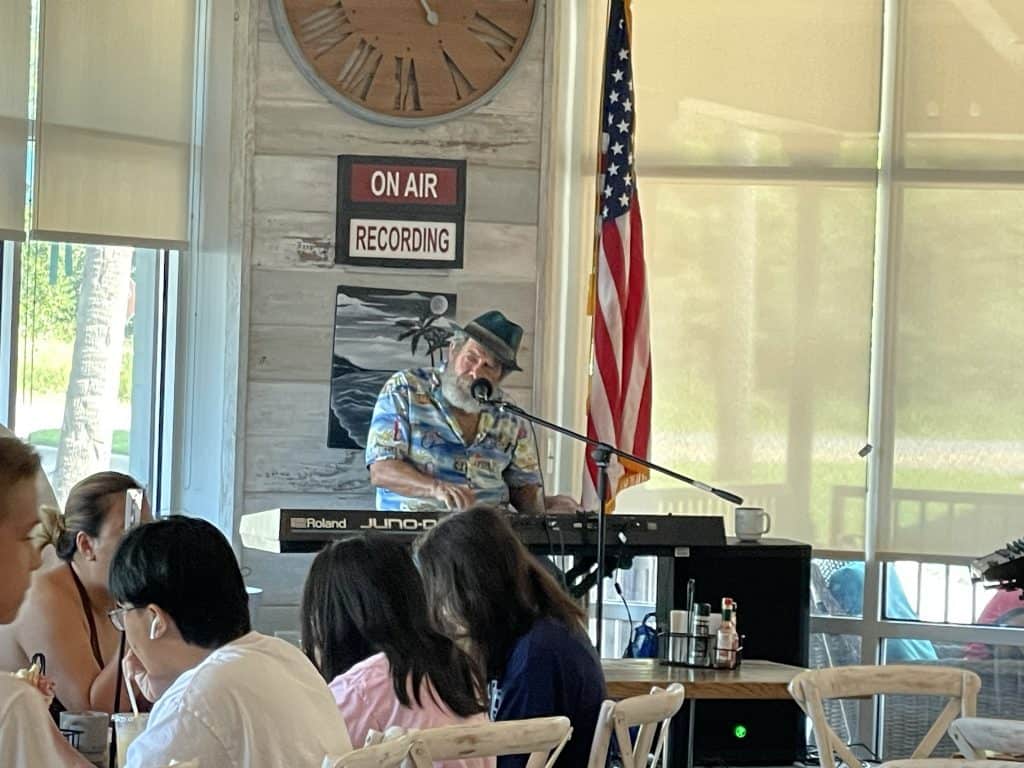 There is live music, but it's not loud and obnoxious. It is just kind of there in the background, contributing to the friendly vibe of the restaurant.  
Diners order at the counter and are given a number. It is then that the diner may pick a table, but not before. Tables turn over pretty quickly and the staff is fast to clean them off and reset them up for the next guests. Cafe Destin's staff are very helpful and polite. Everyone seems to enjoy working there, which is a nice change.  If the restaurant is busy with a line, one of the employees will offer you a menu and remind you about ordering at the counter, getting your number, then finding a seat.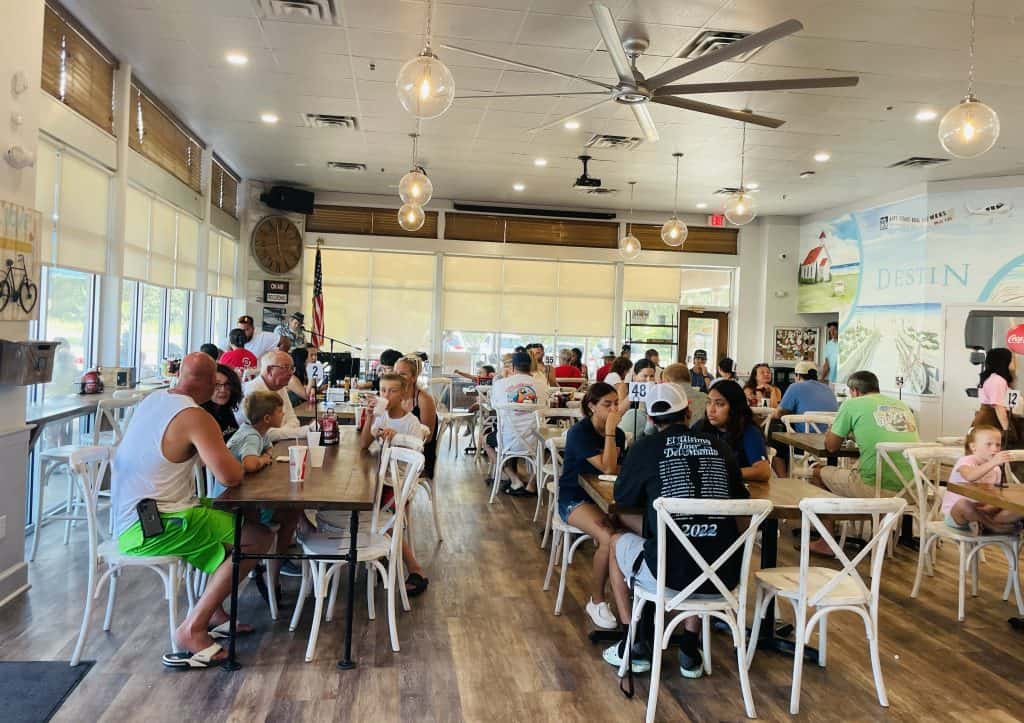 Besides breakfast and Lunch menus, Cafe Destin offers a full Expresso Coffee Bar.  Almost all items on the menu are under $15.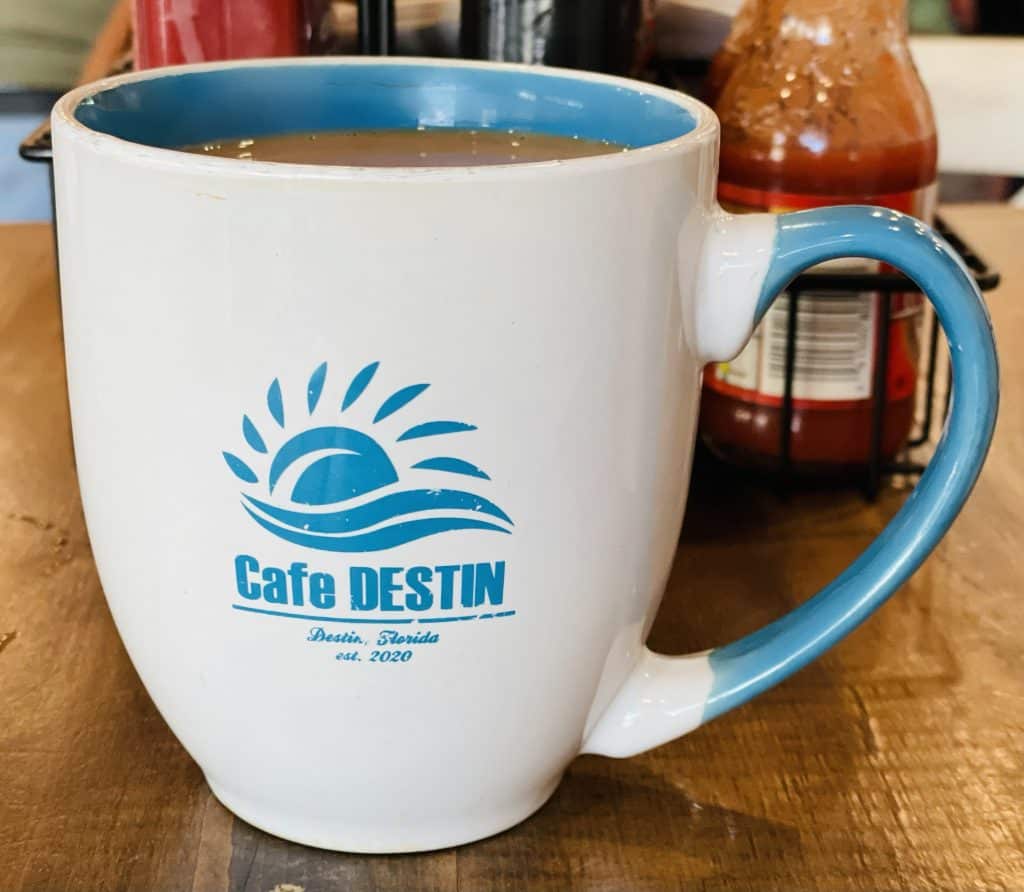 Breakfast offerings include the usual omelets, waffles, pancakes, and crepes. They also have biscuit breakfast sandwiches and biscuits and gravy. If you're an avocado toast fan, you'll find that on the menu as well.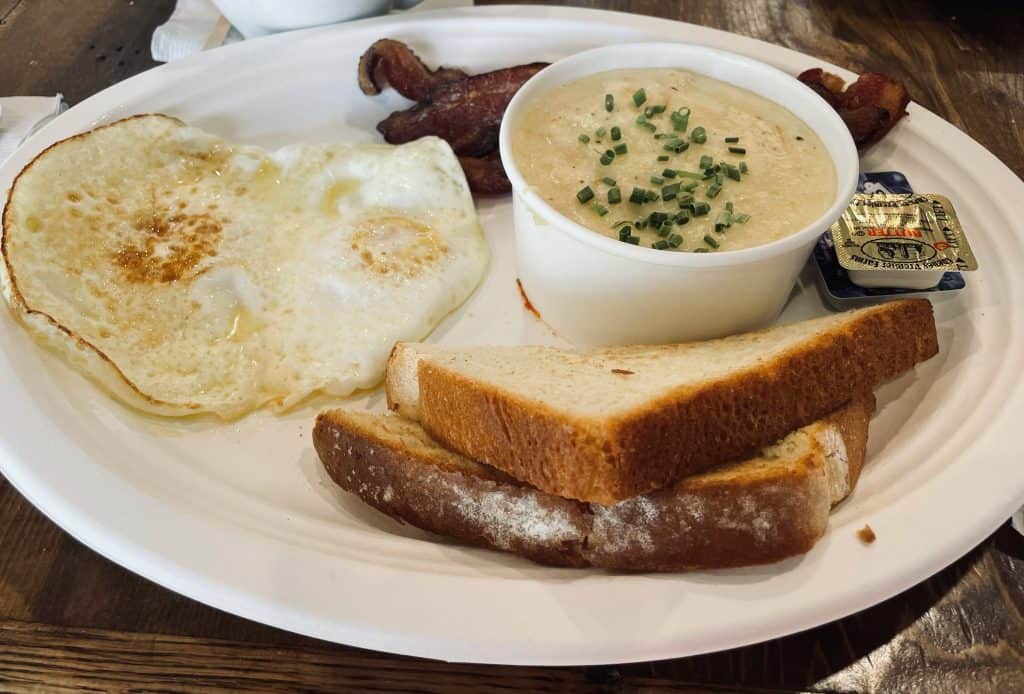 If you can't choose, just go for the Southern Breakfast – two eggs, bacon, gouda grits (amazing!), and white toast. You can't go wrong. 
See Full Menu Here.
Open: 7 Days a Week 7:00 A.M. – 2:00 P.M. (Breakfast and Lunch)
Phone: (850) 424-6777
Website: Click Here
Facebook: https://www.facebook.com/cafedestin
Address: 985 Highway 98 E Destin, FL 32541
First Watch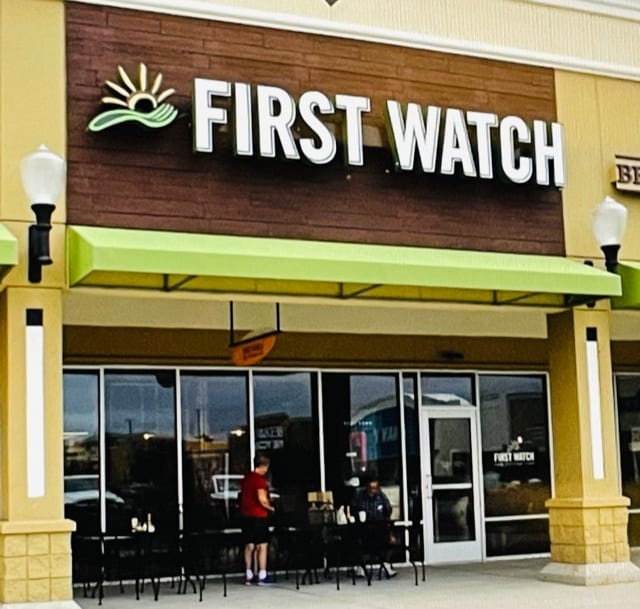 First Watch is located off of Commons Drive next to the Publix. First Watch is a farm-to-table restaurant chain that serves up all fresh ingredients. Everything is homemade. Starting in the morning, the kitchen bakes their own goods, slices up fresh produce, and mixes up their French Toast batter. 

Customers love the range of First Watch's menu which includes a fresh juice bar and seasonal menu items. They also love the customer service, the cleanliness of the restaurant, and not to mention being greeted with a whole pot of coffee and not just a cup! First Watch is one of the few restaurants in Destin that offer a "Waitlist" option. So make sure to sign up before you leave home. 
Here are some highlights from their menu: 
Lemon Ricotta Pancakes
We add fresh, whipped ricotta cheese to our multigrain batter. Served as a "mid-stack" of two pancakes topped with marinated berries, creamy lemon curd, and powdered cinnamon sugar
The Elevated Egg Sandwich
An over-easy cage-free egg with bacon, Gruyere cheese, fresh smashed avocado, mayo, and lemon-dressed arugula on a brioche bun. Served with fresh, seasoned potatoes. 
Smoked Salmon & Roasted Vegetable Frittata
A classic frittata with Wild Alaska Smoked Sockeye Salmon*, house-roasted shallots and tomatoes topped with Parmesan cheese, a chive cream drizzle, and fresh herbs. Served with ciabatta toast and lemon-dressed organic mixed greens.
Markey Veggie
House-roasted Crimini mushrooms, zucchini, and spinach with basil pesto, mayo, and Mozzarella cheese on grilled artisan whole grain.
If you can't make up your mind, try the "Choose 2" (Soup, Salad, Sandwich). 
See Full Menu Here. 
Join the Waitlist Here. 
Open: 7 Days a Week 8:00 A.M. – 11:30 P.M. (Breakfast, Lunch, Dinner)
Phone: (850) 460-9800
Website Click Here
Facebook: https://www.facebook.com/FWDestin
Address: 4427 Commons Drive East Destin, FL 32541
The Local Market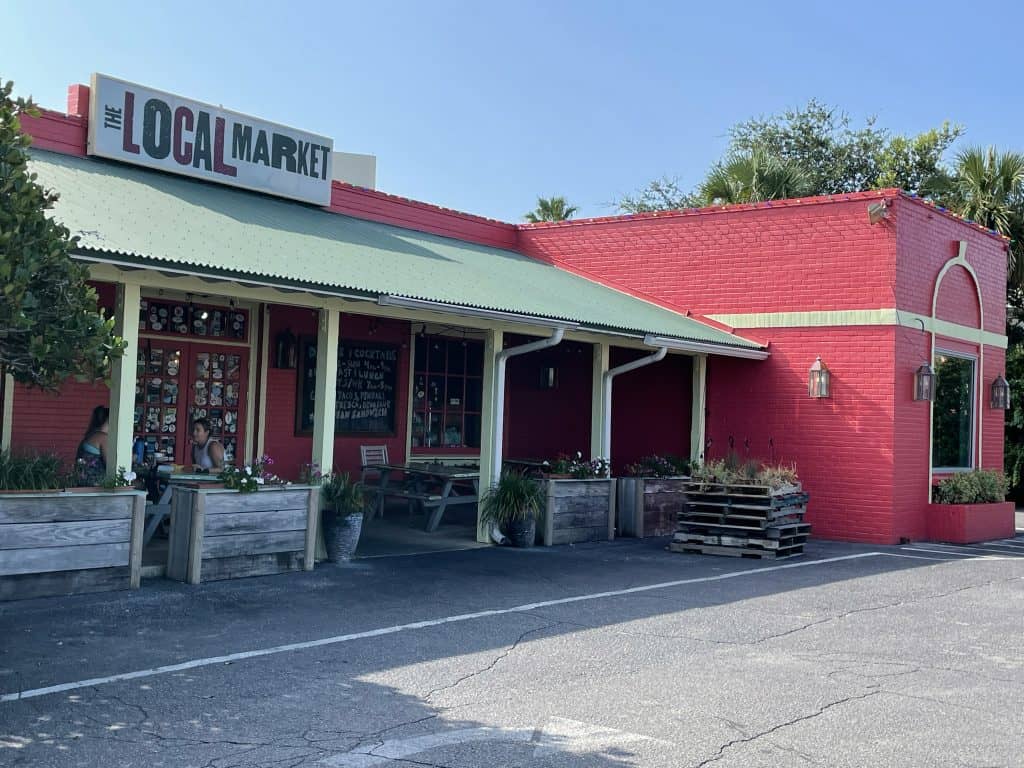 Located on Holiday Isle on Gulf Blvd. in Destin, the Local Market serves breakfast and lunch. The Local Market brines and roasts their own meats and uses locally sourced produce. Their bread is made fresh daily at Bon Appetit in Ft. Walton. 
The Local Market is deeply rooted in the community and they have partnered with many Destin organizations, which you can read about here. They also contribute 1% of their sales to American Lunch, a non-profit 501-c3 (Read more here).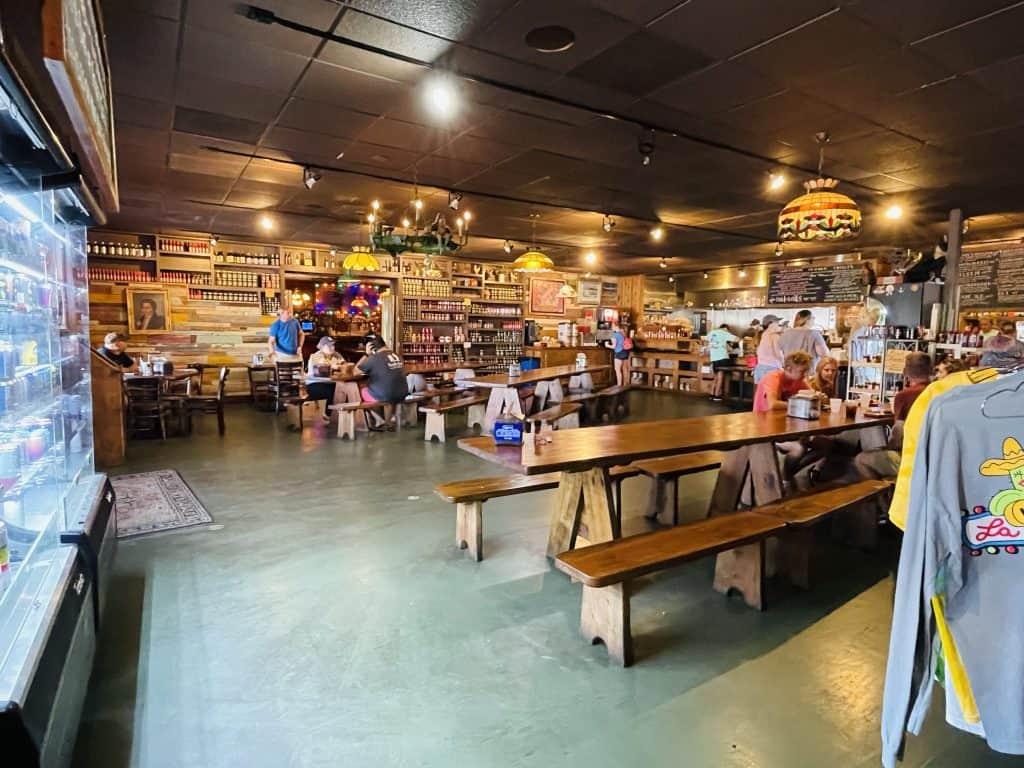 Customers love the Local Market because it's dog-friendly (front patio), good atmosphere, has good prices, is easy to get into, and everything on the menu is freshly made. Inside has a rustic feel. The menus are chalkboards. Customers order at the counters and seating is communal at the long wooden tables.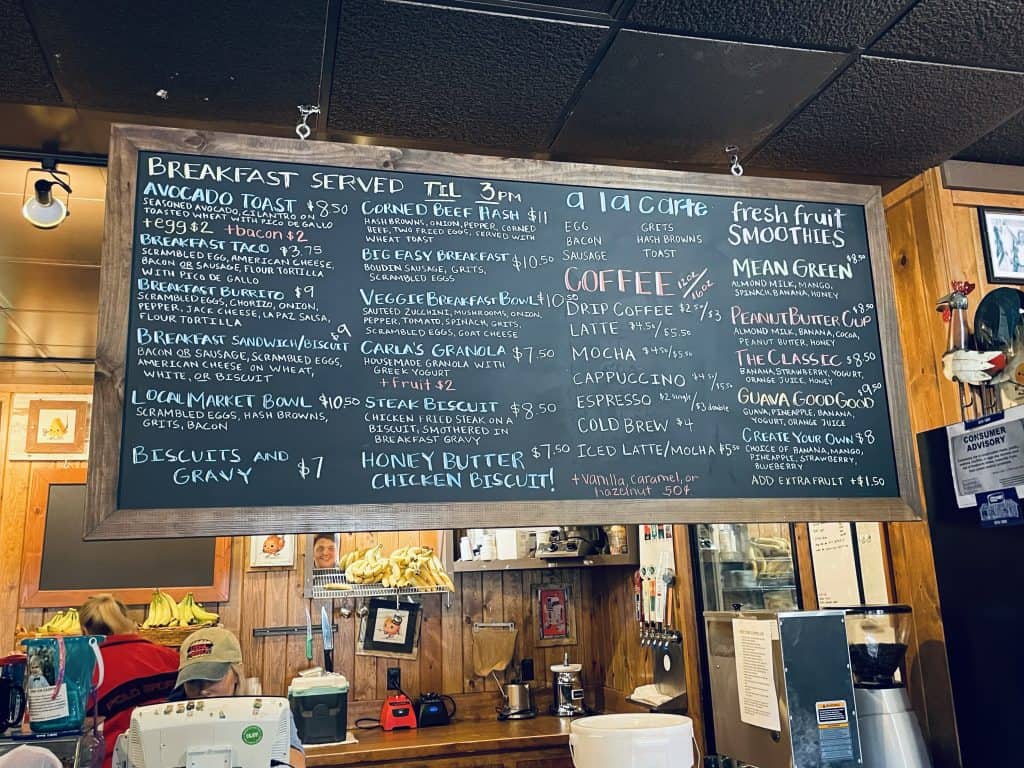 Here is a selection of menu items: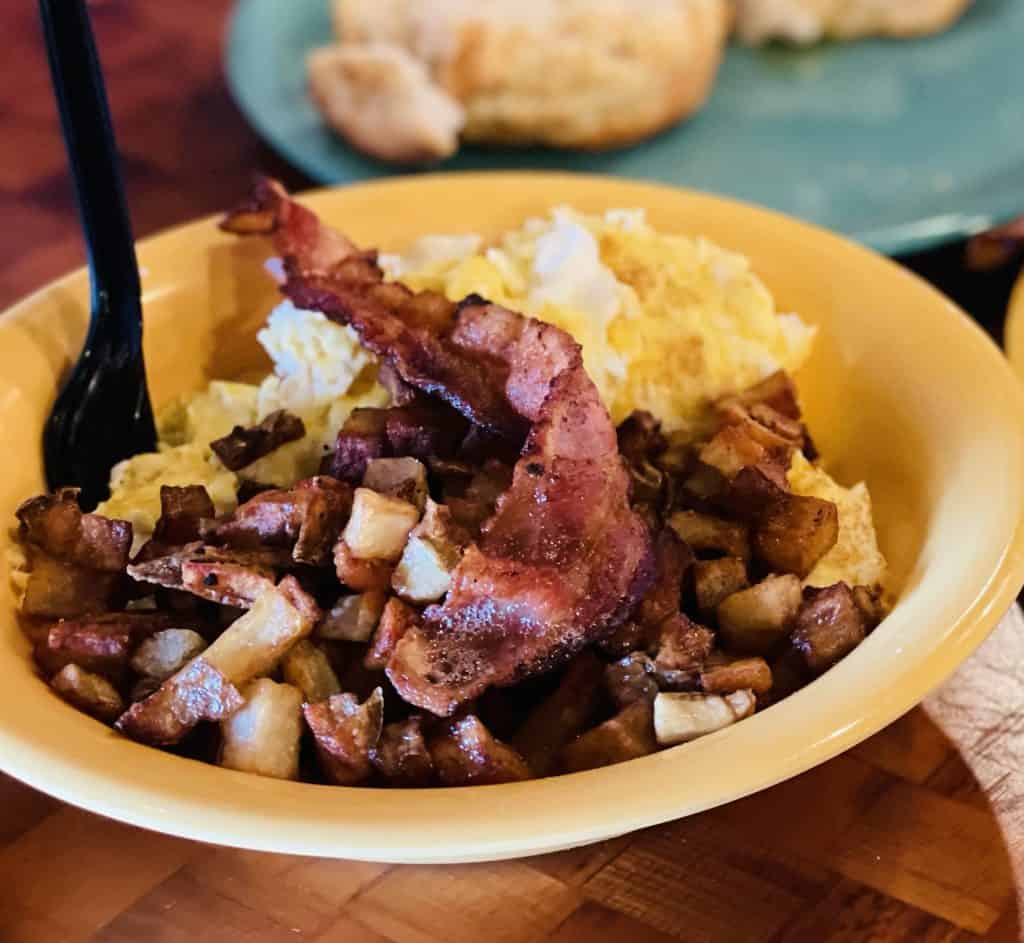 Local Market Bowl
Scrambled eggs, grits, hash browns, & bacon served in a bowl
Honey Butter Chicken Biscuit
Fried chicken breast, honey butter with a honey drizzle on a biscuit
Avocado Toast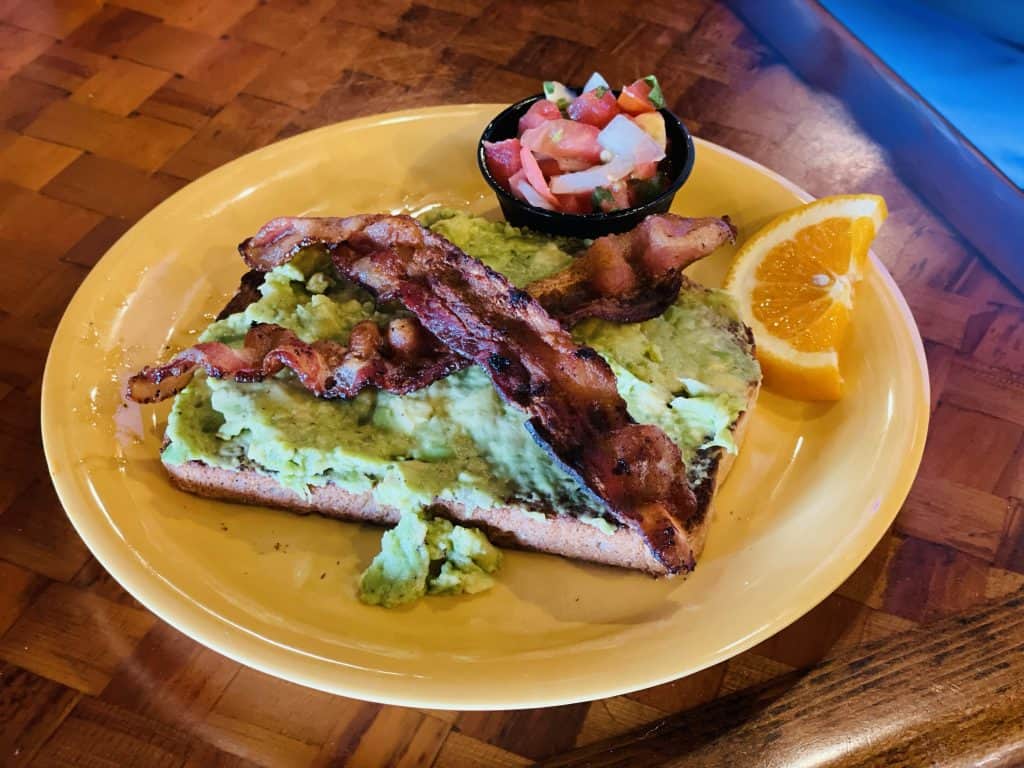 Seasoned avocado, garlic, olive oil drizzle, & cilantro served on wheat toast with a side of Pico de Gallo. Add an egg or bacon (extra charge). 
Open: 7 Days a Week 7:00 A.M. – 3:00 P.M. (Breakfast & Lunch)
Phone: (850) 460-8979
Website: https://www.localmarketdestin.com/
Facebook: https://www.facebook.com/localmarketdestin/?ref=page_internal
Address: 950 Gulf Shore Dr Destin, FL 32541
East Pass Coffee Co.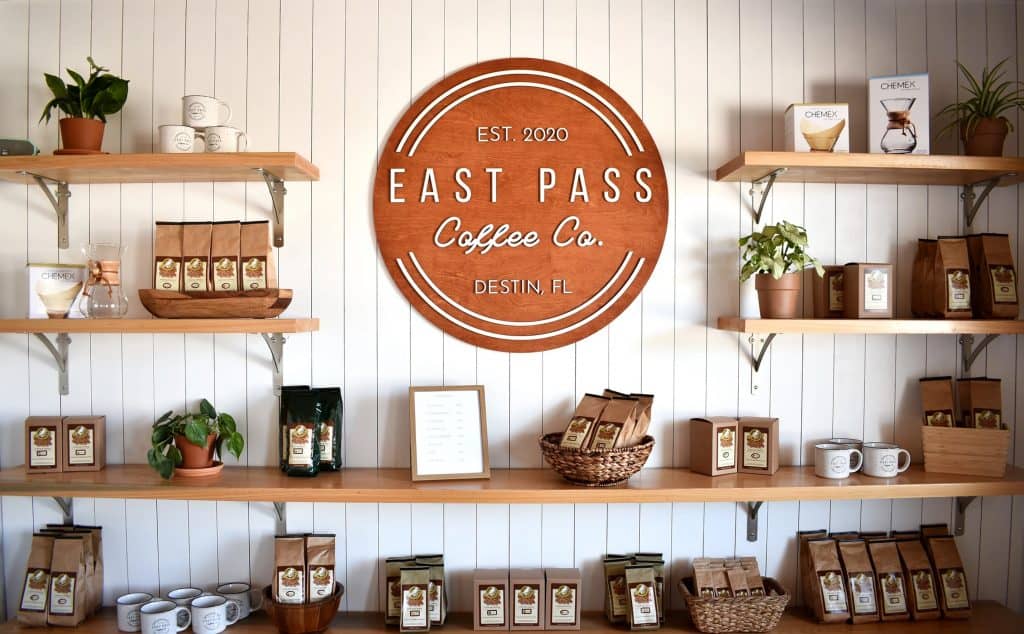 The East pass Coffee Co. is another delicious, healthy breakfast option in Destin that is located on Hwy. 98 across the street from Gilligan's Watersports. East Pass Coffee Co. is formerly the JumpinGoat Coffee trailer. 
Customers rave over the atmosphere and hospitality of this new <reborn> little business. The menu isn't large but what they offer is high-quality goodness. They offer some vegan and gluten-free options as well. 
A peek at their menu: 
Banana Toast
Multigrain bread, peanut butter, bananas, chia seeds, and local honey
Avocado Toast (A Customer Favorite!)
Multigrain bread, avocado, lemon juice, lemon zest, salt, pepper, and chili flakes. 
Add bacon or an egg any style ($)
Christie's Cinnamon Toast
Multigrain bread, butter, sugar, and cinnamon
*Upcharge for Gluten-Free Bread
East Pass Bowl
Acai, granola, banana, strawberries, coconut, peanut butter, and local honey
Additional toppings available
Green Drink
 Spirulina, mango, banana, coconut, almond milk, and local honey
Signature Drinks
Vietnamese Cold Brew 
Sweet Cream Vanilla Cold Brew 
Coco For Mocha (hot or cold) 
German Chocolate Cake (hot or cold)
Sounds good huh?:) Click HERE for the full menu! 
OPEN: 7 Days a Week 7:30 A.M. – 2:00 P.M. 
PHONE: 850-353-2906
WEBSITE: https://www.eastpasscoffeeco.com/
FACEBOOK: https://www.facebook.com/eastpasscoffeeco
ADDRESS: 529 Harbor Blvd Unit 104, Destin, FL 32541  
Tailfins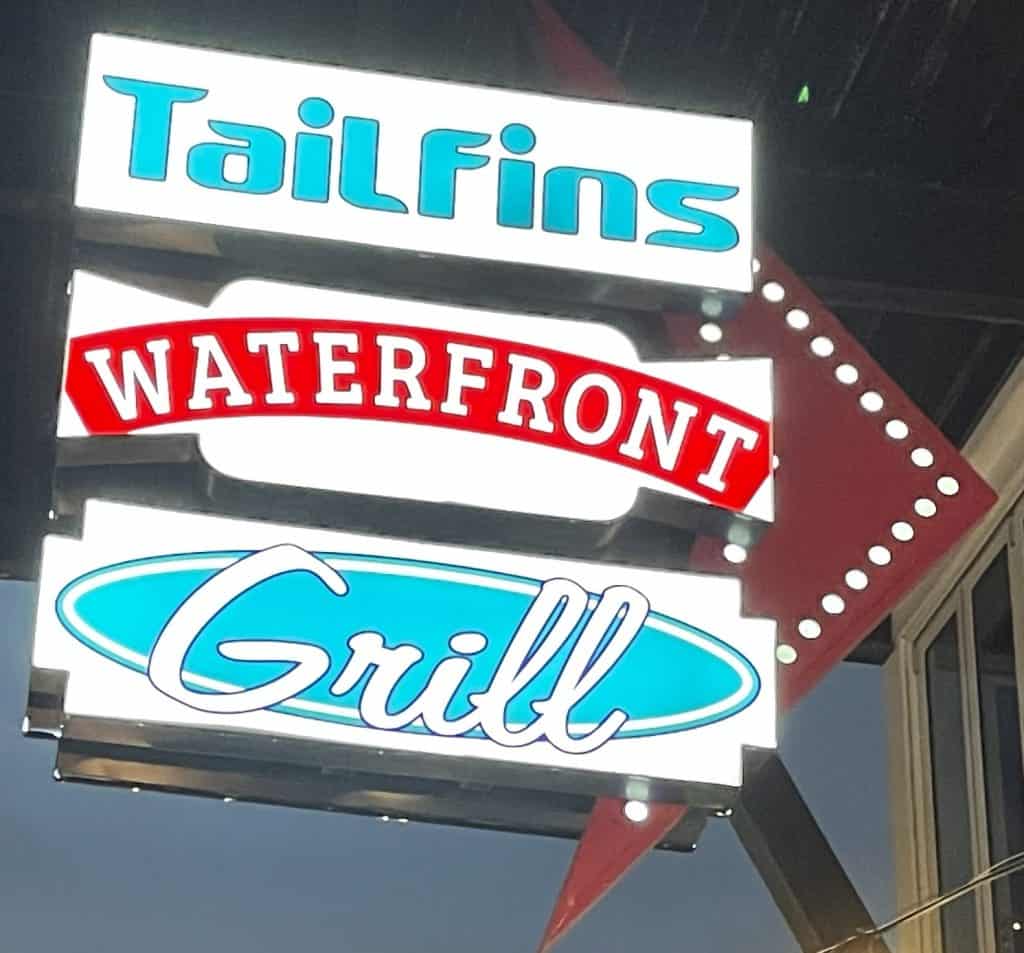 This one may be a surprise! 
Located at Destin's beautiful HarborWalk, Tailfins serves breakfast 7 days a week. With free parking,  a beautiful view of the harbor, great food, and open-air dining, THIS is the way to start your day! 
Tailfins is child-friendly, has a great view, fast service, and great food. Customers keep coming back for the Bloody Marys and the Bottomless Mimosas. 
A look at some of the menu items: 
Classic Breakfast
3 slices of bacon or sausage patties with 2 eggs. Served with hash browns and french-baked biscuits.
Cajun Omelette
Andouille Sausage, diced Jalapenos, blackened shrimp, peppers, potatoes, and cheddar Jack cheese.
Seafood Omelette
Crabmeat sauteed shrimp, peppers, and cheddar jack cheese
Kids Smiley Pancake
Large pancake with whipped cream and a side of fruit
Open: 7 Days a Week 8:00 A.M. – 11:30 P.M. (Breakfast, Lunch, Dinner)
Phone: (850) 650-1200
Website: https://tailfinsdestin.com/
Facebook: https://www.facebook.com/tailfinsdestin
Address: 172 Harbor Blvd Destin, FL 32541
The Donut Hole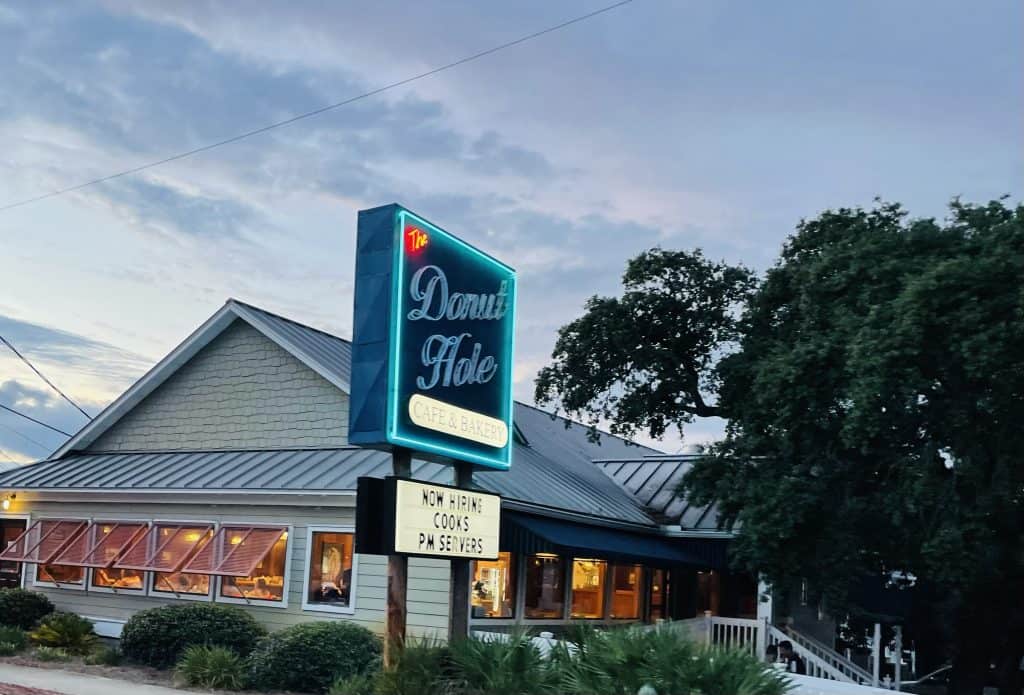 This will come as no surprise to anyone who has ever visited Destin. The Donut Hole (located on Hwy 98)  is probably the most popular breakfast place in all of Destin. People stand in line for up to 2 hours (sometimes more!) in the blazing sun just to have breakfast at this spot. There are no reservations, you just wait your turn.  
The donuts here are phenomenal but they are just a fraction of what makes this place so great. Other than donuts they offer entrees, cakes, desserts, and more. The Donut Hole doesn't manage its own website nor does it rely on social media to get the word out. It is definitely the word of mouth that pushes its popularity. This is the closest we can find of an online menu here. 
The Donut Hole is a rockstar in its own right. So if you're in Destin and have some time to wait for a great breakfast, this is the place for you. 
Open: 7 Days a Week 6:00 A.M. – 10:00 P.M. (Breakfast, Lunch, Dinner)
Phone: (850) 837-8824
Website: https://whereindestin.com/donut-hole-destin/
Facebook: Click here 
Address: 635 Harbor Blvd. Destin, FL 32541
We hope these have been helpful with your search for a good breakfast.  However, these are just a few and we will be adding more, but these will get you started! So go forth and breakfast! 
Let Us Know if you try any of these suggestions and if you have your own suggestions, we'd love to hear them!
Enjoy!
Ta-Ra!