Destin's Holiday Isle is considered the "Sweet Spot" of Destin. It's tucked away off of busy Hwy. 98. Visitors have the luxury of the Harbor and the Gulf. Lots of beautiful gated properties that offer tons of amenities are just the icing on the cake. Not to mention, you never even have to venture outside of your little paradise onto 98. 
If you don't want to cook at home, Holiday Isle is home to many restaurants – many locally owned! Louisiana Lagniappe is located inside the Sandpiper Cove gated community but is open to everyone. Locally owned restaurants such as Bric-a-Brac, Capriccio's Cafe, and the Local Market are all ideally situated at the top of Holiday Isle. Holiday Isle vacationers also have the luxury of the Destin Harbor Water Taxi service that will transport you to HarborWalk where you can shop or dine at any of their many restaurants. And as we mentioned, all without ever venturing out onto Hwy. 98. 
How's that for a vacation? Want to know where to stay? Read on!
Sandpiper Cove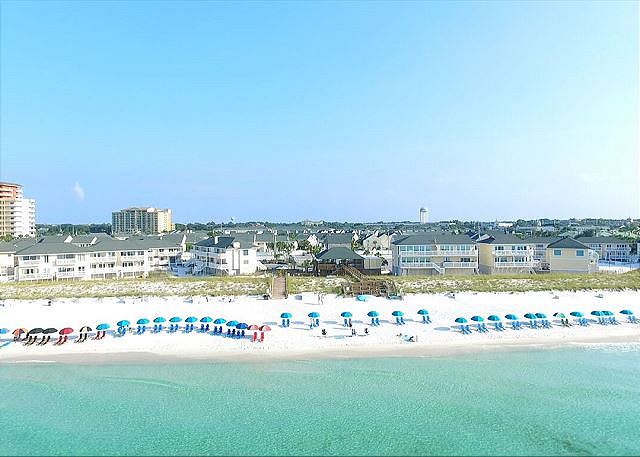 This 43 acre gated community is located off of Destin's Hwy. 98 on Holiday Isle. Their yellow units are highly recognizable to locals and Destin regulars. 
Sandpiper Cove offers studio, one, two, or three-bedroom non-smoking units. Choose from beachfront, boardwalk, canal, or harbor front,  among other locations. Sandpiper Cove has lighted tennis courts, golf courses, five swimming pools (2 that are heated in the winter). They also have a private beach, and you can bring your boat as they have docking options. 
Sandpiper Cove rentals all come with major appliances, however, not all have a washer and dryer. Be sure to ask when booking your rental. They have basic kitchen setups (plates, cutlery, cookware, etc). You will also find linens and towels that you may change out daily with housekeeping. Renters will need to bring their own beach towels, food, drinks, etc. Some units may have beach toys for your family to enjoy while others may not. Upon arrival, check closets before setting out for Walmart or Target. It could save you a bit of money.  
Sandpiper Cove is a pet-friendly community.  There is a non-refundable deposit and fur-parents must have proof of vaccine for each fur-baby. Dogs must be on a leash at all times when outside of their unit. Click here to learn more about Dog-Friendly Destin. 
OPEN: 8 A.M. – 5 P.M. Daily
WEBSITE: https://sandpipercove.com/
FACEBOOK: https://www.facebook.com/SandpiperCoveCondominiums
INSTAGRAM: https://www.instagram.com/sandpipercove/
PHONE: (850) 837-9121ADDRESS: 775 Gulf Shore Dr. Destin
Destin Pointe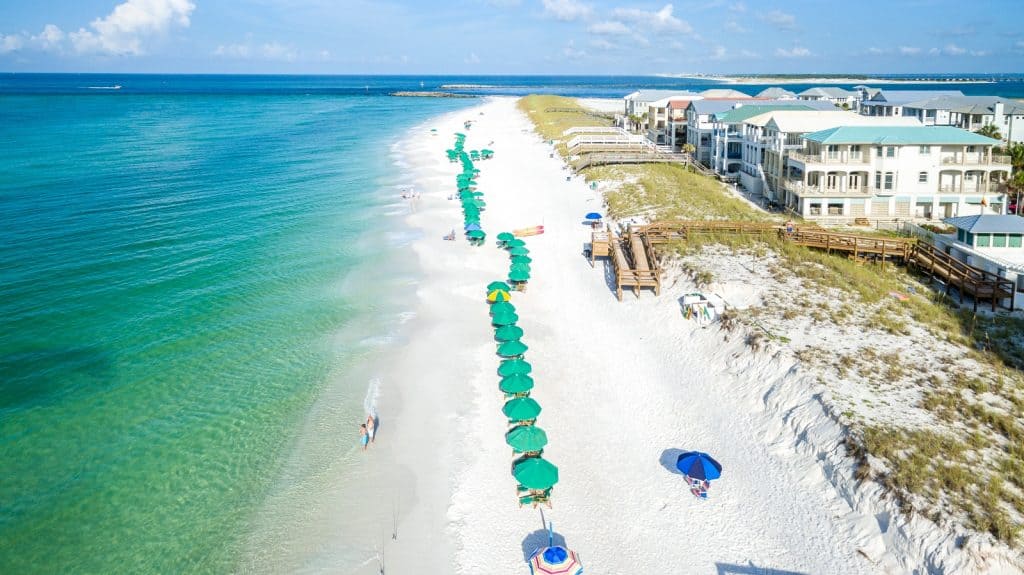 Destin Pointe is a luxury property in a gated community at the end of Gulf Drive on Holiday Isle. It is a mixed community of cottages and medium-high-rise units. 
Destin Pointe is situated between Destin Harbor and the Gulf of Mexico with 3,000 feet of that beautiful Destin sand and emerald waters. You are also within easy walking distance of the much-loved East Pass Jetties where visitors love to snorkel. If this isn't enough, Destin Pointe offers 2 lakes, swimming pools, shuffleboard, tennis courts, and a lovely boardwalk with benches along the harbor. There is also a tram service to be taken advantage of during the March to October season. 
Destin Pointe's units are all completely furnished with luxurious touches and decorating. Unit sizes range from 1 bedroom to 5 bedrooms. 5 bedrooms can sleep up to 12! Granite countertops, washer/dryers, plus everything you need to make a scrumptious meal. 
Please note that Destin Pointe units are not pet-friendly. 
OPEN: Always Open
WEBSITE: https://www.destinpointerental.com/ 
FACEBOOK:https://www.facebook.com/HolidayIsleProperties
EMAIL: customersupport@holidayisle.net 
PHONE: (850) 837-0010ADDRESS: 480 Gulf Shore Drive, Destin
The Islander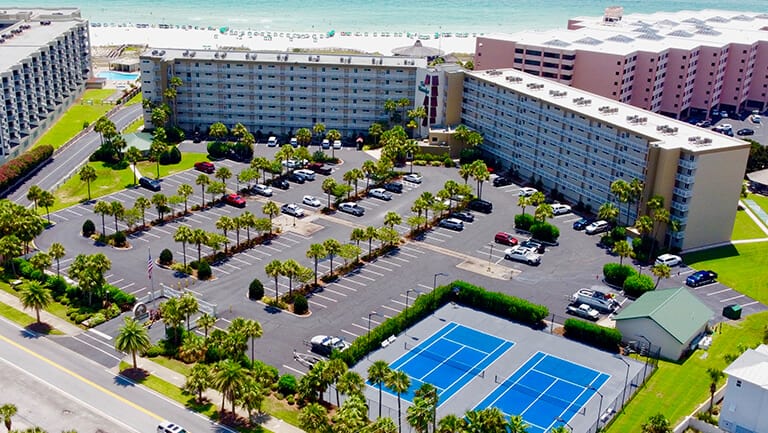 The Islander is a 7 story (wing-shaped) condominium non-smoking resort located on the Gulf of Mexico. All units are 2 bed/ 2 bath and sleep up to 6 people. The number of beds from unit to unit may differ. Each unit faces East or West and has a balcony to further enjoy the views. 
The Islander offers four different price points for vacation rentals – Platinum, Gold, Silver, and Bronze. Platinum offering upscale digs that include all high-end touches from floor to ceiling. Whereas the Bronze will give you a very clean and comfortable "value" stay. The condos will not be as updated or new, however, you will still get all of the amenities and good bits that Holiday Isle has to offer.  All units include fully set up kitchens, wifi, TVs, and more (please read each unit description). Please note, not all units have washers and dryers. There is a linen exchange twice a week and a coin-operated laundry on-site. March-October The Islander offers beach setups (2 chairs and an umbrella) to visitors who stay 14 days or less.  If you join their Free VIP program, you'll have access to free wifi, free beach set-ups,  and other area discounts that you can check out here. 
Other than the beach, the Islander offers other amenities such as 2 hot tubs, 2 pools (one of which is heated year-round), a 'mini' exercise room, BBQ pits, and lighted tennis courts. There is also a 1,700 square foot event room available for rent for special events. 
Note: This property is not considered handicap accessible. However, there are two elevators on this property, ADA compliant beach walk-over, and lifts on the east and west pools. Some units have walk-in showers. 
For more information on the Islander Resort: 
OPEN: Always Open
WEBSITE: https://www.islander-resort.com/
FACEBOOK:https://www.facebook.com/TheIslanderResortInDestinFlorida
EMAIL: rentals@islander-resort.com  
PHONE: (800) 477-8837
ADDRESS: 502 Gulf Shore Drive, Destin
Shoreline Towers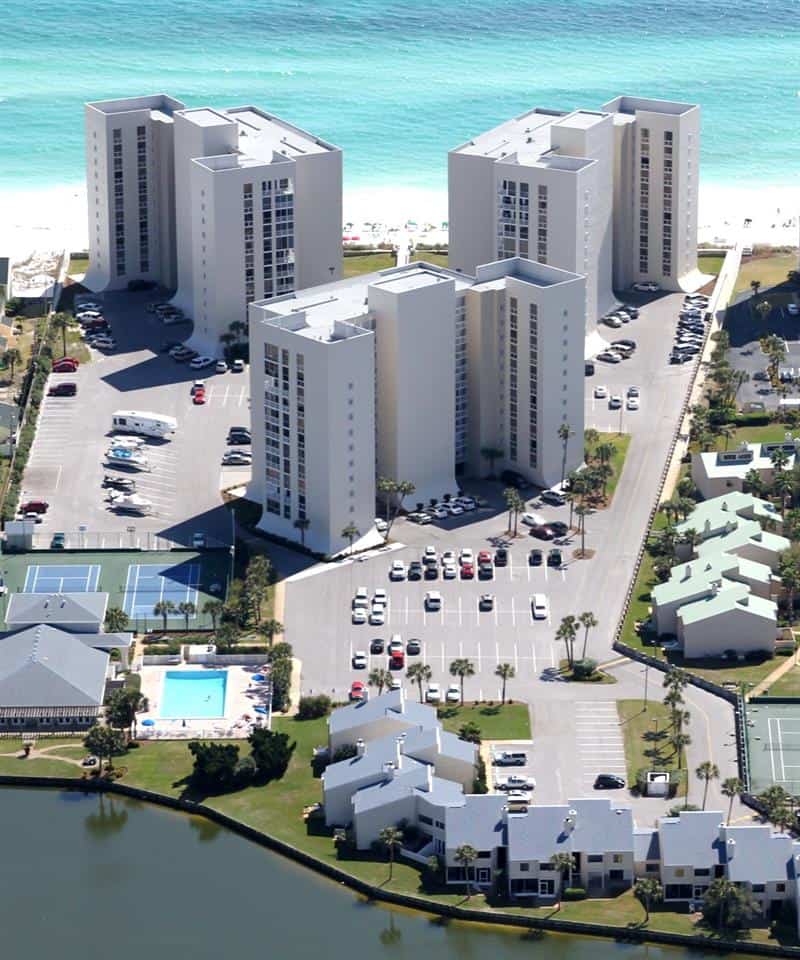 *Please note, currently there is ongoing construction at Shoreline Towers. If you are looking for Gulf Front (especially), please be specific and ask if the balconies are open*
Shoreline Towers is located right past The Local Market restaurant as you drive into Holiday Isle on Gulf Shore Drive. Shoreline is made up of 3 condominium towers and lakeside townhomes. They welcome both summer visitors and winter snowbirds. 
Both condos and townhomes offer 2-3 bed/2 bath rentals. All condominiums have balconies and townhomes offer patios – both perfect for relaxing.  All have fully equipped kitchens. All you need to do is bring the groceries! 
Other amenities offered by Shoreline Towers include a spa, seasonally heated pool with ADA pool lift, shuffleboard, fitness facility, bbq pits w/ picnic areas. There are also lighted tennis courts as well as pickleball courts. 
Shoreline Towers loves their Snowbirds and offers fantastic monthly rates from November – March. They also host Snowbird events throughout the Snowbird months – keeping things fun and fresh!
Please note: Not all units come with a free beach set up. Please read the rental details and ask upon making a reservation. 
OPEN: 8:00 A.M. – 4:30 P.M. (Monday – Saturday)
WEBSITE: http://www.shorelinetowers.net/
FACEBOOK: https://www.facebook.com/shorelinetowers
EMAIL:  star@shorelinetowers.net
PHONE: (850) 269-0796
ADDRESS: 900 Gulf Shore Drive, Destin
Oceania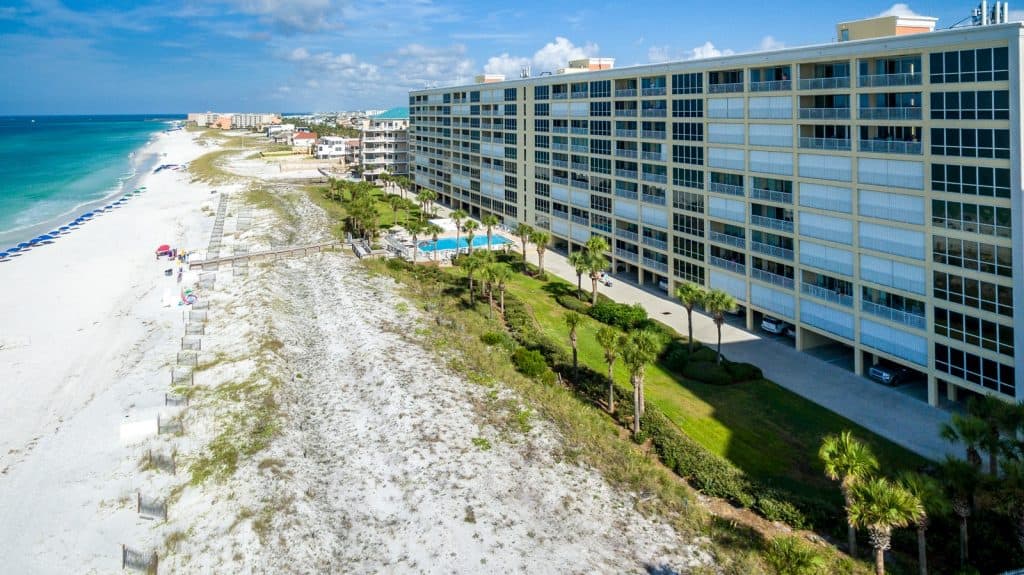 Oceania is a luxury property located on Gulf Shore Dr., directly across from Harbor Landing. All units are 3 bedroom with 3 bath and sleep 6-10 people.  Oceania units are all gulf front facing and have 60' balconies. Needless to say, every unit has an amazing view!
Each of Oceania's units are individually decorated. Elegant but still very comfortable. The kitchens have top of the line appliances and granite countertops. Washers and Dryers in each unit makes it so easy to throw a load of clothes or towels on at anytime and have to leave the comfort of your unit.  
Other amenities include an onsite gym, swimming pool, bbq pit, and picnic tables. There are 
outdoor showers located on the beachwalk to rinse off the day's sand before heading up to the room. Last but definitely not least, all units have beach setups. Just make sure to reconfirm how many chairs and umbrellas and make reservations, if necessary for extras! 
Reviews for Oceania are straight across the board fantastic. Great customer service is top of the list. 

For more information: 
OPEN: Always Open
WEBSITE: https://www.holidayisle.net/resort/oceania-destin-rental
FACEBOOK: https://www.facebook.com/oceaniadestin 
PHONE: (800) 837-5102
ADDRESS: 720 Gulf Shore Drive, Destin
We hope these gave you a good overall idea of what you can find and expect on Holiday Isle. Also, make sure to check out Holiday Isle, Vacasa, and VRBO for more condos and homes on these and other properties at Holiday Isle. 
Let us know if you have tried are WILL BE trying one of our recommendations and let us know what you thought!
Ta-Ra!!