One of the most burning questions people want to know before they visit Destin is, "Are there sharks in the water at Destin?". Destin, Florida is on the warm Gulf of Mexico. Yes, there are sharks. Yes, there are some very docile sharks, but there are some pretty gnarly ones as well. We aren't trying to scare anyone, but we'd like to answer this question with a little more information, other than just  "Yes there are sharks in the water at Destin.". 
Bonnethead Sharks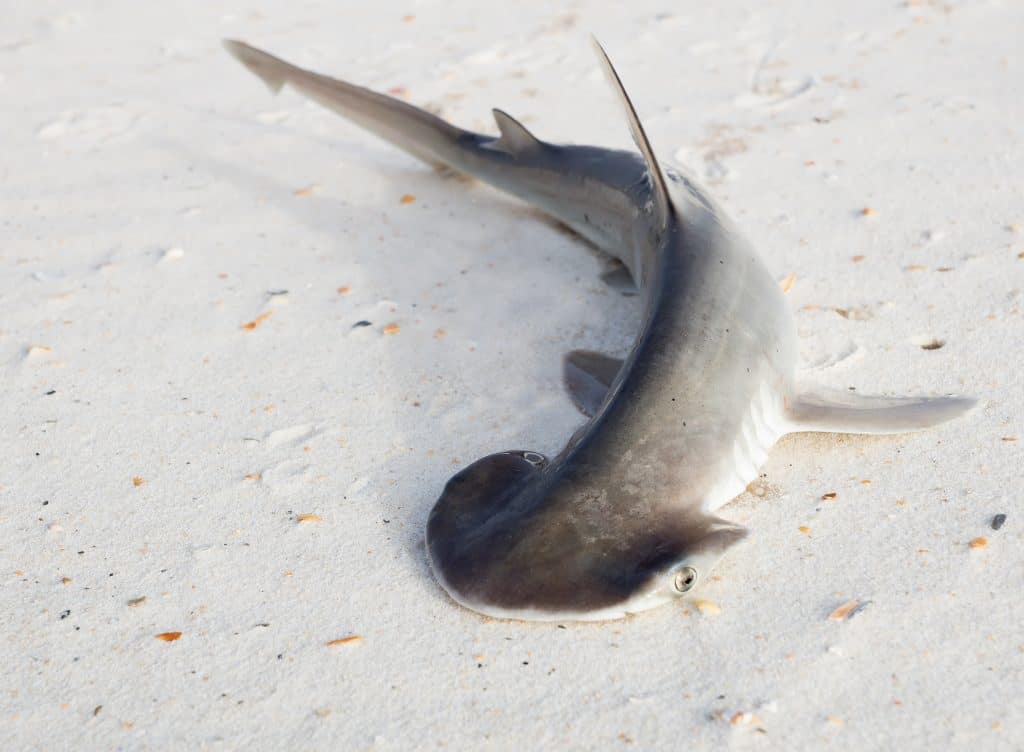 Bonnethead sharks are the smallest of hammerheads. Gray to grayish brown. Sometimes with a green hue. Heads are shaped like shovels. 4-5 feet long. Naturally shy and not harmful to humans. Found Spring, summer and autumn in the Gulf in the panhandle. They prefer water over 70 Degrees f. On average, females are larger than males. They feed on blue crabs, pink shrimp, and mollusks. Females have litters of pups 4 to 14. Larger sharks are natural predators of the bonnethead. 
Hammerhead Sharks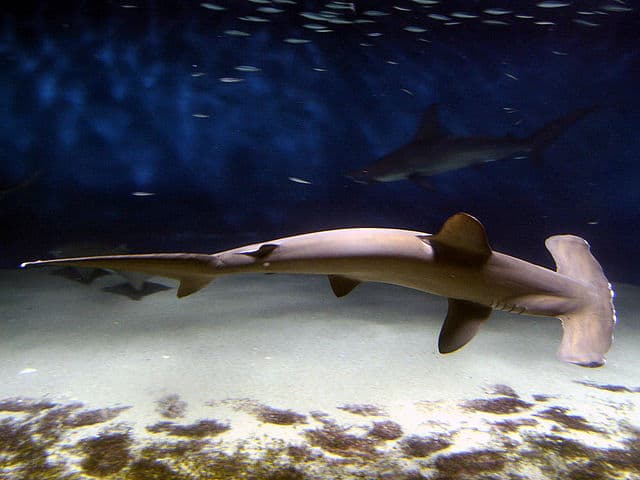 Hammerheads are frequent travelers up and down the beach and at Crab Island. They are docile and not a threat to humans. They are very curious and have a major blind spot. They have been known to bump into unsuspecting vacationer's legs out in the water. Needless to say, it can be very startling! The Great Hammerhead can reach 20 feet in length and just under 1,000 pounds. They are the biggest of the 9 different Hammerhead species. Their favorite meals are stingrays, cephalopods, and crustaceans. 
Nurse Sharks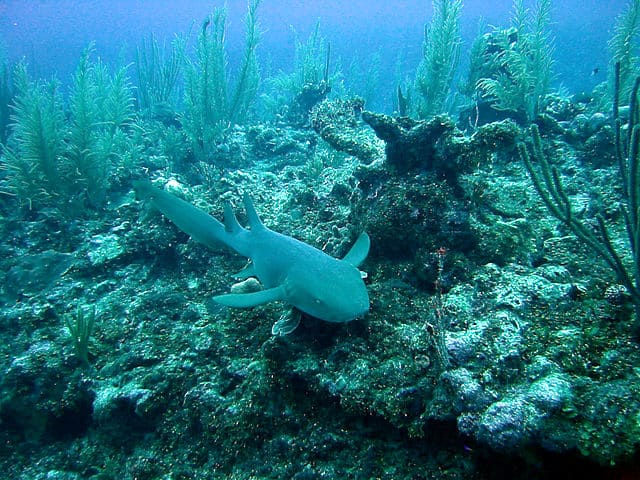 Nurse sharks are another peaceful shark species. They are bottom dwellers. Nurse sharks can lay on the coastal shelf for hours. This has earned them the nickname of "couch potato of the shark world".  Although Nurse sharks have a lot of serrated teeth, they suck up their food. They are not aggressive towards humans and can grow to be over 10 feet long. Nurse sharks are closely related to the Whale shark. 
Whale Sharks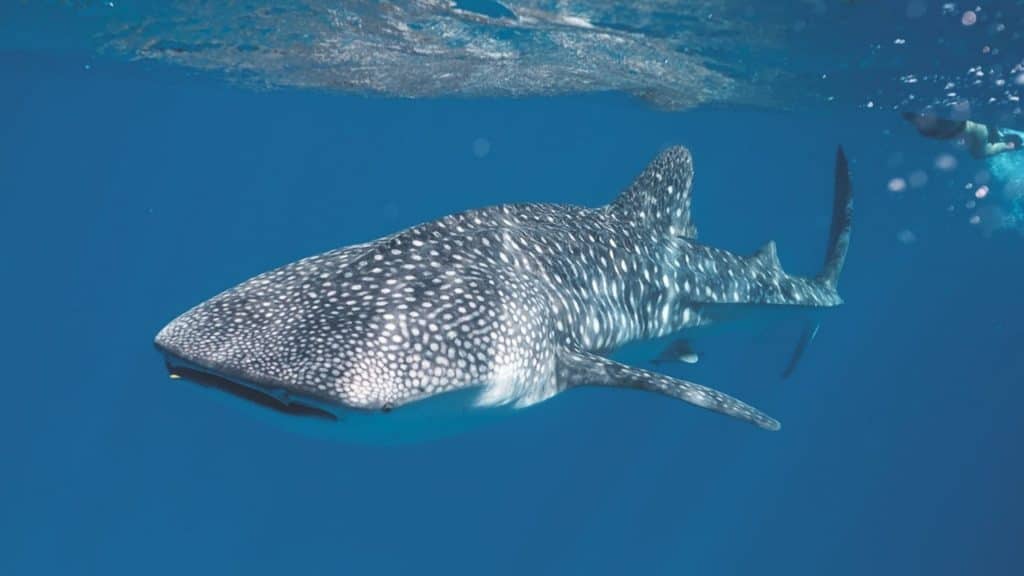 There have been sightings of whale sharks in the Destin area over the last few years. These behemoths grow to be 40 feet long and several tons. They are not aggressive towards humans. There has never been a logged attack by a Whale shark. Like the Nurse sharks, they eat plankton by suction and will travel in order to feed themselves. 
Blacktip Sharks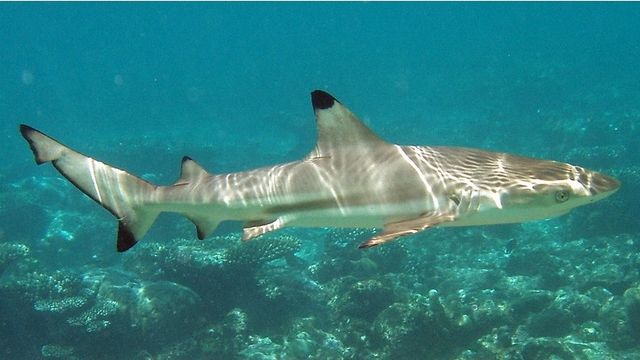 The blacktip shark is a medium-size shark that is common in the Gulf of Mexico and the Panhandle. They can grow up to 8 feet and 220 pounds. Blacktip sharks migrate in large numbers and when there are large schools of baitfish to feed on. They stay in the more shallow waters close to the beach, estuaries, and river mouths.  Blacktip sharks are very agile and fast. It is not uncommon to see them leap out of the water and splash down on their backs. Although they are shy and not aggressive towards humans, they may become aggressive if there is food involved (ie: schools of fish present). 
Bull Sharks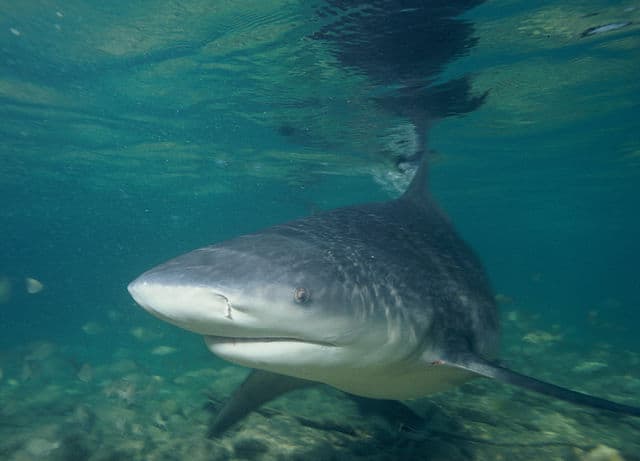 Bull sharks also cruise up and down the Destin coastline. These are much larger in size. They can weigh up to over 500 pounds and grow to over 11 ½  feet long. Like their cousins, the Tiger shark and Great White, Bull sharks are some of the most aggressive sharks towards humans. Bull sharks can live in brackish and freshwater for long periods of time. In one instance, a Bull shark swam 700 miles up the Mississippi River to Alton, Illinois. They feed on fish, sea turtles, squid, crustaceans, seabirds, other sharks, and sometimes sea mammals. 
Tiger Sharks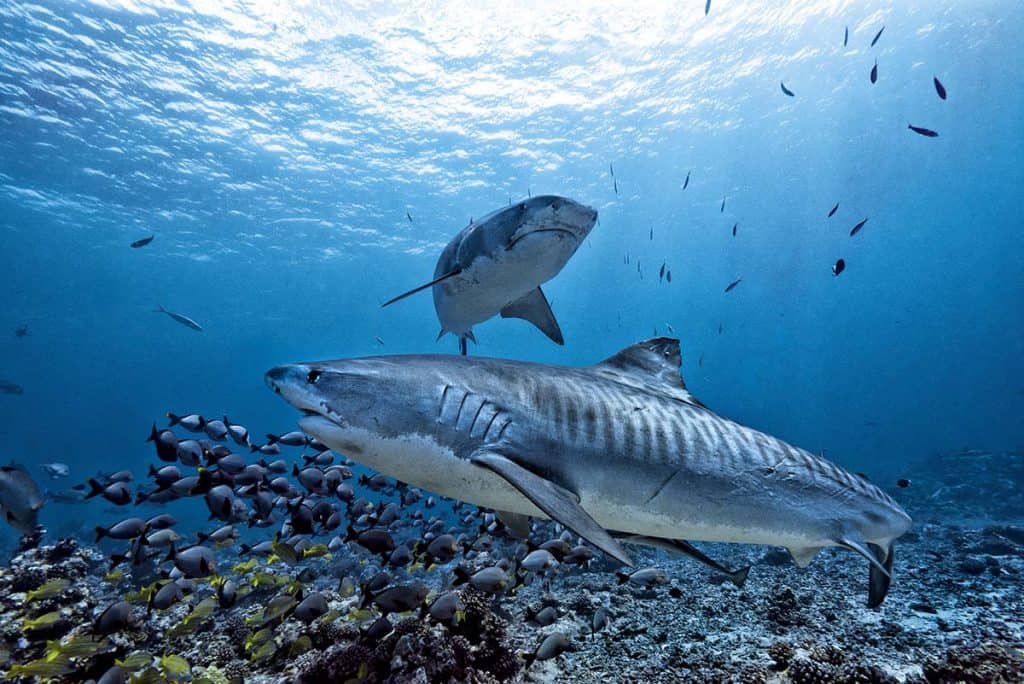 Tiger Sharks are only second to the Great White when it comes to being a danger to humans. These sharks can grow to be over 1,800 pounds and over 20 – 25 feet long! Big boys! The Tiger shark's name comes from the stripes on their skin. National Geographic says Tiger sharks are a 'near threatened' species. But because Tiger sharks will eat almost anything, love warm water, and have large litters of pups, it's a hardy species.
We hope this information is helpful. Again, we are not trying to scare you, just answering a very popular question. Shark experts insist that being attacked by a shark, while in Destin, is less likely than being struck by lightning. However, if this does happen to you, make sure you click here to find out how to best survive a shark attack. 
Now get down here and enjoy yourselves!!
Ta-Ra!!