You've been drooling over the pristine pictures of Destin's sugar white beaches and crystal clear water.  This is what brought you to the Emerald Coast. However, when you arrive, you find nasty, green, slimy grass floating in the water. There are piles of it just rotting on the sand. It gets into your swimsuit and smells like sour asparagus.  Disappointing is putting it mildly. 
What is June Grass? 
Scientific: June Grass (scientific name: Cladophora) is a natural algae bloom that is found in the Gulf of Mexico usually during the month of June. However, it can make its appearance earlier and even as late as September or October – depending on how warm the Gulf waters are. June Grass migrates from the middle of the Gulf of Mexico to flows to the beaches in the Panhandle. 
For Reals: In the water, it is like bright green stringy, feathery, slimy… stuff. Then, it washes up onto the beach and rots. It's just gross. June Grass gets in your bathing suit and your hair.  It's stinky. An inconvenience for vacationers who just wanted to enjoy the crystal emerald waters.
So, when will the June Grass go away?
June Grass has no arrival or departure schedules. It's impossible to tell when it will show up or go away. Warm water patches, the wind, and disturbances out in the gulf are all contributing factors. This is Mother Nature's turf, we are at her day-to-day mercy. 
Is June Grass dangerous?
June Grass is not toxic or dangerous. It's just slimy, gross, and smelly. It's actually very beneficial to the beach ecosystem. What we determine as a yucky inconvenience is actually a welcome food source to crabs, beach mice (some that are endangered species), birds, and other small rodents and crustaceans. June Grass is also nourishing to the beach itself. So there is a purpose for it. It just may not be what we want to experience. One last note, June Grass is not the Red Tide nor are the two related.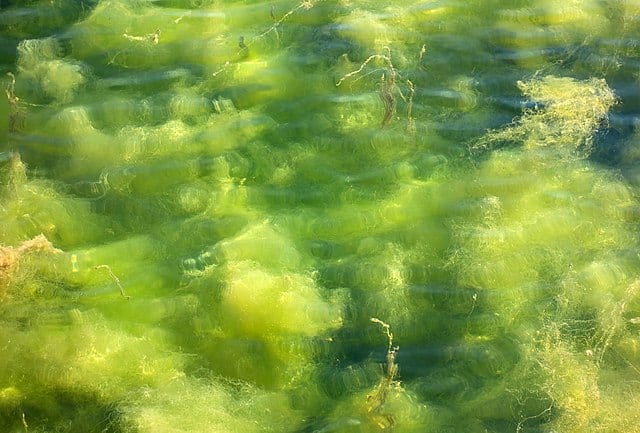 Should I cancel my vacation because of the June Grass?
No. As we said, it could be here one day but not the next. 
Make sure to check out The June Grass Report to help guide your beach days. Is there June Grass? If so, what beaches? It's a very good tool to access. 
So there ya have it. Nothing more. Nothing less. It is what it is. It's unpredictable but necessary. Maybe not what is necessary for us, but in order for our beaches to stay beautiful and healthy, think of it as 'eco-mantainance'. 
Ta-Ra!!