When researching places to stay in Destin, on the beach, you'll quickly realize that 99% are condos. But what if you aren't looking for a condo. What if you just want to wake up, roll out to the beach, let someone else do the cooking and the cleaning? However, after hours of searching and frustration, your head begins screaming, "Seriously?? I just want a good comfortable room on the beach! Is that too much to ask??". The answer is, yes, pretty much. If you aren't looking to stay right on the beach, your options open up quite a bit. But, right now, let's focus on your burning question. We will help put out that fire in your brain and give you your two options. Yes, we said, two – but you'll be happy to know they are fantastic options. One is a "budget stay" and the other is a "lush splurge".
Sea Oats Motel
Let's start with the budget stay, Sea Oats Motel. The Sea Oats Motel is located at 3420 Scenic Hwy 98 in Destin. It's a no-frills GULF FRONT motel that has been in business for over 40 years. It consistently brings in rave reviews for the amazing gulf views, location, and budget price point.
Sea Oats Motel offers a few room options to chose from. Their basic motel room will accommodate up to 4 people. These rooms come with a mini-fridge, microwave, and coffee maker. The bathrooms all have showers. Many reviews have commented on how great the showers are with lots of hot water and great pressure. All units are gulf front.
The Efficiency units come with a king or two queens. They sleep up to 4 people. There is a small kitchen in each of the units – stove, microwave, refrigerator, and coffee maker. Some bathrooms have showers some have showers and tubs. Be sure to ask when booking.
Sea Oats Motel offers 3 apartment units that sleep up to 4 people. There is a queen-size bed in the bedroom and a queen-size sleeper sofa in the living room. The apartments have full kitchens and private porches that overlook the Gulf of Mexico.
Lastly, Sea Oats offers a penthouse apartment that sleeps up to 10 people. It has 3 bedrooms (2 kings, 1 queen w/ bunkbed) and 2 baths. There is a sleeper sofa in the living room. This apartment is located on the third floor and overlooks the pool and the gulf. This is the only unit that has a washer and dryer.
All ground units have direct beach access as you just walk out of your back door and there you are! Upper floors have balconies that overlook the gulf. We, at Emerald Destin, are big believers in bringing binoculars to watch for dolphins off of the balcony. It's such a treat when you get to see them playing or feeding. So make sure to pack them first!
Guests at the Sea Oats Motel will enjoy a swimming pool, internet access, free parking, and bbq grills. Sea Oats does not offer daily housekeeping services, however, you can exchange your towels. Keep in mind the office is only open between the hours of 8 AM and 8 PM unless it's an emergency. Be sure to inquire about how to get into your unit if it's after hours.
Once you are down at the beach, you can rent your chairs and umbrella set up daily. They also have jet skis and paddleboards for rent. Sea Oats Motel does not offer beach towels for their guests, so bring your own. There are seasonal family activities offered. Check with the front desk for what's on offer time/date.
When dinner time rolls around, Sea Oats Motel is within walking distance of 3 fantastic restaurants (and a cafe!) – the Crab Trap, Camille's, and 790 on the Gulf. What can be better than a full day of fun, sun, and surf and then ending it with an amazing seafood dinner that you didn't even have to fight traffic for!?
If you don't care about bells and whistles and just want to wake up and walk out to your gulf front paradise, with no crazy crowds all while saving tons of money, well then, you are in the right place folks! Make those reservations now either by clicking here or call (833)803-3320 between the hours of 8 AM-8 PM CST. Don't forget to ask about Snowbird rates!
Henderson Park Inn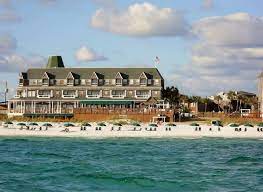 As we mentioned at the beginning, we had a budget stay and a more lush option. Well, friends, THIS is the lush option. A romantic splurge! The Henderson Park Inn was not only named one of the Top 25 Hotels in the US by Trip Advisor, and it was also named one of the Most Romantic Hotels in the USA, not to mention it's also been featured in Southern Living and Jason Aldean's music video "Got What I Got", among others media.
Henderson Park Inn is an all-inclusive, couples-only Bed and Breakfast. As per their website, "every guest must be 25 years of age or older, unless married" to check into the Inn. There are 37 rooms and suites at the Henderson Park Inn. Each of them is decorated in what they call "classic coastal" but modern.
When it comes to picking and choosing your room, note that not all of their rooms have a view. So if you are looking for that ultimate view, we'll make it easier for you. Let's take a look at some of the rooms with that million-dollar gulf view.
Junior Juliet Suite – This suite has a queen-size bed is located in the main building. It has a small Juliette balcony with 2 bar stools and a direct view of the Gulf of Mexico. The room amenities include a shower, flat-screen tv, in-room safe, and a coffee maker. It is accessible only by stairs.
Junior Suite – This room also offers "captivating" views of the Gulf. There is a larger balcony with 2 chairs, a queen-size bed, shower, flat-screen tv, coffee pot, and in-room safe. Also located in the main building with stair access only.
Executive Juliet – This suite is just like the Junior Juliet but it has a few more extras. This room features a king-size bed, a whirlpool tub with an integrated whirlpool, and a microwave. It has a direct view of the gulf and is only accessible by stairs.
Executive Suite – These suites are quite popular. They have direct gulf front views and include a king-size bed, whirlpool tub with shower, flat-screen tv, in-room safe, and a large balcony with two chairs. This suite also offers a kitchenette – mini-fridge, microwave, and coffee maker. Good to note that rooms 205, 206, 207, and 208 have stair access only.
Corner Juliet – Also located in the main building, this beautiful corner room is stepping it up a notch. It faces west and offers panoramic views of the Gulf of Mexico and an undeveloped part of Henderson Beach State Park. The room has all of the amenities as stated before – king-size bed, etc. But what could make this any nicer? A fireplace! Oh, the romantic factor just went up 200%. For sure. Stair access only.
Corner Suite – Everything that the Corner Juliette has but a bit better with the addition of a larger balcony and 2 chairs. Stair access only.
East Corner – Located in the East Building, Rooms 209 and 309 are both west facing with panoramic views. They offer the same amenities that the Corner Suite boasts, minus the fireplace. But still amazing!
Presidential Suite – Well now… If you thought all of the above sounded incredible, they are! However, what is better than a normal suite? The Presidential Suite, of course! It's basically a richly, (very richly) decorated apartment minus the kitchen… oh and the fireplace… but when you are staying in digs like this, who needs a kitchen or fireplace, right? This unit has a king-size bed, living room, dining room, dual head walk-in shower, mini-fridge, microwave… you get the picture. Best part? The balcony. It has an extra-large balcony to sit on in the evenings and watch the sunset.
So these are not their only rooms. They have others as well. These are the ones we wanted to highlight as they are gulf front. On their website, they specify views and amenities with each room.
As we stated at the first, Henderson Park Inn is all-inclusive. Well, almost inclusive. When it comes to dining, your breakfast, lunch, and snacks are included in your price. Dinner is not. Breakfast is made to order in the dining room. At lunchtime, you will have a choice of a picnic-style lunch. Dinner time, make sure to make your reservations at the Beach Walk Cafe. The Beach Walk Cafe is the only fine dining restaurant directly on the gulf in Destin. They are open 5 pm-8 pm nightly. You can take a look at their menus here.
Henderson Park Inn's offerings do not stop there. You can enjoy an adult beverage at the tiki bar on their back patio, rent bicycles, and there is a beach service that sets up umbrellas and chairs daily for your use. In addition to these on-site options, there is a fitness center, resort-style pool, and a spa at their sister property, The Henderson, a Salamander Resort & Spa.
Are you already packed after exploring this amazing property with us? Well, make sure you get your reservations first! You can do so by visiting their accommodations page. Or you can call them at (888)836-1105.
As you can see Sea Oats and Henderson Park Inn are definitely on opposite ends of the hotel spectrum. Make sure to check out all of the links we've included to learn more about each property.
The Inn on Destin Harbor
There is one more property that we really wanted to include. It's not gulf front but it's on Destin Harbor and has really beautiful views.
The hotel is a 70 room boutique hotel. They offer harbor front rooms with balconies so you never miss a Destin sunset. A complimentary continental breakfast is served every morning. The Inn on Destin Harbor offers free parking and they are a pet-friendly hotel (you can find it on BringFido). Their pool has a large deck and overlooks Destin Harbor. In the mood to do some fishing? Well, the Inn on Destin Harbor has its own boat charter, the Inn Keeper.
The Inn on Destin Harbor is located near the popular Harbor Walk in Destin. In fact, it's only about a 15-minute walk and mostly down Harbor Walk's boardwalk. There is always something happening there not to mention tons of great places to eat.
Hopefully, you will find something that suits your taste and budget. Let us know if you try any (or all!) of the three we have listed here for you. It all comes down to what is most important to you and what your budget will allow. Remember, you will be visiting the most beautiful place in the USA (or we think so at least!). Enjoy the squeaky sand, the warm sunshine, and those beautiful emerald waters. What else do you really need??
Ta-Ra!!!