Destin, Florida. Sun, sand, beautiful emerald waters… and magic? Yes, you read that correctly, MAGIC! If you haven't heard, there are some serious shenanigans going on over at the Destin Commons West Parking Lot! Presto at the Magic Parlor has set up their tent and everyone is invited to see what this show is all about! 
This is a family-friendly, fun for all ages, show. It's got something for everyone. Cringe-worthy Dad jokes, audience participation for both young and old, mystifying illusions, ventriloquism, and even a mind reader! It all happens underneath the beautiful Spiegeltent – of which there are only 16 still in existence today!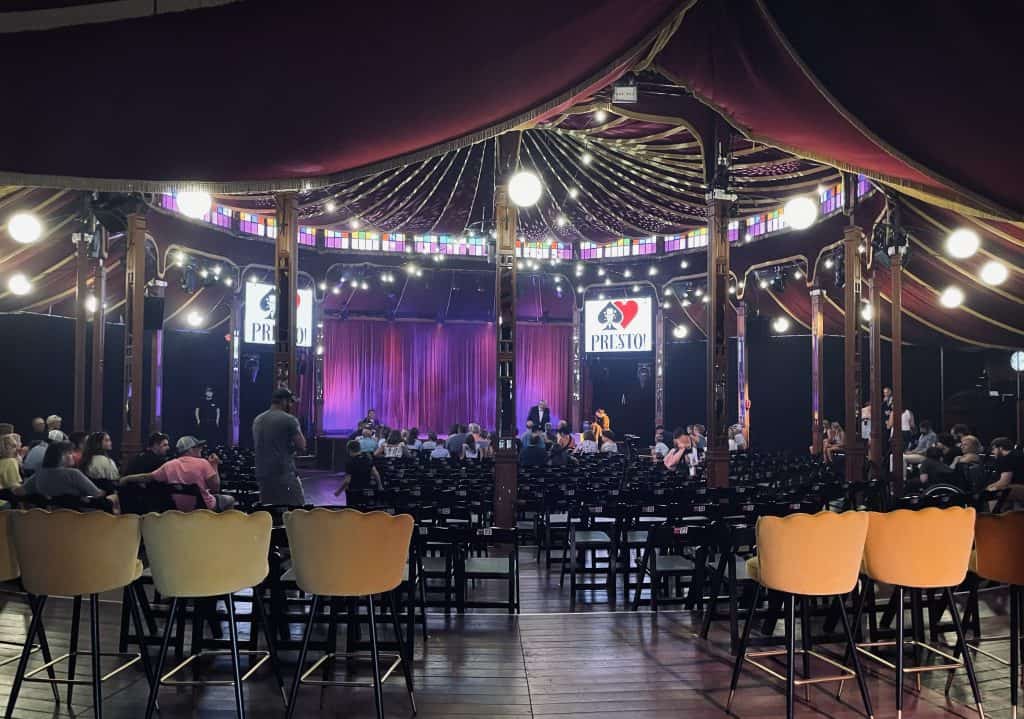 Guests to Presto at the Magic Parlor have a selection of seating arrangements to choose from VIP, Outer Ring, and Premium Reserved. The Premium Reserved tickets are on the show floor. It is a flat floor with chairs pretty tightly seated together, but there are more people picked for audience participation.  The Outer Ring seating is elevated above the Reserved. The VIP booths are like restaurant booths. They are further back around the perimeter. There are really no perks to these seats other than you won't feel as packed in. 
No matter where you sit though, Presto at the Magic Parlor is something different from the usual here in Destin.  
This show is in its last week here – Monday, August 8th is the last show – so you don't want to miss it! 
For more information and tickets visit the PrestoDestin website
Use the code PRESTOAGAIN to get HALF OFF your tickets!
Phone: (850) 688-1201
Address: 4100 Legendary Drive – West Lot, Destin, FL.
Ta-Ra!