When you look up "best places to eat in Destin", you're more than likely going to find McGuire's Irish Pub at the very top of the list. McGuire's is definitely worthy of that spot. McGuire's has an Irish pub vibe and unique decorations. They have an extensive menu that includes everything from Irish-style 'fare' to burgers, sandwiches, steaks, and more!
Does McGuire's in Destin take reservations?
McGuire's Irish Pub in Destin does not take reservations. They also don't have call-ahead seating.
Does McGuire's in Destin have a waitlist?
During busy times, customers will check in outside at the hostess stand. At times, when it's really busy there is a tablet on a stand that you may check in on as well.  There are advantages of this option. We've noticed that most people seem to prefer to stand in line and speak to the hostess. While there is no one using the tablet. Another perk to using the tablet, you can download the app and track your seating. So, you get on the list faster and you can use the app to see just how much longer until your seating is ready.
McGuire's Irish Pub Atmosphere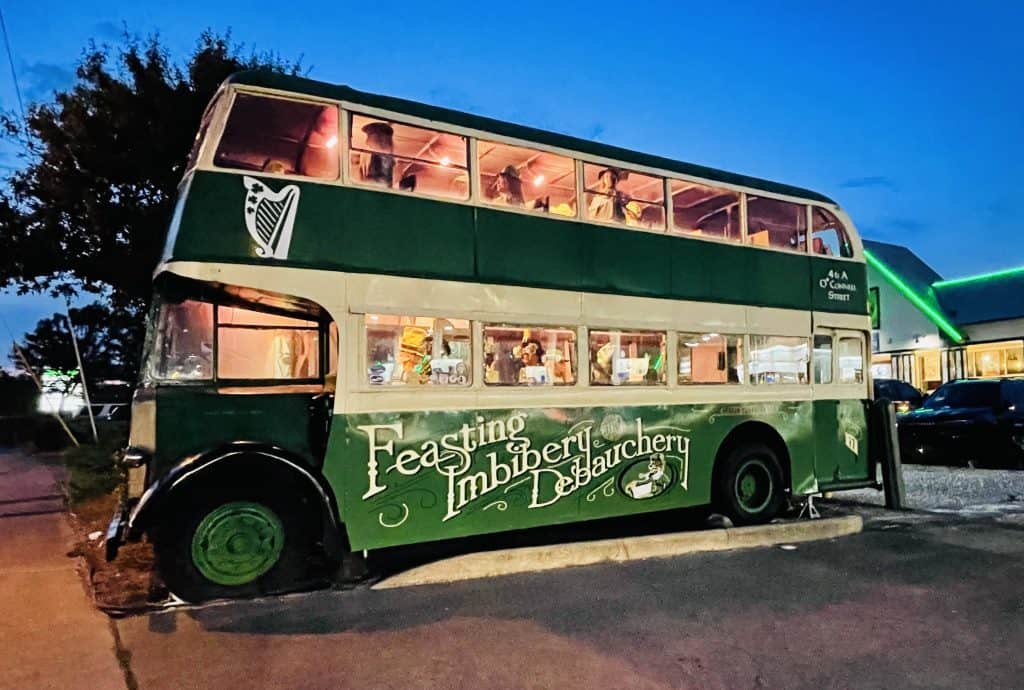 McGuire's Irish Pub is enormous. There are several dining rooms, including another upstairs that is open on the weekend. When you walk in, you'll notice that there are $1 dollar bills that people have signed and stapled everywhere. The lighting in McGuires is a dim orangey glow. The seating is a mix of booths and tables and chairs. There is plenty of room for large parties. There is always Irish music playing either over their system or later in the evenings they sometimes have live music. The servers are knowledgeable and on point. Each table receives a small loaf of their Honey Black Bread. The bread is covered in a sweet honey mixture and served with butter. Delicious!
How many dollar bills are there in McGuire's Irish Pub in Destin?
McGuire's estimates there is about $1.7 million dollars worth of dollar bills stapled to their walls and ceiling. It is rumored that the Irish Pub actually takes loans out against these decorations when extra cash is needed for the business.
McGuire's Irish Pub Menus
McGuire's main menus are Lunch, Lunch Specials, Dinner, Night Owl (smaller menu but includes a late-night Happy Hour), "Irish Coffee" Brunch, and a Kids menu. So never fear, there is something for everyone. McGuire's offers traditional Irish standards like Bangers and Mash, Shepard's Pie, Steak and Mushroom Pie, and of course, Fish and Chips. However, we feel McGuire's food game is so much more.
McGuire's also has a sushi menu which you can order from in the main restaurant or at the sushi restaurant.
Vinny McGuire's Pizza also has its own menu if you are in the mood for some great pizza.
The Steaks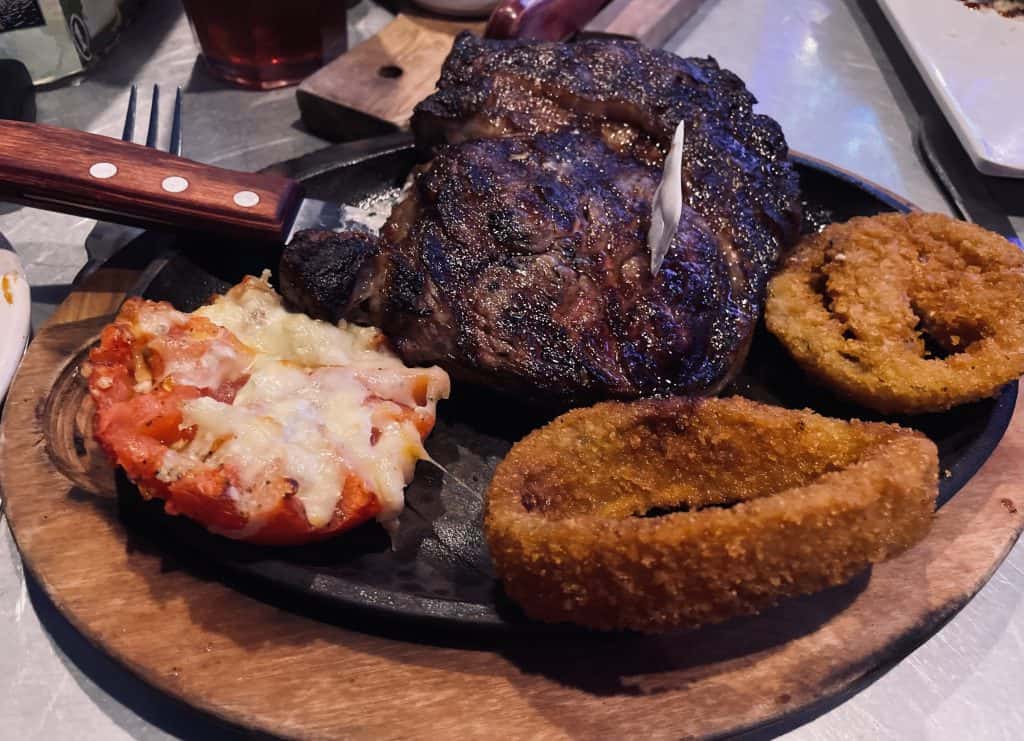 If you're looking for the best steak in Destin, you've come to the right place! McGuire's serves USDA Certified Prime steaks. Prime is the top of the line when it comes to beef certifications. They offer several different cuts – New York Strip, Filets, Sirloin, Ribeye, and Prime Rib. The Prime Rib is served two different ways – Hickory Smoked or Hickory Smoked then Grilled. All steaks are char-grilled over hickory wood fires. Diners can not go wrong with any of these choices. Their meat is tender, juicy, and flavorful.
The Garbage Burger
McGuire's menu description is as follows: "Some of everything – it's absolutely disgusting." 
Ok, that doesn't really tell you a lot, so we dug deeper! We asked one of our servers about it. His reaction was the same. It's disgusting and yes he has watched a couple of people actually finish it! The ingredients are as follows…
14 oz hamburger patty, Peanut butter, marinara, bbq sauce, sauerkraut, jalapeños, black olives, guacamole, sautéed mushrooms, wasabi, pepperoni, corned beef, liverwurst, Gouda, Swiss, cheddar, pineapple, bacon, blue cheese, onion, tomato, vanilla ice cream, hot fudge, and a maraschino cherry.
So who's going to order that Big Nasty? Please let us know if you do! If you'd like to provide pictures, even better!! Good luck!
McGuire's Pork Chops
These pork chops are everything. Honestly. This is one of those meals that you will wish you could just 'pop over to Destin' for. The Jameson Pork Chops are two Grilled French loin pork chops with an Irish Whiskey glaze. Like the steaks, the pork chops are also char-grilled over the hickory wood fires. They are so tender and full of flavor. A little crispy in places on the outside but lovely and juicy on the inside. You can't go wrong with this one.
Irish Pub Appetizers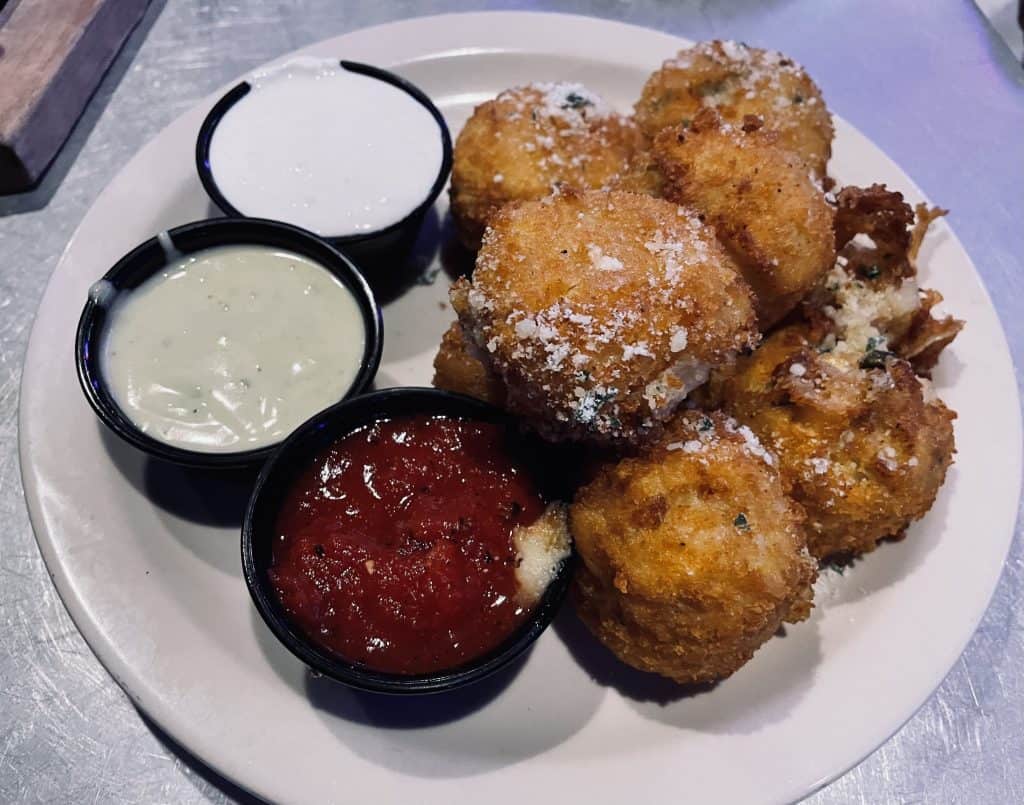 Our number one appetizer that we get, no matter what, is the Irish Boxty. There are about 6 or 8 of these beauties in per order. They are garlic mashed potatoes that are rolled into a ball. They then roll them in seasoned bread crumbs and deep-fried. Boxty is served with Salsa, Guacamole Dip, and a Horse Radish Sour Cream Sauce. We opt for plain sour cream instead. 
Pro Tip – Bring home your leftover Boxty and throw them in the oven for breakfast the next morning! Super yum!
Another favorite on the Appetizer menu is the Reuben Egg Rolls. They wrap corn beef, sauerkraut, and Swiss cheese in wonton wrappers.  Then, they are fried nice and crisp and served with a Thousand Island dressing. All of McGuire's salad dressings are made in-house! So if you love a good Reuben, you're going to love this adaptation.
McGuire's 18 cents Senate Bean Soup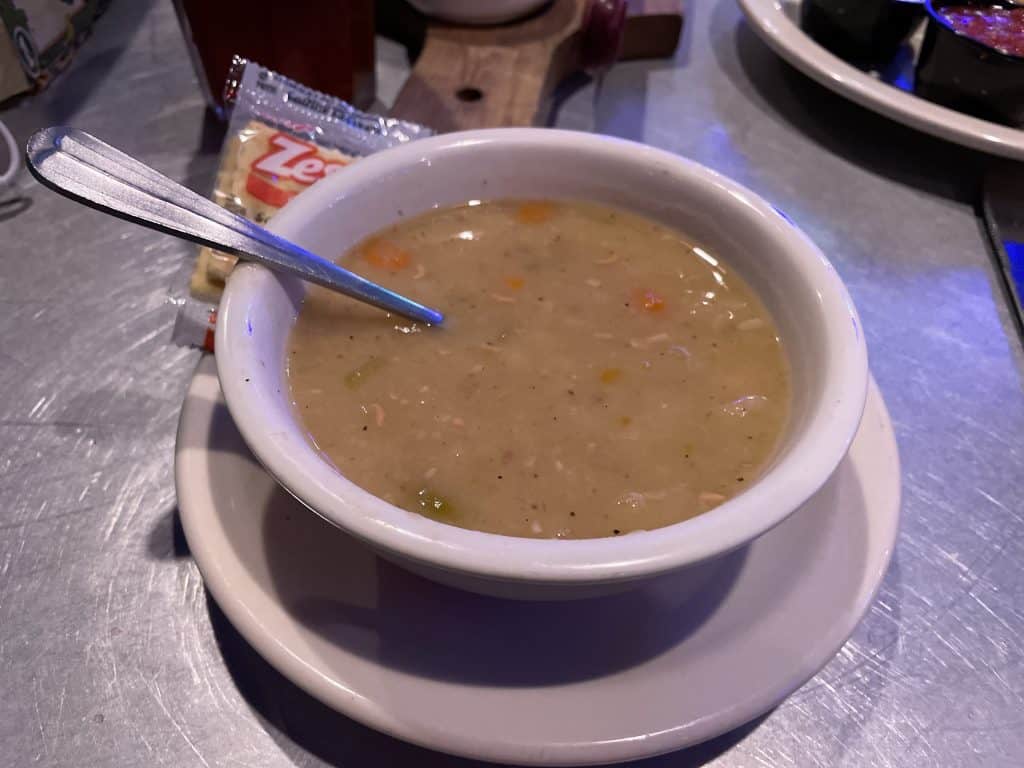 Let's talk soup for just a minute. The 18¢ Senate Bean Soup. It's a hug in a bowl. There is a whole big story behind the soup that you will find on your menu at McGuire's about this soup – we'll let you explore that on your own when you are there! But, we love this flavorful bowl of bean soup. Some people doctor it up with hot sauce but we love it the way it is. It's simple, warm, and delicious… not to mention only 18¢!
McGuire's Burgers
McGuire's has over twenty-five different burgers, including the aforementioned, Terrible Garbage Burger. Pretty much if you can dream it, they can make it! There's even a challenge called the "Alka Seltzer Award". If you can eat any three burgers in one sitting, you'll get a McGuire's t-shirt and an Alka Seltzer! Who says they aren't looking out for your 'fragile constitution'?!
Lunch Specials
McGuire's has a Lunch Menu and a Lunch Specials Menu. Some of the dishes you'll find are on the Lunch Specials Menu are the famous Hopkins House Fried Chicken, Bangers and Mash, and Homemade Meatloaf. Lunch Specials run Monday thru Friday from 11 A.M. to 3 P.M. or until they run out.
Happy Hour
McGuire's has a Late Night Happy Hour every night from 11 P.M. to 2 A.M. They have half-price draft beer, house wine, and well drinks. There is also a Night Owl Menu which is a smaller food menu that includes appetizers, steaks, salads, and a few burgers.
Gift Shop
While you and your party wait for your seating, there is a lovely little Irish-themed shop to meander through. You will find McGuire's merchandise such as clothing, koozies, keychains, seasonings, barware, and more. They also carry Irish-made items that include jewelry and perfume.
McGuire's Sushi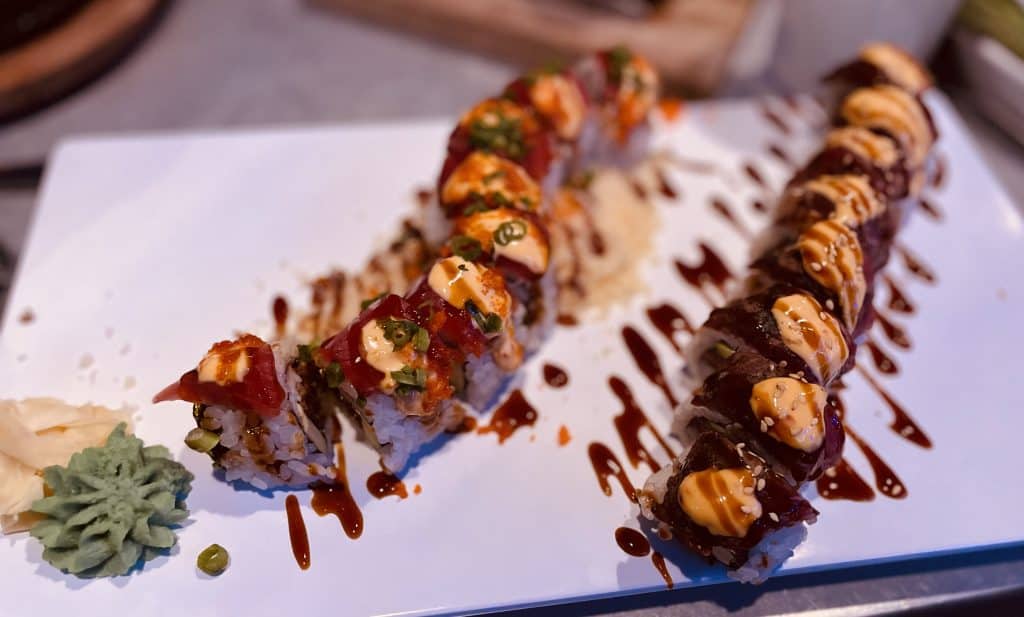 McGuire's Sushi is in the same strip mall as McGuire's Irish Pub. If you love sushi, you'll love McGuire's Sushi.  If you search for Best Sushi in Destin, McGuire's Sushi is in the number one spot. The Sushi Chefs at McGuire's Sushi take their jobs seriously. From the presentation to the flavors, it's the best. Even their To-Go sushi is plated beautifully on very nice strong plastic sushi plates. First time? Try the Red Dragon Roll or the McGuire Roll.
Vinny McGuire's Pizza
Vinny McGuire's Pizza sits to the of McGuire's Irish Pub. It's very casual and laid-back. Their whole pizza menu is a 'create your own pizza'. Other than the menu of toppings, their menu includes Italian appetizers Vinny McGuire's Pizza sits in its own building to the side of McGuire's Irish Pub. It's very casual and laid-back. Their whole pizza menu is a 'create your own pizza'. Other than the menu of toppings, their menu includes Italian appetizers and a selection of Irish ales. If you're looking for something a little sweet after your meal, try their gelato or tiramisu.
McGuire's Irish Pub Halloween Run
For the last 24 years, McGuire's Irish Pub has sponsored the McGuire's Irish Pub Halloween Run. It's a 5K and 10K that benefits the American Legion Post 296 in Destin. There are awards for top placement as well as Best Costume! Walkers can also participate in a 5K Walk with Top Walkers awards. There is a Pre-Race breakfast and a Post Race Party in McGuire's big tent with live music, food, and drinks.
When is McGuire's Irish Pub in Destin open?
McGuire's is open 7 days a week from 11 A.M. to (usually) 2 A.M. They are closed on Thanksgiving Day and Christmas Day.  
Where is McGuire's Irish Pub in Destin Located?
McGuire's in Destin is located at 33 US 98, Destin, Florida, 32541. It is on the north side of 98 right across from the Emerald Grand.
Phone number: (850) 650 – 0000