Fleming's Prime Steakhouse and Wine Bar is located just east of the Sandestin Hilton in the upscale shopping area of Grand Boulevard in Sandestin. If you and your family are looking for a warm, friendly atmosphere, whether it's to celebrate a special occasion or just to enjoy a night out, Fleming's is your place. 
Does Fleming's Prime Steakhouse & Wine Bar in Sandestin Take Reservations?
Yes, Fleming's highly recommends you make a reservation. 
Does Fleming's have a waitlist?
Not per se. There is nowhere to put your name on a list and then head to the restaurant. However,  you can call and ask to make a last-minute reservation or walk in and check for availability. (850) 269-0830
What is the atmosphere like at Fleming's Prime Steakhouse? 
Fleming's atmosphere is warm and welcoming upscale white tablecloth dining. The main dining room is decorated with darker wood. There are both tables and booths. Smart casual is the dress.

Fleming's Prime Steakhouse and Wine Bar Menus
Fleming's offers a few different menus. These menus include Dinner (Including Children's Menu), Wine & Cocktails, Gluten Free, Vegetarian, and Take Out.
What Does Fleming's Prime Steakhouse and Wine Bar Dinner Menu Look Like?
Starters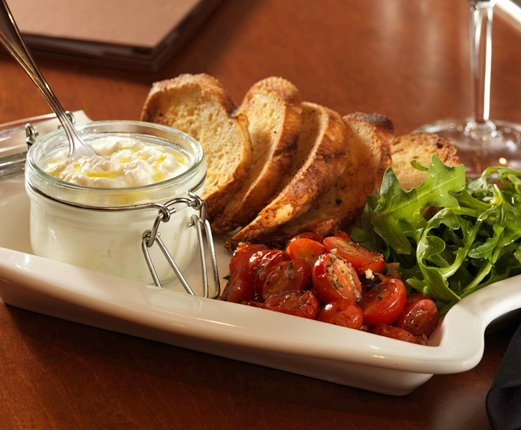 There are so many delicious "Starter" options at Flemings. One of our favorites is the Burrata with Prosciutto – charred Campari tomatoes, prosciutto, wild arugula, toasted garlic, and toasted garlic crostini. These components along with the creamy Burrata… Heaven in your mouth! 
Other delicious starters to consider are the Crab Cakes (roasted red pepper & lime butter sauce), Seared Pork Belly (pan-seared, creamy goat cheese grits, fig demi-glace), or if you're feeling really fancy….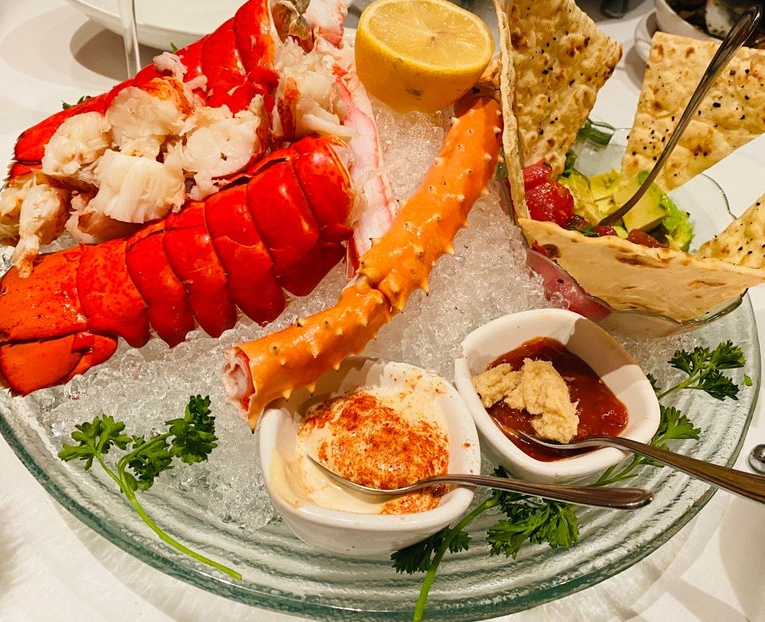 Fleming's Chilled Seafood Tower (ahi tuna poke, shrimp cocktail, North Atlantic lobster tails, claws, and knuckle) is a very decadent way to begin your meal. 
Soups and Salads
Another one of our favorites is the Lobster Bisque. It's a lovely creamy soup. The bisque is served topped with large tender bits of lobster. However, if you aren't a seafood fan, Flemings also has a gorgeous French Onion soup that has a deep rich flavor. It's the perfect way to start your meal.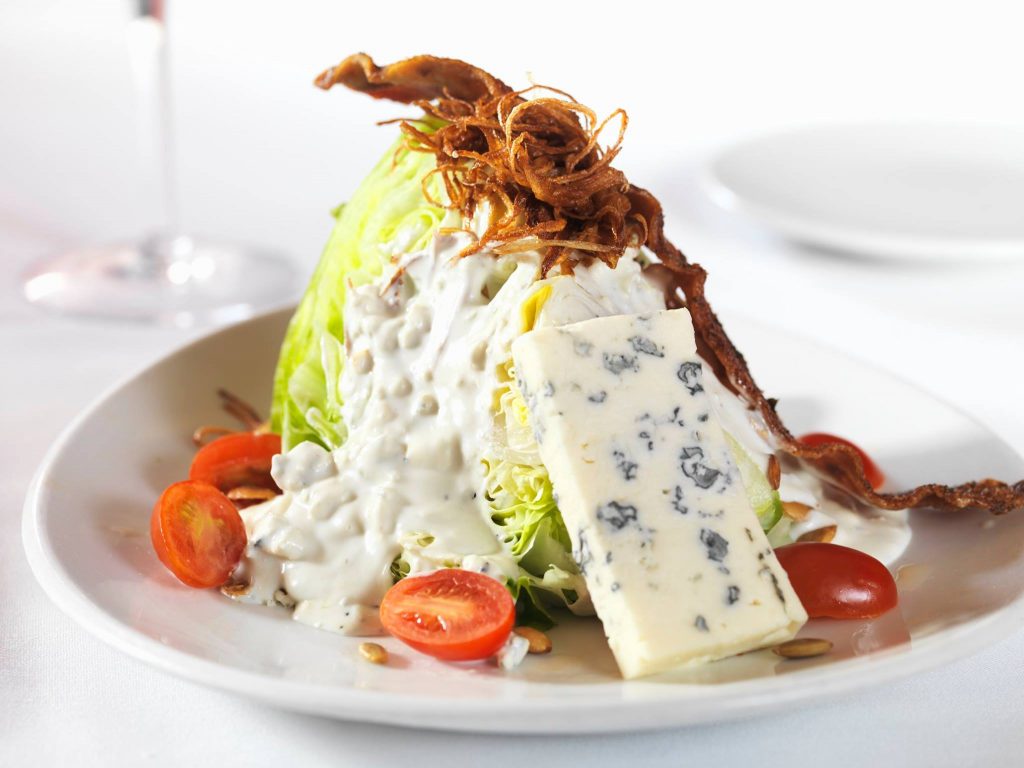 If it's a salad you're looking for, you can't go wrong with the old-school Wedge Salad. A large wedge of crispy iceberg lettuce with bacon, Campari tomatoes, red onion, danish blue cheese crumbles, blue cheese dressing, and balsamic glaze. If you are allergic to blue cheese, ask for it with ranch instead.  Fleming's also offers their own Fleming's Salad – walnuts, tomatoes, dried cranberries, red onion, lemon balsamic vinaigrette. Or, you can go with the Caesar Salad – romaine, parmesan, fried capers, crispy prosciutto. 
Fleming's Steaks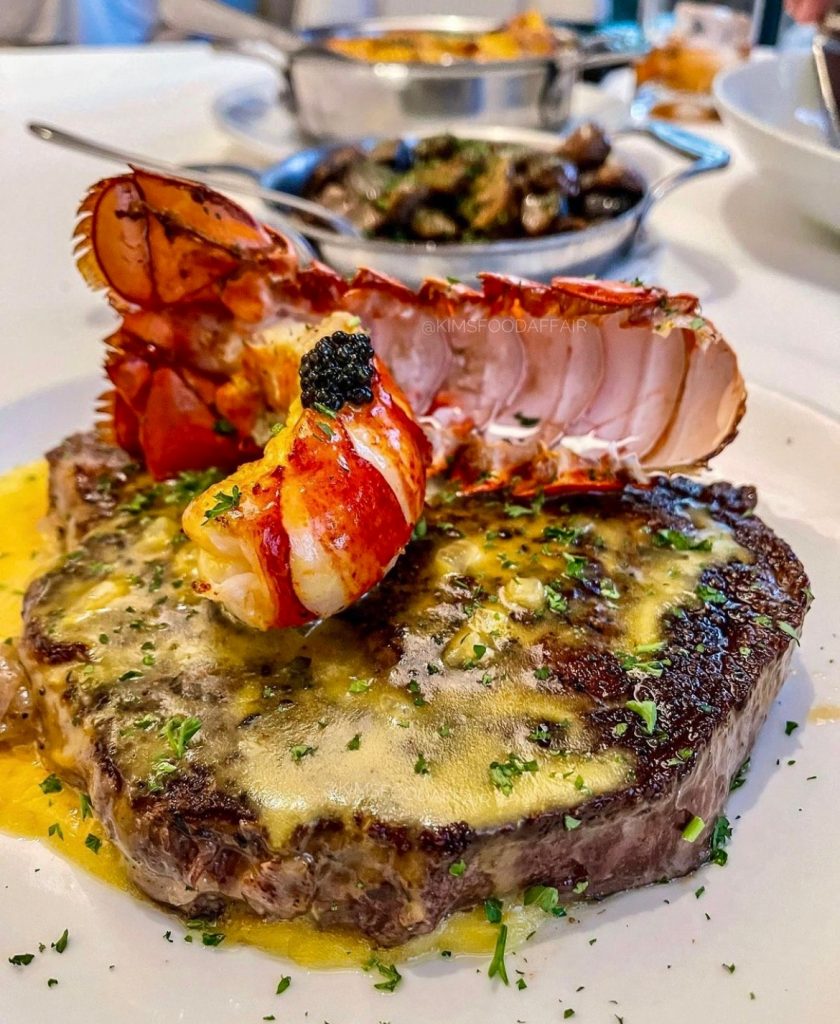 Steaks… it's why you come to Fleming's Prime Steakhouse in the first place!
Diners will be spoiled for choice when it comes to steak selection. Choose from an 11oz filet mignon or a petite 8 oz filet. Maybe Prime New York Strip steak is more to your liking. How does 16oz sound? If you are a Ribeye person (Our favorite!), this is where they really shine.  Diners get several options including a 14oz Ribeye, 16oz Prime Dry Aged Ribeye,  20 oz Prime Bone-In Ribeye, or their biggest, most delicious Ribeye – the 35oz Tomahawk! (More about the Tomahawk further down for Tomahawk Tuesdays!) Fleming's never misses when it comes to the perfect steak. If a mouthwatering steak isn't enough and you're looking for just a little more, try one of their "Over the Top" toppings – Diablo Shrimp, Seared Pork Belly, Jumbo Lump Crab Meat, or Truffle Poached Lobster. Any one of these will definitely send a steak over the top!
Beyond Steaks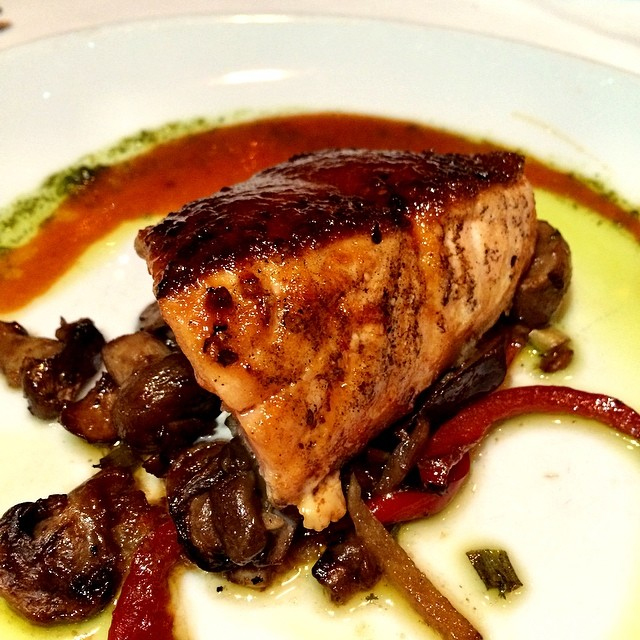 If you aren't a steak fan or just not in the mood for a steak, try the Barbecue Salmon Filet (mushrooms, barbecue glaze) or the Miso Chilean Sea Bass (sautéed with sesame-orange spinach & arugula, pickled red onion). Spoil yourself and go for the Seasonal Lobster tails (served with drawn butter!) If you're not a fan of seafood you may enjoy the Double Breast of Chicken (all-natural, roasted, white wine, mushroom, leek & thyme sauce). 
Sides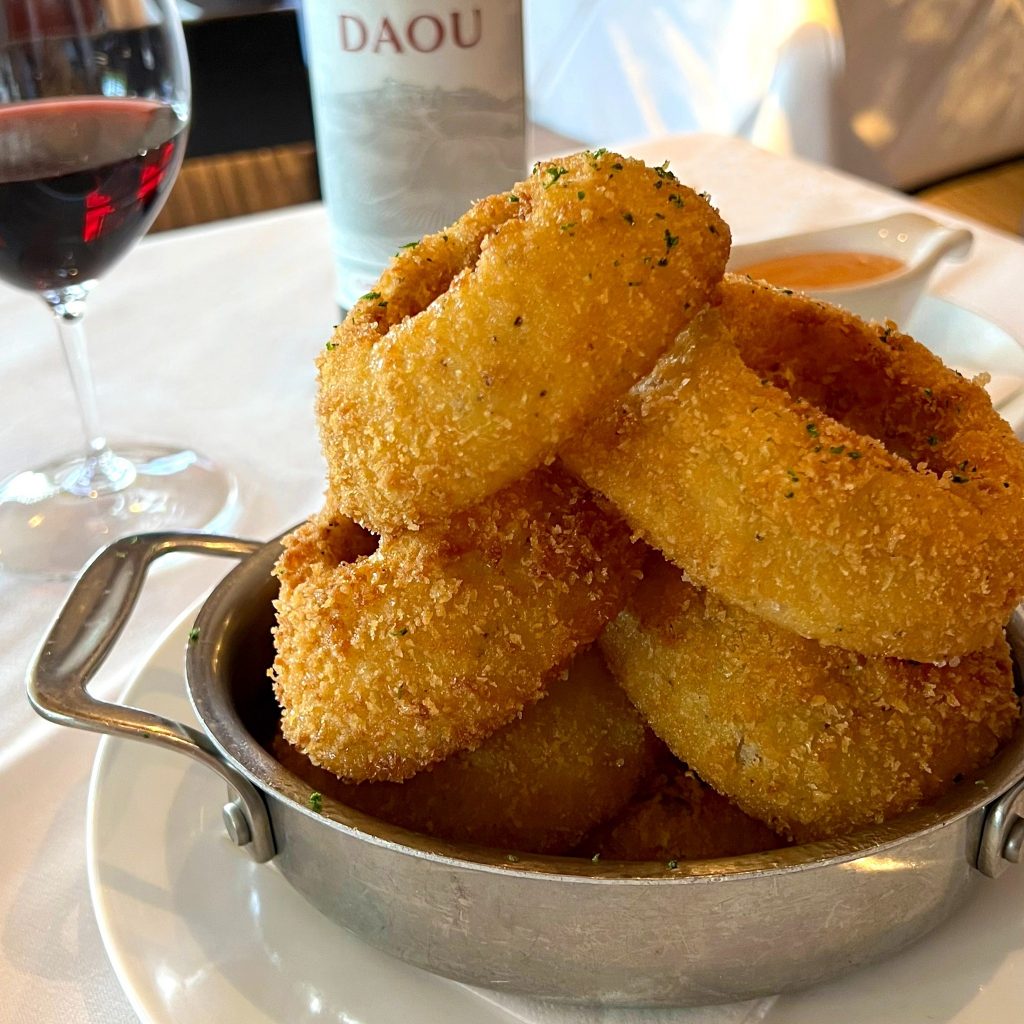 Some of our favorite sides on Fleming's menu are the Signature Onion Rings (panko-crusted, smoked jalapeño aioli), the Crispy Brussel Sprouts and Bacon (flash-fried, bacon vinaigrette, diced bacon), and Fleming's Potatoes (potatoes au gratin, creamy cheddar & Monterey Jack cheese blend, leeks, jalapeño). Their mashed potatoes (butter, kosher salt, cracked black pepper) are lovely and creamy as well. There are other choices on the menu as well and you really can't go wrong with any of them. 
Desserts & Coffee Service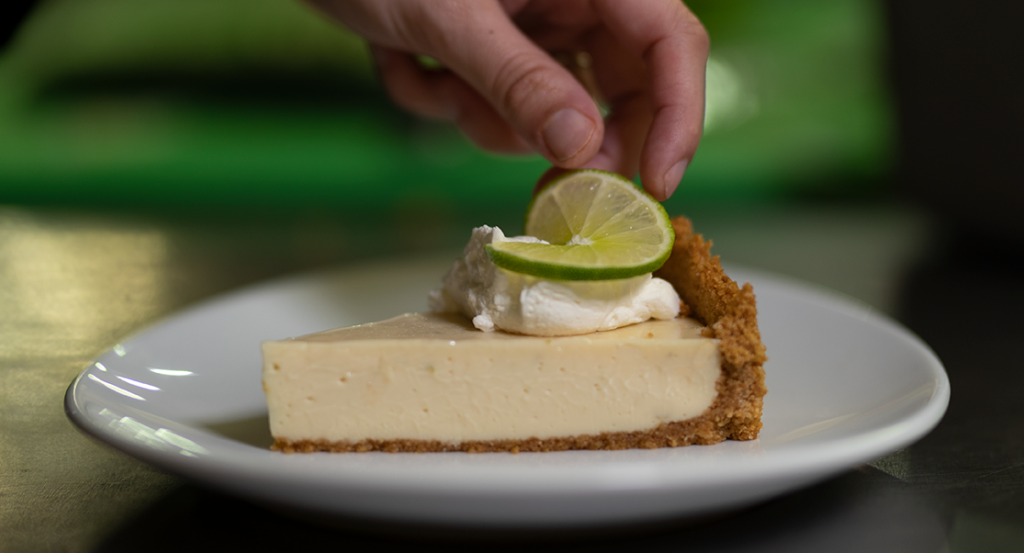 Desserts and an after-dinner coffee go hand in hand. Fleming's has some outstanding desserts to choose from. Their Key Lime Pie is creamy and tart. The Chocolate Lava Cake is phenomenal. The Creme Brule is our go-to (3 spoons please!). However, if you're full but want a little something sweet, the Berries and Chantilly Cream is the way to go. Whether you're looking for a nice freshly brewed cup of coffee, a cappuccino, an expresso, or a Latte, you will not be disappointed. The perfect ending to the perfect meal. 
Does Fleming's Offer Specials?
Two words – Tomahawk Tuesday! This is the night that you can get two salads, a 35oz Tomahawk steak (to share), two sides, and 2 desserts for a great price. (Read more about Fleming's Tomahawk Tuesday and A Taste for Tuesday promotions.) Choose from their Classic Cuts or Specialty Cuts, you will not be disappointed. We bet your Tuesday nights just filled up! 
When Is Fleming's Prime Steakhouse & Wine Bar Open?
Fleming's is open for dinner daily 4 P.M. – 10 P.M.
Where is Fleming's Prime Steakhouse & Wine Bar Located?
Fleming's is located at 600 Grand Blvd Suite M105, Sandestin, FL 32550 (Just east of the Sandestin Hilton). 
How Can I Make Reservations at Fleming's Prime Steakhouse? 
You can make them online or call them directly at (850) 269-0830. 
Let Us Know if you visit Fleming's Prime Steakhouse & Wine Bar. Tell us what your thoughts are. Include a picture if you like. We'd love to hear! 
Ta-Ra!!