No Destin vacation is complete without a family photoshoot with a professional photographer on the beach at sunset. Every evening, at sunset, families in varying numbers, head down to the beach in their well-planned, matching, or color-coordinated outfits. They gather up and down the beach for these cherished photos. These beautiful pictures will be treasured for years to come and some will even be used on that year's Christmas cards. They will always be a reminder of what is important in life – love, and family. In just one glance,  these pictures can take you right back to the warm, salty air and soft sands of Destin, Florida. 
Finding a great photographer that you can trust with this special moment can be overwhelming. There are tons of Destin beach photographers to choose from. So, our team here at Emerald Destin has done the research for you. We went on Facebook (and Google) and looked at all of their reviews from satisfied customers.  Listed below are all Destin Beach photographers that have over 50 FIVE STAR reviews each. It doesn't have to be expensive. There is a professional beach photographer for every budget.
Jennifer G Photography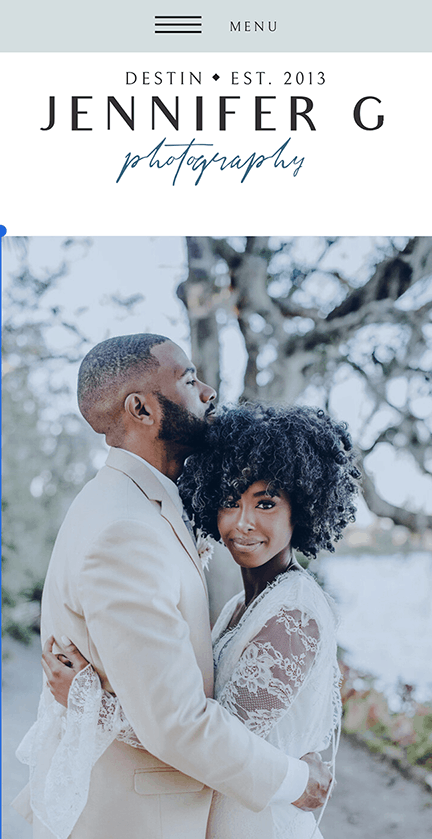 Jennifer is based in Destin. She shoots weddings, engagements, family portraits, and more.  Her works can be found in publications such as Northwest Florida Weddings, Charleston Weddings, Wedding Wire, and more.  On her website, Jennifer offers tidbits about herself that make you feel comfortable before you even meet her! She also includes a Bucket List of places titled, "shoot with me". It states that if you book a shoot with her in one of these amazing places (Japan anyone?? Greece, perhaps?? ), that she will give an awesome bonus! Can't beat that! Make sure to check out her site, it's pretty impressive.
Website: https://jennifergphotography.com/
Facebook: https://www.facebook.com/JenniferGPhotographyFL
For more information: (850) 902-2320
Beth Gold Photography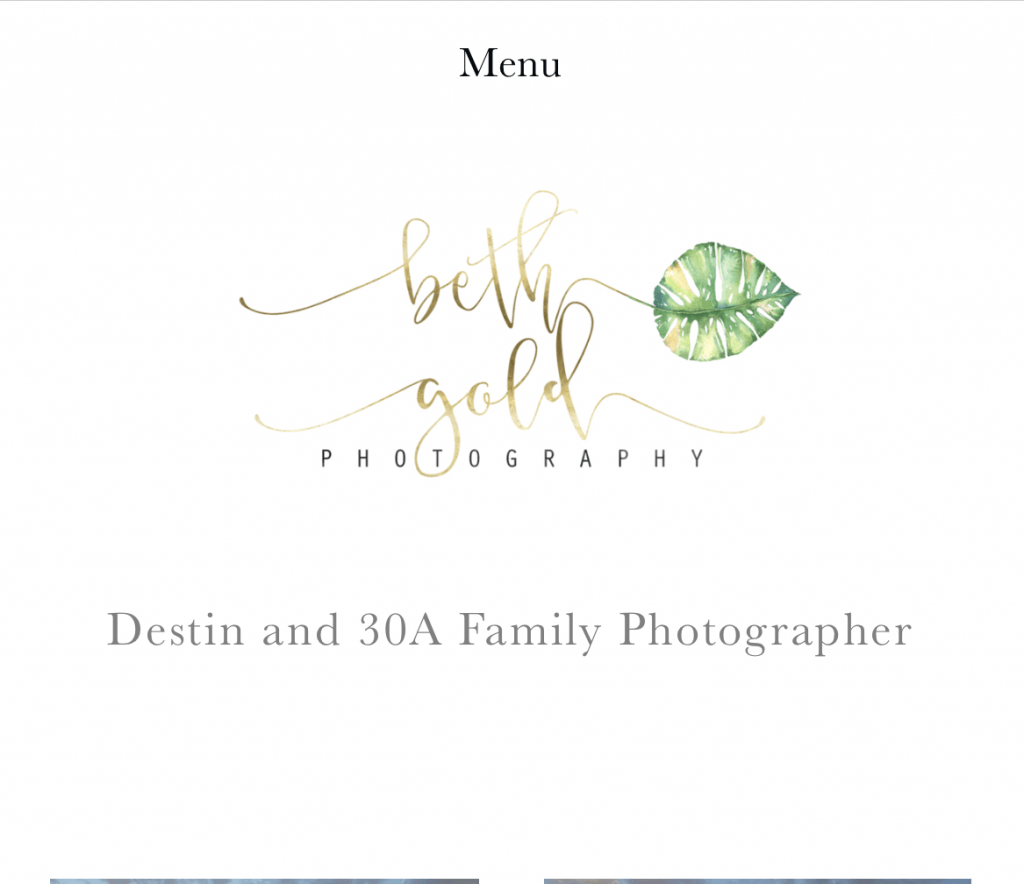 Beth Gold was born and raised in Baton Rouge, Louisiana but now resides in Destin.  She holds a Bachelor of Fine Arts degree in Photography from Savannah College of Art and Design. She's been in the photography business for 14 years. Her FaceBook page lists towns along 30A, Destin, and Okaloosa Island as her service area. 
Website: http://www.bgoldphotography.com/contactbgoldphoto
Facebook: https://www.facebook.com/bgoldphoto/
J. Langley Photos


Joscelyn Langley has been in the photography business for almost 15 years. She is located in Navarre Beach and offers sessions from the Alabama Gulf coast down through the Florida Panhandle. J. Langley Photo specializes in large families. She also does photo sessions for children, proposals, engagements, weddings, high school senior pictures. 
Website: https://joscelynlangleyphotos.mypixieset.com/
Facebook: https://www.facebook.com/JoscelynLangleyPhotos/
To book your session please call: 337-526-5672
Destin Beach Photography Company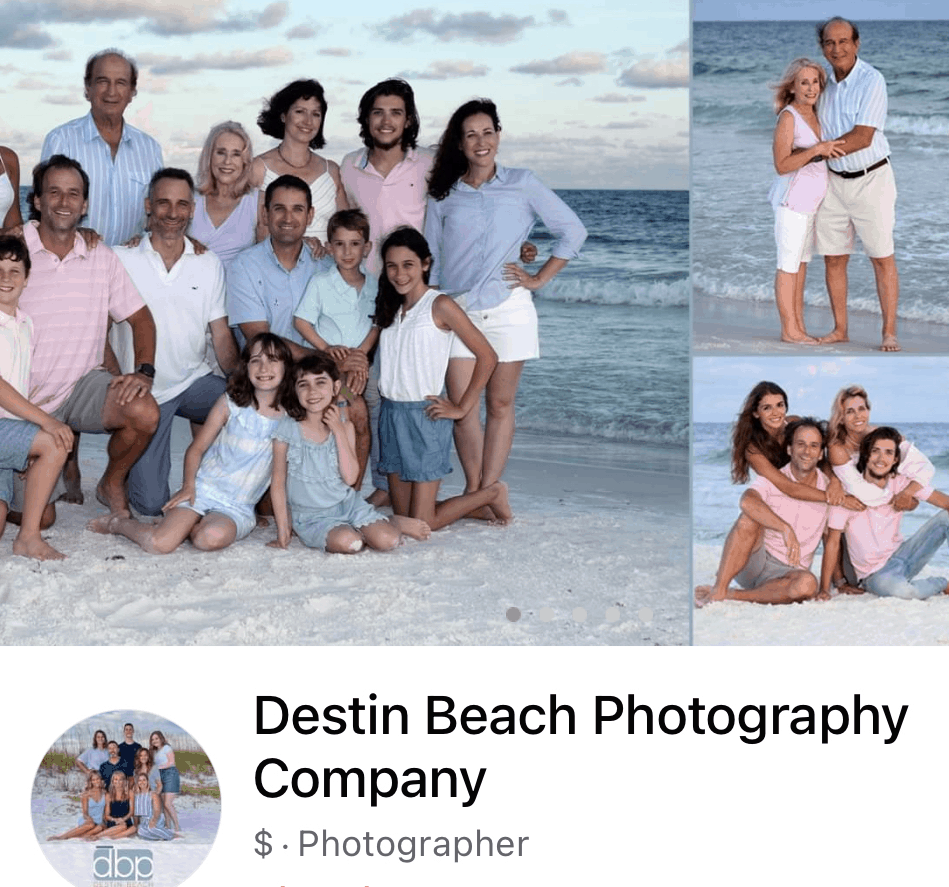 Destin Beach Photography is located in Destin. They specialize in beach photography, wedding/event photography, as well as videography. The client will get both posed and candid shots during their session. They shoot with digital cameras to give you the highest resolution for your prints and canvases. 
Website: https://www.destinbeachphotographycompany.com/ 
Facebook: https://www.facebook.com/DestinBeachPhotography/
For more information: (850) 424-3277
Micha Everett Photography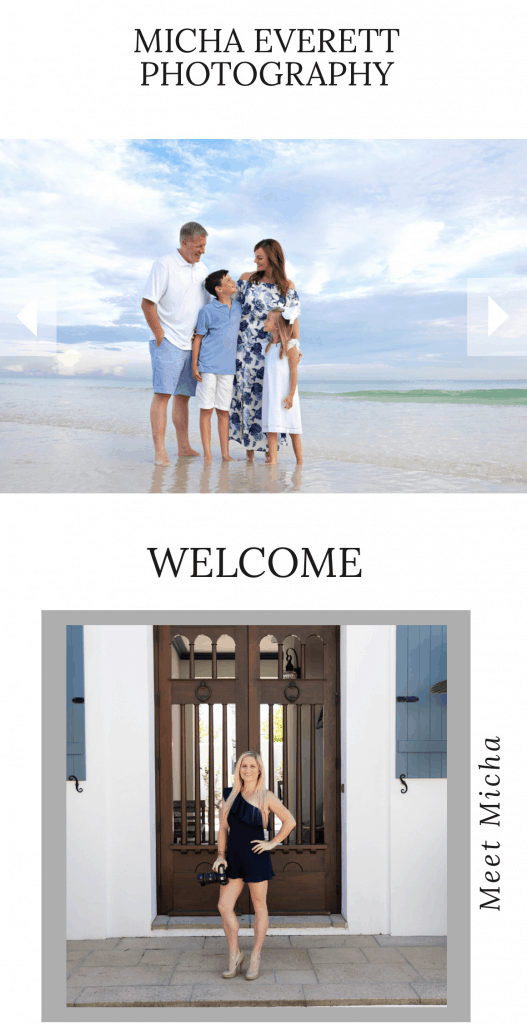 Micha Everett Photography is located in Santa Rosa Beach. She enjoys traveling and has done photo shoots all over the USA. She specializes in photography sessions and wedding sessions. On her website, Micha lists that her local area includes (but not limited to) 30A, Rosemary Beach, Alys Beach, Seacrest Beach, Seagrove, Seaside, Watercolor, Grayton Beach, Santa Rosa Beach, Sandestin, Destin, Panama City Beach, Fort Walton Beach, Tallahassee. The Micha Everett page is very informative and also includes a pricing link. 
Website: https://michaeverettphotography.com/
Facebook: https://www.facebook.com/michaeverettphotography/
For more information: (850) 284-0008  
Sand Lily Photography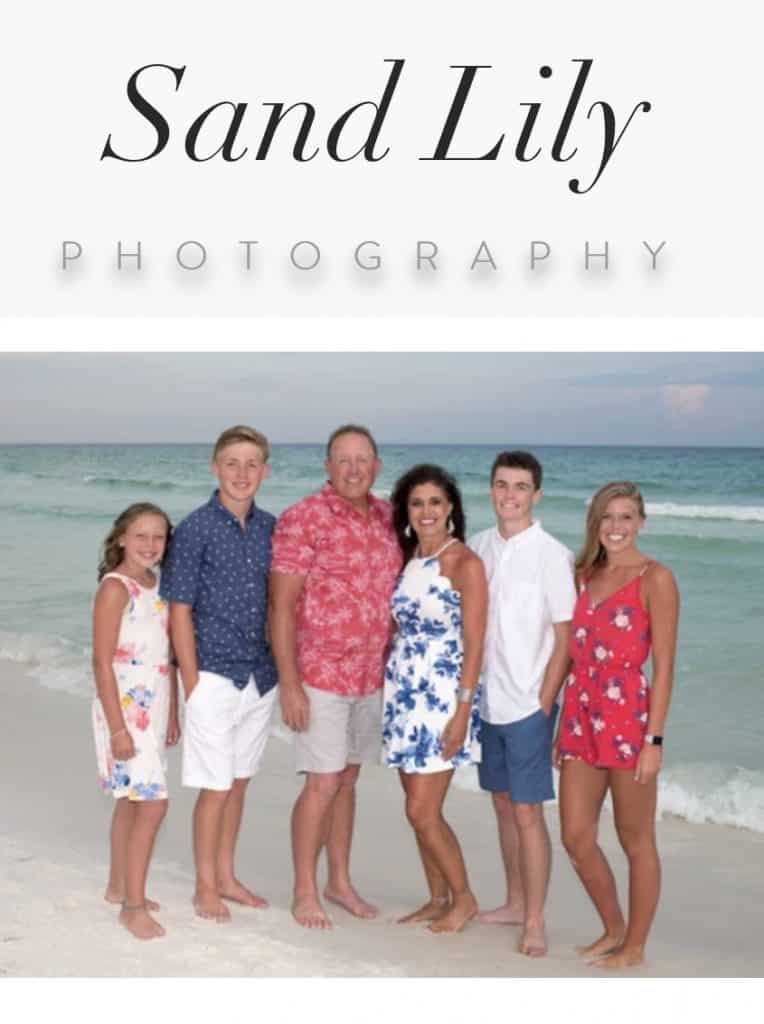 Also located in Destin is Sand Lily Photography. Sand Lily specializes in couples and both large and small weddings. Their website offers links to questions you may have like, "What should I wear?" or  "What if it rains?". Their site also provides a pricing link. Make sure you don't miss the "Specials" link!
Website: https://www.sandlilyphotography.com/
Facebook: https://www.facebook.com/sandlilyphotography/
For more information: (850) 374-7046
Memory Shot KSK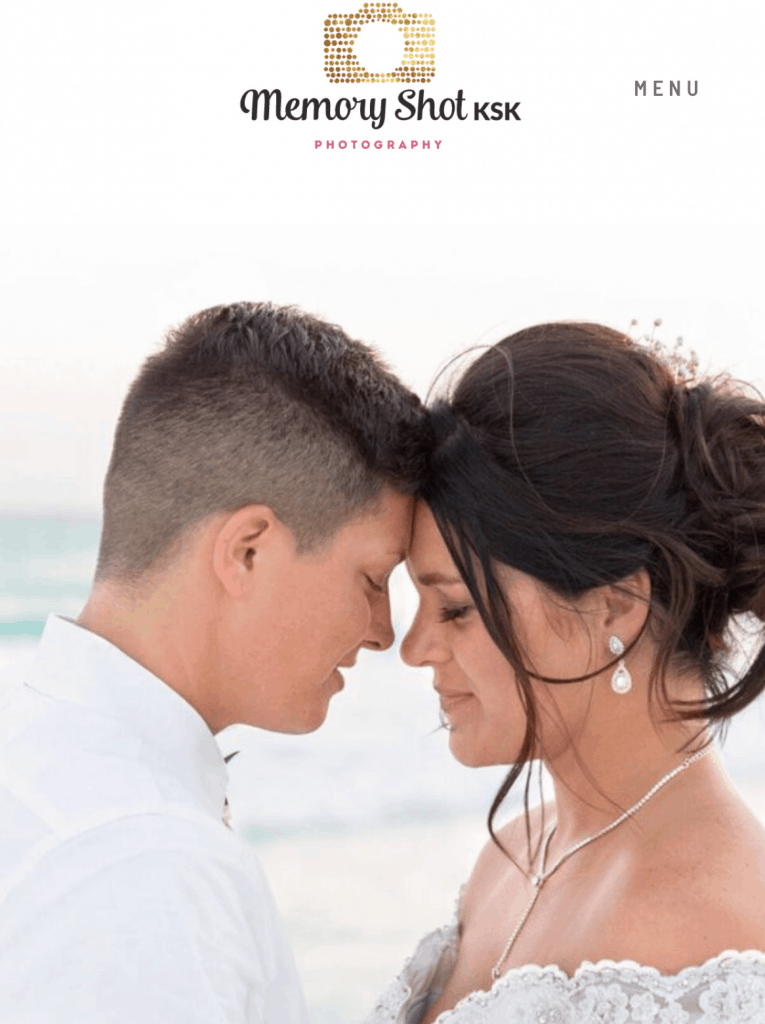 Kate and Kate are two college friends, based in Destin,  who started a very successful photography business together. According to their website, they love to travel and they specialize in "wedding photography, engagement photography, family portraits, maternity, senior portrait photography and any other significant moments in our client's lives." 
Website: https://memoryshotksk.com/
Facebook: https://www.facebook.com/memoryshotkskphotography/
For more information or to book a session: 850.687.6086
Smiles Beach Photo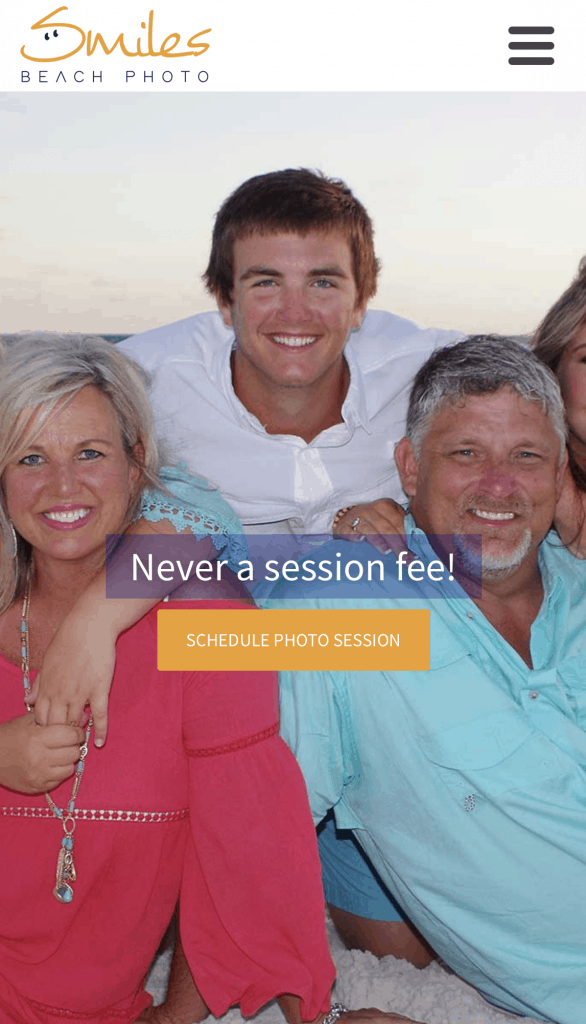 This Panama City Beach company is a little different than the others. Their website advertises "no sitting fees, no deposit, no minimum purchase, and no minimum order".  They have several photographers and cover Panama City Beach, Destin, Ft. Walton, and Miramar Beach. Smiles Beach Photo offers photo sessions for pretty much any kind of service you may be looking for and more! Sunset Baby, Couples, Engagement, Family (and more), plus morning beach, engagement, surprise proposals, and even team photos – too many to list! They even offer same-day bookings.  Make sure to check out their website for all of their services. 
Website: https://www.mybeachphotos.com/
Facebook: https://www.facebook.com/smilesbeachphoto
For more information: (850)249-3349
There are so many great professional photographers to choose from in the Destin area. We felt it was worth adding just a few more that might not quite have over 50 reviews but still have a strong 5-Star review rating.
ShelliRae Photography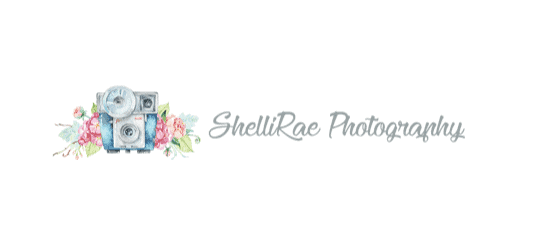 Shelli is a self-taught photographer who is based in Ft. Walton. She specializes in Newborn, Maternity, High School Seniors, Families, and Beach photography. She also does very small beach wedding photo sessions. According to her page, she refers to it as "think elopement in the way of size".  Also, ShelliRae Photography offers black and white prints and a 10% military discount. Her website offers a FAQ page, gallery page, and pricing page
Website: http://www.shelliraephotography.com/
Facebook: https://www.facebook.com/ShelliRaePhotography/ 
For more information:  (850) 598-0296
Sunset Images Photography
Angie, the owner of Sunset Images Photography, was born and raised in Ft. Walton. She describes her style as "classic and clean" and she says she has an obsession with "dramatic but real skies". Her website lists Sunset Portraits and Wedding package prices. She also offers an extensive FAQ page. Angie has been in business since 2007. She serves Pensacola, Pensacola Beach, Gulf Breeze, Navarre, Ft. Walton, Destin, Sandestin, Miramar Beach, and 30A. 
Website: http://sunsetimagesphotography.com/
Facebook: https://www.facebook.com/sunsetimages/
For more information: (850) 642-0605
JDCPhoto

Located in Miramar Beach, JD specializes in Beach Family, Beach Maternity, Beach Couples, and Beach High School Seniors. According to his website, he has over 20 years of experience and even has had his works published in national magazines. He also has works hung in the halls of the Pentagon! His services area includes Destin, Sandestin, and Miramar. JDCPhoto's website is very informative as it offers pricing, Destin weather, and even upcoming Destin events!
Website: https://www.jdcphoto.com/
Facebook: https://www.facebook.com/bestdestinphotographer
For more information: (214) 914-9160
Questions to ask your beach photographer
We've highlighted some answers that you may have for the photographers in the descriptions above. However, we have put together a list of other questions you may consider asking to help you with your search!
How long have you been doing this?
How far ahead do I need to schedule?
How do I obtain the prints?
How long is the turn-around for editing?
Do you have a lot of repeat clients?
What does your fee include (Does this fit your budget?)
Does the fee include re-touching?
How many pictures do we get?
Do you have specific concerns? Ie: Do they have experience working with special needs? 
Can I bring my dog?
What happens if I have to cancel? What is their cancellation policy? 
As you can see, we have put together a list that encompasses all of the information you may be looking for. No matter if you are looking for family beach, engagement, surprise proposals, wedding, high school senior, couples, morning sunrise beach, evening sunset beach, large family, couples…. Small budget, reasonably priced or if you just want to go all out. Whatever you are looking for, this list includes some of the best professional beach photographers in the area.
If you choose from the list above, we would love to see those beautiful shots! Let us know who you booked and your thoughts on your experience.
Are you a Destin Beach Photographer that would like to be included in this list? Just let us know and we will be more than happy to add you to our list! Any and all information you'd like to pass on to us to include – would be awesome! EmeraldDestin.com strives to be a wealth of information for anyone who is looking to visit the beautiful white sandy beaches of Destin. We would love to hear from you!
Ta-Ra!!